As a people person, I was in my element as an event manager at Quadient, a global company that delivers solutions to help customers create relevant and personalized connections. My role involved managing global events, such as our annual user conference and trade shows.
Then 2020 happened.
The pandemic rendered my role nearly obsolete overnight. Travel ground to a halt and event venues closed their doors in an effort to contain COVID-19.
My dream job was on pause, with no signs of a quick return.
I was a mess for a minute. OK, several minutes. But I'm not one to wallow. I love Quadient, and I knew this halt wouldn't be the end of my time here. So I talked with our Chief Marketing Officer, Tamir Sigal, to consider my next big adventure.
Tamir told me he'd had the desire to shift the workflows inside Quadient toward Agile marketing – a work style I'd only heard about in passing. Historically, the Quadient global marketing organization was decentralized. Part of Tamir's vision is bringing the various marketing teams together, working as one. Tamir asked if I would be interested in leading that charge.
I love a challenge, and although I knew next to nothing about Agile at the time, I accepted the role of Agile Marketing Coach. By my side was David Seaton, our Director of Marketing Operations. David's team would be the first marketing team to pilot Agile at Quadient. I transitioned into Marketing Operations and worked with David on understanding the challenges of the greater marketing team and collected requirements on what we wanted to achieve in moving to Agile.
Leading Agile felt like going out on a limb professionally. But saying "yes" transformed my grief over the loss of my dream job into excitement about what would become a 15-month quest – guided by AgileSherpas – to select the methodologies that would work for Quadient marketing and resonate with our global team.
Today, working within Agile feels like home. And, though I didn't realize it at the time, heading up Quadient marketing's Agile journey would lead me to a new and rewarding role as a senior content creator.
Hello, Nerves. Meet AgileSherpas!
Excited as I was to lead our evolution into Agile, I was also a bit anxious. I had a TON of research to do, and I was facing a looming deadline to find a speaker to introduce Agile to the global team at our 2020 virtual marketing summit.
There are a lot of Agile consultants out in the wild, but AgileSherpas immediately stood out from the pack. After just a few Google searches, I found myself immersed in AgileSherpas' webinar videos, and blog articles.
Reading the digital edition of Andrea's book, "Mastering Marketing Agility," made the benefits of Agile clear – and made it clear that choosing AgileSherpas was the right decision. With their guidance, we'd summit the biggest challenge of implementing Agile marketing: acknowledging and deconstructing the mantra of "how we've always done things" in favor of more efficient, effective workflow management.
Big Change Requires Big Flexibility
Whether it's new leadership, a new workflow, or even a new coffee vendor, acclimating to change can bring growing pains. Amidst all the social and environmental changes of the pandemic – including our shift to Work from Anywhere in 2021 – most Quadient teams were receptive to doing things differently, as long as it was going to be positive.
Though attitudes were positive, some processes and workflows felt sacred, despite the need for updates to improve our team and customer service. AgileSherpas was instrumental in helping us start our transition. We worked together to understand the best flavor of Agile for Quadient marketing before engaging the rest of the global team.
AgileSherpas helped us understand why some team members were digging in their heels while others were excited to shake things up. They suggested holding intentional conversations with everyone across the global Quadient marketing organization – yes, everyone – individually or as teams to get a personal understanding of the concerns, perceptions, and ideas that could help or hinder our shift to Agile.
Over a couple of months, I met with every Quadient marketing team member from every corner of the world. These conversations provided AgileSherpas and me with a better understanding of which Agile methodologies could benefit the teams most and which might be tough or unnecessary to implement. In parallel, David and I also worked on selecting and standardizing the tool for Quadient to use to facilitate the transition to Agile.
From there, we developed a hybrid program, which AgileSherpas called "sampling from the Agile buffet." They helped us select specific methodologies – such as Kanban for workload planning, regular standup meetings, and Work In Progress limits – to right-size our current work and better plan for what's coming down the pike.
Related reading: How Doing Standups Wrong Can Kill Your Team Spirit
Sampling from the Agile Buffet
Traditional Agile methodology was designed to support developers in the tech industry who work individually. Marketing typically is more nuanced, with more need for team interconnectivity. So, it didn't make sense to try cramming every Agile methodology into Quadient's program – and that's a core philosophy AgileSherpas brings to the table.
We assembled a project team to vet which pillars made sense for our global marketers. The team was composed of representatives from different functions, departments, and roles so we could understand how each ripple of change might impact workflows, workloads, and communication.
Using the sprint methodology, we assigned each team member specific tasks to research and, then, asked them to compile their recommendations.
Some of the findings weren't surprising. For example, we assumed that holding traditional daily standup meetings wasn't going to work for teams that are split across time zones and continents. So, we designed team-by-team approaches to structure our touch-base meetings similarly to standups but at a different cadence.
As the project team tested different methodologies, one of the most surprising findings was that most of our teams LOVED using Kanban for planning. They reported that the simple act of writing down and visualizing their workloads without extreme timeboxing was "game-changing."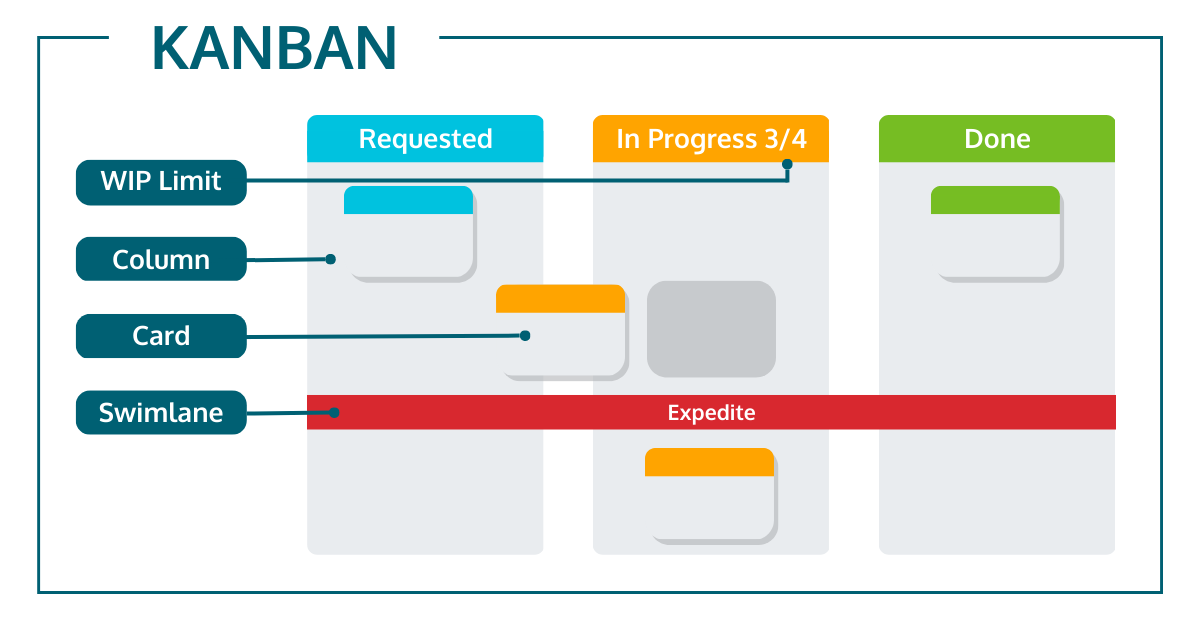 The visual representation of steady, continuous workflows provides a level of transparency our teams hadn't experienced before – one that basic MS Teams meetings and email chains had not matched. Establishing Work In Progress limits was especially empowering because team members could:
Reduce the urge to multitask, which no one really does well.
Point to real data to back up their stance that they couldn't take on more work.
Plan and share projects while making room for inevitable last-minute requests that used to derail other ongoing work.
Negotiate deadlines and workloads without going straight to "no." Now, the conversation is more like, "Not now, but at *this* time."
Through Kanban, our project loads are managed in real-time and are made widely available with the latest information for team resource planning.