Faced with tough choices that require an investment in time, resources, and behavioral change for a better tomorrow, people react in different ways.
Some roll up their sleeves and get ready to tackle their challenges head on.
Others begin to see the hurdles to get there as insurmountable barriers preventing them from pushing forward.
But, as George Bernard Shaw says in Mrs. Warren's Profession: "the people who get on in this world are the people who get up and look for the circumstances they want, and if they can't find them, make them."
A statement that is as true in literature as it is in Agile transformations.
Before we can prepare to create the circumstances for Agile marketing success, we must identify what's holding marketers back from the summit of true marketing agility. Only then can we understand what "rolling up our sleeves" really entails.
With this in mind, we asked over 600 marketers what were the biggest barriers to Agile adoption.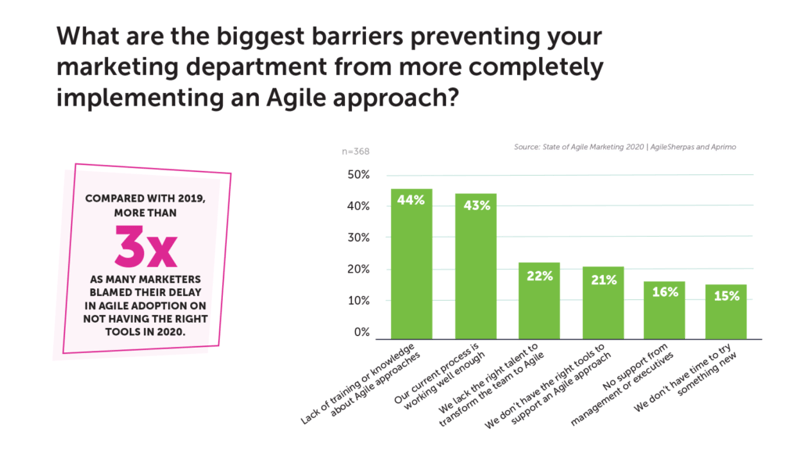 In this article, we focus on the 5 most commonly cited barriers to Agile marketing adoption, along with tactics to overcome them before they start to seem insurmountable for our teams.
Lack of Training or Knowledge About Agile Approaches
According to the respondents queried for the 2020 State of Agile Marketing Report, the top barrier to Agile adoption is preventing marketing departments from going "all-in" for agility is lack of training or knowledge about Agile approaches.
It's true that a successful Agile transformation often hinges on a shared understanding of the Agile mindset, and the disciplined application of practices for agility.
Our respondents got this part right.
But, while proper training for the marketing function may have been a barrier to Agile adoption 10 years ago when Agile content for marketers was rare and low-quality, this is certainly not the case anymore.
All varieties of top-quality Agile education like webinars & podcasts, live or virtual training, and other resources are now available for marketers.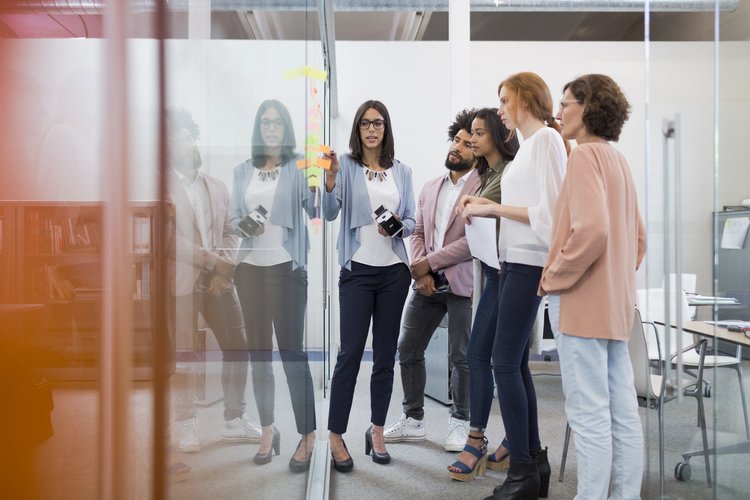 Starting off with the right knowledge about what you can (and can't) expect from agility in your team can make the difference between success and failure of an Agile transformation for whole organizations. So, there's no excuse not to train!
Our Current Process is Working "Well Enough"
The belief that the process marketing teams currently use is working "well enough" is the second most common barrier to Agile adoption cited by our respondents.
Even when the benefits of speed, productivity, higher quality, and better team morale are on the horizon, change is hardly ever the popular choice.
Maintaining the status quo always seems like less of a risk.
However, in exceptional circumstances, like the ones we find ourselves in right now, when our processes are truly getting tested, we discover where our weaknesses actually are. Many marketing teams are also scrambling to implement Agile solutions to their (now glaring) process problems.
But, we don't need to experience a pandemic to see that what we perceive as well enough internally is often not enough when it comes to our customers.
By weaving Agile practices into the way we currently work, we can introduce better chances of success with marketing agility, than if we were to turn existing process on its head and expect to reap the benefits.
This approach to incrementally building Agile ways of working into daily team rituals allows us to pursue improvements without scaring away team members who might fear drastic changes.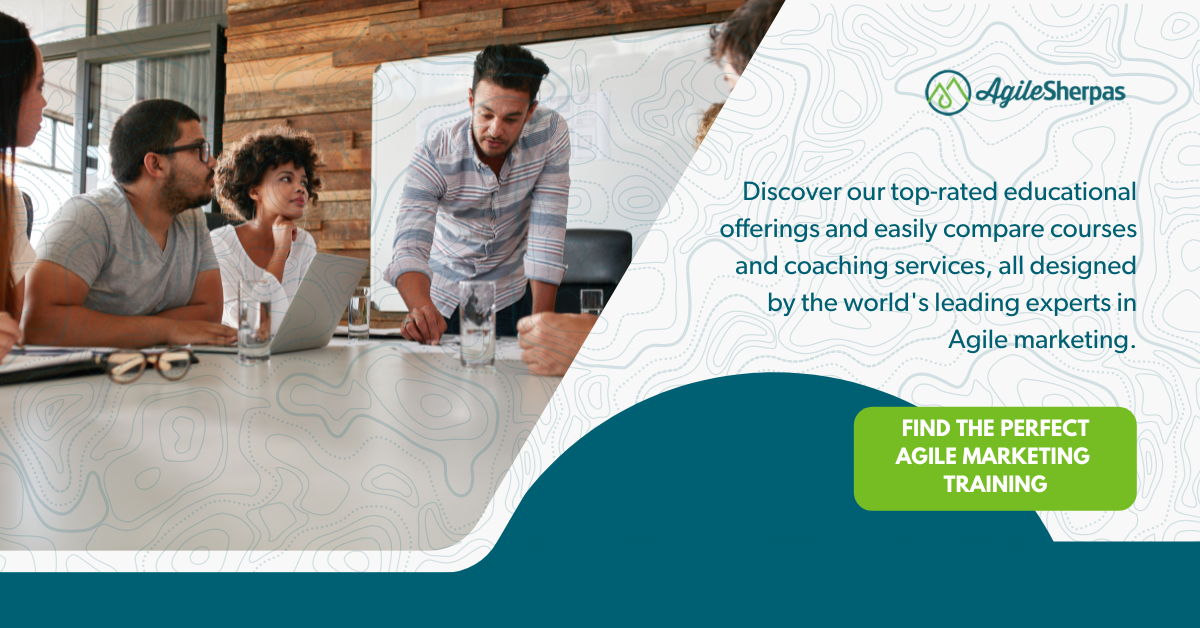 We Lack the Right Talent to Transform the Team to Agile
Twenty-one percent of marketers who participated in the survey for the 3rd Edition of the State of Agile Marketing Report said that they were missing the right people from their team required to make agility happen. This can mean one of two things:
Not having a full-time, dedicated Agile coach or Scrum master to lead the team through process change.
Not having the perfect distribution of experts among various parts of the department which considered a requirement to forming perfectly cross-functional Agile teams.
Neither of these is a deal breaker for pursuing marketing agility.
Going Agile Without a Dedicated Facilitator
Most marketing teams start out navigating Agile practices and incorporating new techniques into how they work on their own, without an expert Agile facilitator. And that's OK.
In fact, this approach has proven to have a number of advantages. The most significant of these is that the team closest to the work can fully take charge of "how" they implement agility to execute. It also allows the team to make decisions about their process without influence from a third party.
Waiting for someone to tell you how to be Agile doesn't need to be a barrier to Agile adoption. In fact, it can be an opportunity to seize with your teammates.
Cross-Functional Agile Teams With Shared Resources
Hiring in marketing departments is notoriously thorny. There are often high churn rates and a fluctuating distribution of work among various roles to deal with.
This means that it's very difficult to always have the perfect people in the room to make an initiative happen.
Sometimes, we just have to be flexible and make the most of what we have.
Waiting for the perfect distribution of email marketing experts, design gurus, and content masters in your marketing department, so you can build highly balanced persistent cross-functional teams won't serve you well. Especially because it may never actually happen the way you expect it to.
Figuring out how to leverage shared resources early and handle existing bottlenecks will help you get to true marketing agility faster than waiting for the perfect hires to arrive.
We Don't Have the Right Tools to Support an Agile Approach
Having the right tools matters, but not as much as you think. They certainly shouldn't matter enough to halt your Agile transformation in its stride.
However, the lack of the right tools is among the top five reasons why entire marketing departments delay going Agile.
Compared with 2019, more than three times as many marketers blamed their delay in Agile adoption on not having the right tools in 2020.
Many co-located, high-performing Agile teams, start out applying Agile techniques using sticky notes, markers, a window, and an egg timer (to track standups). What do these "tools" have in common?
You can buy them all at any local stationery store.
If you're a distributed team, using a simple free digital board (like Trello) and video conferencing to facilitate that high-value face-to-face communication might be all you need to start incorporating Agile techniques into your daily process.
As organizational leaders begin to see the benefits of getting a bird's eye view of all processes within the organization, larger organizations may go shopping for process management tools. This usually occurs at a later stage of Agile maturity.
That's when the procurement saga and the generous use of the term "roll out" begins.
By that time, your team may already have become successful with Agile practices (the scrappy way). Make sure that when tools enter the transformation process, they're made to fit your process, not the other way around.
No Support from Management or Executives
Ascending from an Agile team to an Agile organization will almost always require the support of management or executives. Sixteen percent of marketers queried for the State of Agile Marketing report this year said lack of support from execs was preventing their marketing departments from more completely implementing an Agile approach.
There are many case studies of top-down Agile transformations where Agile adoption was initiated among the C-suite. Luckily, there are as many examples of the bottom-up approach in which the execution teams took the lead.
If you're in a position to experiment with Agile techniques despite lack of explicit support from management, there are tools at your disposal that can help you gain support from decision-makers.
For example, running an Agile pilot within your team as you pursue one of your assigned projects is a great way to build a case for Agile within the organization. By exerting influence over the 'how' of project execution, you can become an example of Agile ways of working within the business and share learnings about what worked and what didn't during your Agile experiment.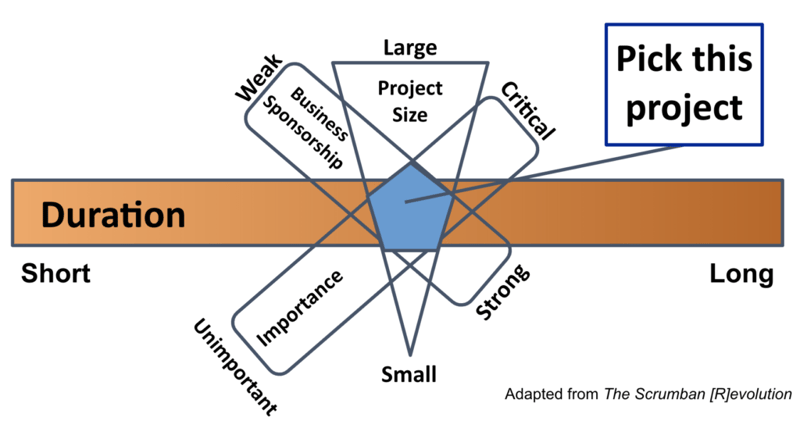 The key consideration for your marketing team, if you're paving the way for further Agile transformation in your department, is being able to prove the effectiveness of Agile techniques for the type of work you're doing.
With this in mind, collecting process metrics and KPIs at all stages of the project is crucial. Data about your successful project using Agile practices will be your most significant tool for convincing internal stakeholders about the viability of Agile on the wider scale.
Heads up! Check out the AgileSherpas blog next week. We will be publishing an article on how to convince your stakeholders to run an Agile pilot.
Agility is Often At Arm's Reach
Changing the established order and applying new ways of working to an entire marketing department might seem scary. But, putting in the extra effort to overcome the hurdles comes with long-term and even short-term benefits.
Whether you're in the process of starting out or rolling out, investing in live, virtual or self-directed Agile training, collecting data from your experiments to convince your internal stakeholders and making the most of the tools (and team) you have at your disposal can get you further along your Agile journey than you think.
Have you come up against any of these most commonly cited barriers to Agile adoption? How did you overcome them? Share your unique experience jumping over these hurdles in the comments.