This post is part of a new AgileSherpas series on how to prove the value of Agile marketing with hard data. Raviv Turner, our newest partner at AgileSherpas, will show you how to implement, measure, and improve your Agile marketing practice, no matter which framework (Scrum, Kanban, Scrumban) or Agile project management tool (Jira, Aprimo, Workfront, CoSchedule, Wrike, Asana etc') you use.
Disclaimer: These articles assume that you already know why you should do Agile marketing, and even what you need to do, you just don't know how to do it. If that's not the case, this article is a great place to start.
You Can't Manage What You Can't Measure
I'm a big fan of starting with the end in mind.
Why are you here?
Why Agile marketing?
What are you trying to accomplish by going Agile?
Maybe traditional waterfall planning no longer works for you. According to McKinsey, 58% of marketing initiatives still take more than 6 months to make it to market, with the average at just over 8 months.
That's a long time to wait to deliver value to your customers.
Maybe your boss read some thought leadership article about Agile marketing and asked you to check it out.
Or maybe you've been working alongside a development team and grew envious of their productivity and effectiveness using Agile.
You might have attended one of our online or public Agile marketing classes and decided you want to pilot this with your team.
No matter the reason, I'm assuming you have a goal in mind.
When it comes to measuring the success of your Agile marketing program, goals tend to fall into three main groups:
Demonstrate the return on investment (ROI) in Agile marketing (and there is a significant investment involved in time, people, and money...more on this in a separate post).
Make the business case and get buy-in from our leadership to pilot or expand an ongoing Agile marketing program.
Improve Agile marketing to better serve internal or external customers.
All are great goals and a good reason to start measuring your Agile marketing program, and many of the metrics we're going to discuss will help you with all three.
The Holy Trinity of Agile Marketing Analytics
According to Eric Ries' Lean Startup, the only metrics we should invest in are those that help us make decisions. In Lean Forecasting Troy Magennis goes even further to suggest that, "If a metric does not offer predictive power, then capturing that metric is waste."
When it comes to measuring goals, for many years I've been using a goal setting framework known as OKRs, which stands for Objectives and Key Results. This framework stipulates that for every objective you set up, you then list three key measurable results.
If your objective is to successfully implement Agile marketing, below are three core metrics you should measure (or we at AgileSherpas can help you measure) before, during, and after a successful Agile marketing implementation.
#1 Efficiency

Efficiency is the single most important metric for measuring success of an Agile Marketing team. The efficiency of your workflow is defined by the ratio between the time your tasks spend waiting in queues and the time they are being actively worked on.
Looking at the average efficiency value of a specific type of task will give you process efficiency.

While taking the average for all tasks would reveal the marketing team's general efficiency score.

#2 Cycle Time
Cycle Time reflects a customer-centered view on the time your marketing team takes to deliver results. Cycle Time ultimately answers the question of "When will it be done?"
Looking at the cycle time for the same type of tasks gives you an idea of how quickly your team deals with that kind of task.

If you notice a serious increase of cycle time across your workflow, that means you have a bottleneck or other internal issues that needs attention. You might also want to limit the Work In Progress items in order to improve your cycle time.
In the Agile marketing teams that we work with, the cycle time of marketing tasks post-Agile tends to be dramatically lower than the time it took to accomplish the same kind of tasks pre-Agile marketing.
#3 Throughput
Throughput reflects the number of tasks that get completed within a fixed amount of time. It's basically the sum of all parts.
When your Task Efficiency Score is up and your Cycle Time is down, your Throughput is higher!
Why Those Three Agile Marketing Metrics?
In our experience training over a thousand marketers on Agile marketing, these three core metrics: Effectiveness, Cycle Time and Throughput, take very little time to collect and offer the biggest bang for your buck.
They deliver precious insights into the overall health, performance, and predictability of your Agile marketing practice.
We also find those metrics are:
Easy to capture and start measuring: Any Agile tool should track these metrics. Even if you don't have an Agile tool, these metrics are very easy to manually track using a simple spreadsheet (email me, I'm happy to share our spreadsheet).
Cost effective: There's no point in tracking a metric if it is going to bankrupt your marketing budget or make everything else go slower. Herein lies yet another advantage of tracking these particular metrics for Agile marketing: these metrics are very inexpensive to gather.
Actionable: These metrics will suggest specific interventions that you can make to get back on track. In other word, these metrics are actionable! Items taking too long? Not enough getting done? These metrics will give you some of the magic levers you can pull to make things better.
Easy for your stakeholders to understand: What we often find implementing Agile marketing is that traditional Agile metrics are not well understood outside Agile software teams. Good luck trying to explain your CFO what a story point means, or getting marketers excited about huddling around a burndown chart.
However, your stakeholders likely understand the concept of elapsed time and total number of marketing tasks to be delivered in a sprint.
There are most certainly other metrics that you will want to track in your own environment, but these three central pillars represent the metrics common to all Agile marketing implementations.
In my next post I'll go deeper on how to capture the data for these metrics, how to benchmark your teams' performance, and how to take action to improve your Agile marketing.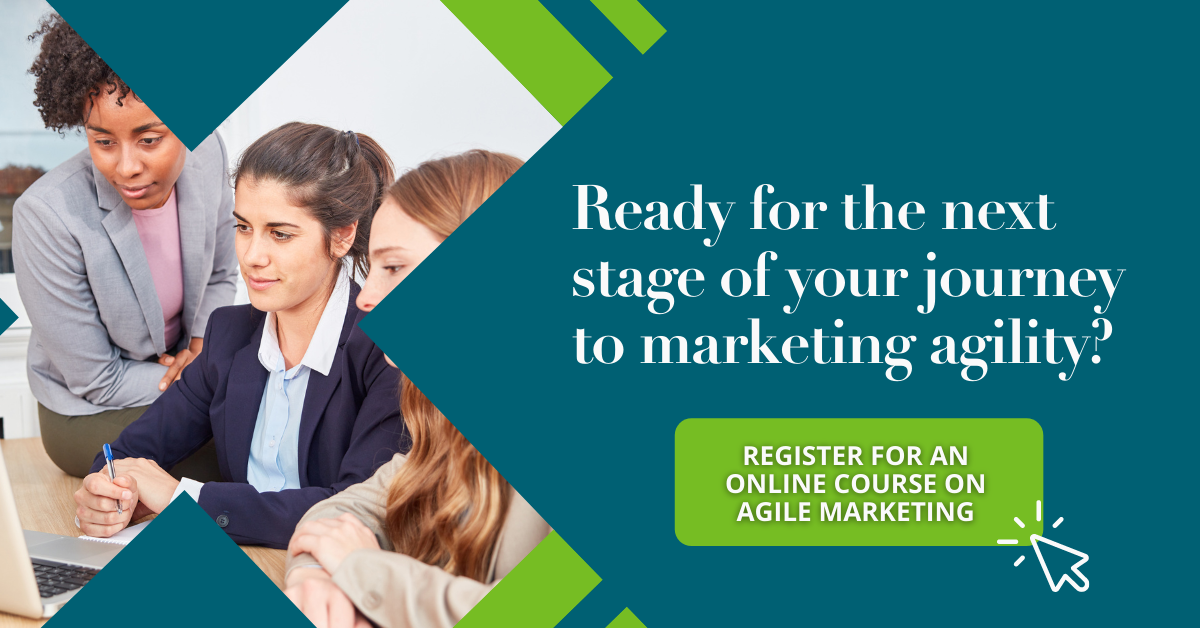 About the Author:
Raviv has been working with marketers to implement marketing data, technology and analytics for over a decade. He is a thought leader and speaker at leading marketing events such as Marketingprofs, MarTech, and Dreamforce on the topics of Agile Marketing, marketing data, and analytics. Raviv is also a certified marketing analyst and a Certified Professional in Agile Marketing (ICP-MKG), instructor and partner at AgileSherpas.