The health and life sciences industry is known for its heavy regulations, lengthy processes, and strictly specialized marketing themes. To many, these are the exact characteristics that make this space seem incompatible with Agile.
But for some of the biggest pharmaceutical marketing organizations, these aren't barriers to agility as all.
Instead of reasons to delay a process change, forward-thinking marketing leaders use their need to adjust to changing customer demands, shifting market conditions, and continually high expectations for quality and frequent value delivery as triggers.
As more marketing leaders recognize the need to evolve, Agile ways of working are on the rise.
Within the last year, AgileSherpas had the opportunity to work closely with one such high-growth organization operating on the biotech and pharmaceutical front: Charles River Laboratories.
Through a methodical approach to adopting Agile inside their marketing department, Charles River is on the path to proving that while Agile was created to replace traditional Waterfall methods in software development, it's just as applicable for business units inside pharmaceutical companies that want to succeed.
Let's take a look at how the entire marketing department at Charles River streamlined internal processes for greater efficiency through Agile, to consistently exceed customer expectations and stay top of their market with the support of AgileSherpas.
Who is Charles River?
Charles River has supported the development of over 80% of all of the drugs approved by the FDA for the past three years. Founded in 1947, Charles River now has more than 100 facilities in 20 countries worldwide and a reputation for timeliness and accuracy in every stage of the drug development process.
Their customers, including leading pharmaceutical, biotechnology, agrochemical, government, and academic organizations around the world, have relied on Charles River's products and services to help expedite the discovery, early-stage development, and safe manufacture of novel drugs and therapeutics.
Today, the publicly traded company maintains a high speed of growth by making strategic acquisitions that strengthen its already broad portfolio of products and services. Over the past two years, the company's rate of acquisition has increased significantly, with six sizable acquisitions being made within months of each other.
The Call to Agility
While the organization expands with each new acquisition, so does the workload of their 18,400+ strong workforce. Their marketing department was no exception.
The reality of operating in a highly-regulated industry and dealing with the volatility brought on by a global pandemic was already a source of delays and inefficiencies in the internal process.
In combination with the influx of new products and services to support, as well as an ongoing digital transformation, the balance inside Charles River marketing was going to be difficult to keep in the long-run.
Anticipating the vital need for scalability in the years to come, Gina Mullane, CSVP Client Experience & Chief Marketing Officer and Darci Helbling, Executive Director, Global Marketing Operations at Charles River began to seek opportunities to transform their department into a more effective, predictable, and efficient operation.
"We were running so fast launching campaign after campaign, that we weren't slowing down to dive into the analytics and let that impact the next campaign. We saw an opportunity to gain efficiencies in our processes so we could avoid burnout in the team, but also to use data to drive more strategic decision-making. We wanted to do less, better," says Darci about the call to agility at Charles River.
In October 2020, amidst a global pandemic and still acclimatizing to remote working, Charles River decided to undertake a systematic Agile transformation across their marketing department.
Beginning their Agile Transformation
Darci reached out to AgileSherpas to support the Strategic Marketing and Marketing Operations teams on the journey to the summit of marketing agility through preliminary assessment, certification training for Agile teams and leaders, and embedded coaching and workshops, all led by expert Sherpas.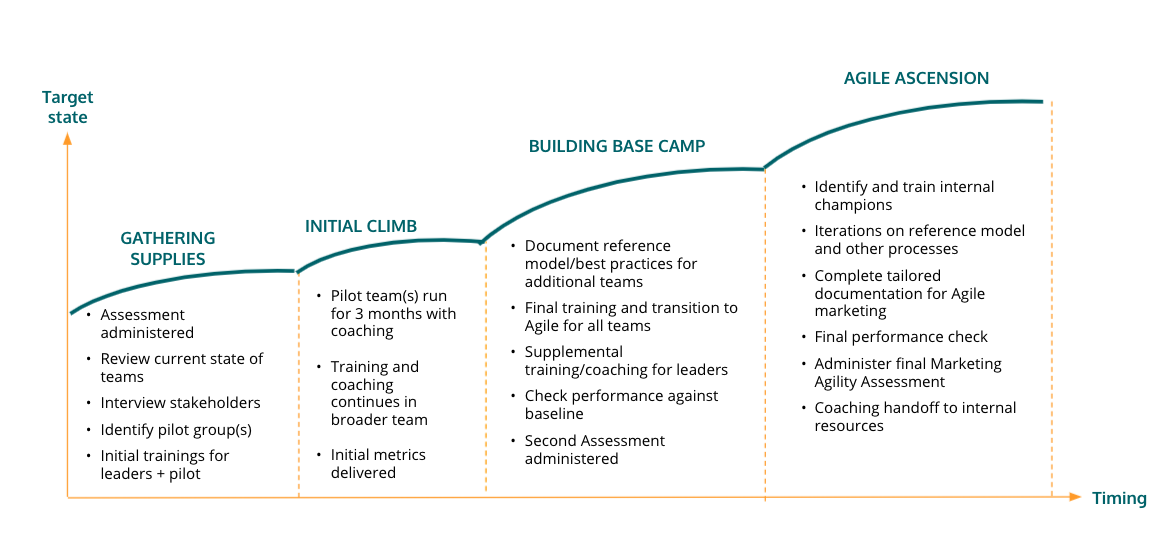 Gathering Supplies: Team Assessment
The beginning of Charles River's ascent to agility began with gathering the right supplies to support the teams in the long-run. This included establishing baseline performance metrics to use as comparison points during and after the rollout of Agile inside the marketing department.
To set the baseline, marketers and stakeholders at Charles River participated in an assessment to evaluate the success of current ways of working. They were asked about existing methods of collaboration and communication among team members, as well as the effectiveness of both team and leadership roles.
The same assessment looked into the effectiveness of data and metrics, people management, customer-centricity, and the practices related to visibility and feedback.
Lastly, the participants in the transformation were asked how their current mindset and culture felt.
The aggregated scores in each of these categories clarified the process areas in which the team felt most confident, along with spots that would require greater emphasis and attention in the months to come.
Later in the transformation, a shorter stakeholder assessment was also administered to better understand the expectations and attitudes of those outside of marketing towards the teams that served them.
Gathering Supplies: Certification Training for Teams and Leaders
With a clear baseline in place, both teams and leaders were in a good position to begin their formal Agile marketing education, beginning to tackle the first 10% of the 70-20-10 approach to building these new capabilities.
Team leaders, Chief Marketing Officers, and VPs associated with the pilot took the lead by joining an eight-week Agile Marketing Leadership certification workshop geared towards preparing them to take on the role of effective Agile leaders during the transformation process.
In parallel, team members attended an eight-week Agile Marketing Fundamentals certification workshop, focused on Agile marketing execution frameworks, team ceremonies, and process metrics.
Beginning with formal training set both teams and leaders up for success during the transformation, as it provided them with a shared understanding of their roles and responsibilities. They also left equipped to use the Agile tools they were about to leverage in their daily activities.
"The team benefited from AgileSherpa's strong focus on training and educating the team first; everyone understood the 'why' behind the change, and that really helped with adoption and commitment to the transformation," shares Helbling about the pivotal role training the teams before launching the transformation more formally played in their success.
Charles River was not the only health and life science organization that immediately recognized the benefits of formal Agile marketing training while moving from an old-school waterfall-style process.
Since 2019, AgileSherpas has also trained hundreds of other pharma marketers on the front lines of transformation in their organizations. Three other organizations have already begun their Agile transformation with an Agile Marketing Fundamentals workshop that prepares teams inside the marketing department to experiment with Agile practices as the first step on their longer journey.
The first Agile marketing pilot inside Charles River was formally trained in Agile ways of working in the period between November 2020 - January 2021, after which their formal implementation of Agile in their day-to-day work began.
Overall, more than 100 marketers were trained in Agile Marketing Fundamentals from October 2020 - April 2021.
Initial Climb: Pilot Design
By combining the know-how that comes with her nearly 16-year tenure at Charles River with a deep understanding of the team dynamic inside the department, Darci collaborated with AgileSherpas to design an Agile marketing pilot that combined strategic and operational marketers, the learnings from which could be rolled out more widely within the department in a low-risk way.
This pilot team was trained first, so that they would be able to pave the way for future teams through sharing the learnings they were beginning to generate during their implementation.
The original Charles River marketing pilot team consisted of two strategic squads focusing on specific product themes and one marketing operations execution squad.
This Agile marketing pilot blueprint is mirrored in other health and life sciences organizations with which we've collaborated. One of these has brought in their brand leads and related subject matter experts into a similar pilot team structure, forming a pack around a specific brand.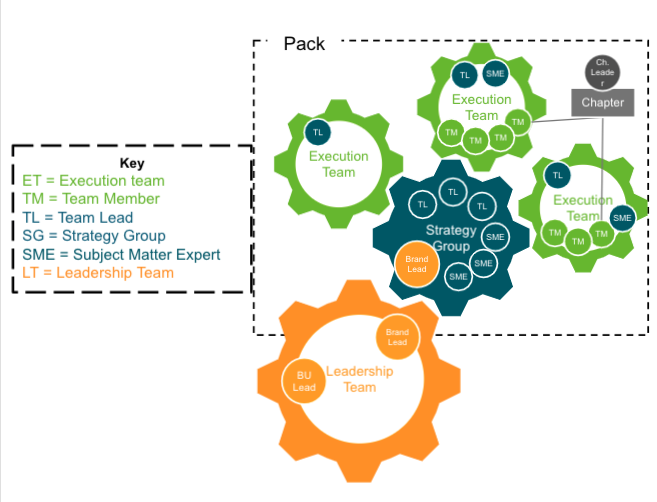 Charles River teams initiated a schedule of Agile meetings, including daily standup, biweekly planning, monthly reviews and biweekly retrospective meetings. In addition, each squad developed an Agile team charter to act as the ground rules for their new chapter of working together in an Agile way. This document was developed during a kick-off implementation event post-training.
Following the eight-week Agile Marketing Leadership certification workshop, team leads from each of the squads felt confident to step into their combined roles as marketing owners and process owners, prioritizing and populating the backlog as well as facilitating the Agile ceremonies in place.
Separately from team Agile ceremonies, the marketing owners hosted their own daily standup, during which they could connect about shifting priorities and keep alignment among the squads.
Initial Climb: Coaching Workshops
Over the course of the first six months of implementation, both the pilot teams and graduating squads joining the Agile transformation were assigned a coach from the AgileSherpas team to provide guidance and give feedback every step of the way.
Agile coaches made themselves available for team ceremonies, one-on-one sessions with team members and marketing owners, and dedicated squad coaching sessions to further expand the tools in their Agile arsenal.
The most popular workshops centered around team members' needs to work more cross-functionally together and share work by developing a more nuanced understanding of each member's varied skill set.
Progress on the Path to the Summit of True Marketing Agility
Over the course of the last nine months, Charles River marketing has trained their teams and leaders in Agile ways of working for marketing, successfully completed a three-month Agile marketing pilot, and gradually expanded the implementation to 10 more squads within the department.
Building Base Camp: Expanding the Agile Marketing Pilot
Following the learnings documented by the pilot team, more squads were able to join the Agile marketing implementation inside the Charles River marketing department in clusters.
Maintaining a similar web of connectivity, two more clusters comprising two strategic quads and one marketing operations squads ramped up alongside the pilot group, which had shifted configuration slightly to account for workload.
More squads made opened up the space for conversations about different methods of communication among all marketing operations marketing owners and all marketing owners of strategic groups.
Building Base Camp: Shared Services & Stakeholders
Similarly to many other Agile marketing implementations AgileSherpas has observed, Charles River's take on department structures also established Creative Services as a shared services team.
Creative services takes on requests from all of the marketing operations squads that act as channels for creative work that originates inside the strategic squads.
Creative services operate from their own backlog, which is groomed by the creative Marketing Owner.
Building Base Camp: Teams and Touchpoints
Since June 2021, team leads and members now have full accountability for the Agile process. They're dedicated to continually improving their application of Agile through analyzing productivity metrics, visualizing their process, and engaging in open communication. A regular schedule of Agile meetings, such as reviews, retrospectives, daily standups, and backlog refinement, helps keep work flowing smoothly.
"Stand ups and Retros are a favorite of the team. At first there was concern over adding additional meetings to the day, but we've found that the daily communication at our Standups actually reduced meeting time overall and saved time chasing answers and then having to report them out - eliminating unnecessary back-and-forth communication. The Retros provide a forum for constant refinement, so we are always improving the process and addressing roadblocks in real time," Darci explains.
Squad leads facilitate reviews along with the other squads in their cluster, invite stakeholders where needed, and help their teams manage expectations with the subject matter experts with whom they collaborate.
At another American provisioner of scientific instrumentation, reagents and consumables, and software services in the pharmaceutical space, the schedule of team and cross-team touchpoints follows a similar cadence as those of Charles River.
Frequent feedback loops at all stages of the execution process might seem like overheard at first, especially in a traditional pharma context in which there are already meetings galore on the calendar.
However, both organizations have shared their consequent ability to replace many of their existing, ad hoc syncs internally with this consistent schedule of Agile marketing ceremonies.
Agile Ascension: The Future of Agile at Charles River
As of August 2021, the Charles River marketing teams enjoy an average 50% increase in their speed to market for marketing campaigns, all while team members report higher morale.
In a highly collaborative environment, they're also seeing better communication with stakeholders, who, in turn, feel more connected to the ongoing marketing activities.
All of this combines to produce more value for their customers, which is, of course, the ultimate goal of marketing in the first place.
"In just 3 months, we are seeing a significant improvement in project duration and while our project volume is actually increasing across all of our Agile teams. We've cut our average project production time in half, and our employee engagement metrics have all shown improvement. We expect these metrics to improve further as we continue to refine the process. As tough as those first few weeks of implementation were, it didn't take long for us to see the benefits to our production time, project volume, and team morale. We continue to see those improvements over time, so we only wish we would have done it sooner," concludes Darci.
In our books, Charles River marketing is an example of a methodical, persistent, and successful departmental implementation of Agile marketing. Despite a steep learning curve, marketing team members and leaders have managed to go through formal Agile marketing education and near-the-job training through extensive Agile coaching, as well as on-the-job training as took the reins
For this pharmaceutical organization, all of this hard work culminated in a full-fledged Agile marketing implementation in under 12 months.