Why building a better brand requires an Agile brand strategy
Seasoned organizations and savvy startups alike know the importance of brand. Along with business strategy and culture, brand is one of three things vital to building and growing a company.
In today's highly competitive market, a well-articulated and executed brand is crucial. It can mean the difference between market dominance and also-ran status.
Brands are living, breathing entities. They're strengthened by positive encounters with audiences and weakened by negative ones. Consequently, like everything else in our digital world, brands need to be dynamic and responsive to market conditions, competing offers, and customer needs.
The days of figuring out a product or company brand, implementing it and leaving it untouched for five to 10 years are gone.
We've entered the age of the Agile brand.
Here we'll walk you through the changing world of branding, including the Agile approach that can help you forgo the traditional Big Bang process that consumes far too much time and budget.
The New World of Evolving Brands
The notion that brands should remain consistent in a monolithic way to build strength and resilience is being usurped by the need to remain relevant in quickly shifting contexts.
A merger or acquisition, or changes in leadership, market, competition, or business strategy should prompt an organization to revisit its brand strategy to see if it's still compelling, relevant, and true.
If it isn't, then the brand strategy needs to change.
Market changes, such as a new upstart competitor with an alternative solution, can disrupt and change the playing field (and brand) for seasoned companies.
Therefore, to keep up with these shifts, brand-savvy companies employ brand managers to monitor and stay on top of changing market dynamics.
For competitive or creative reasons, they routinely tweak or outright change parts of the messaging and brand marketing. This can quickly lead to messages and campaigns in market that dilute the original brand strategy effort.
Because that strategy took so long to formulate and required so many approvals, it is considered off-limits or too complicated to refresh. Soon, instead of looking to the brand strategy document for direction, the team looks to ideas in their last creative or campaign. And so, the strategy that took so much effort to create, quickly loses its relevance.
Winning Minds with Agile Brand Strategy
Brand strategy is simply knowing whose minds you need to win, and how to win those minds.
It needs to be compelling, relevant and true.
At Distility, we focus on creating a minimum viable brand strategy that requires a brand promise, position and personality, all attuned to the right audience against the right competition.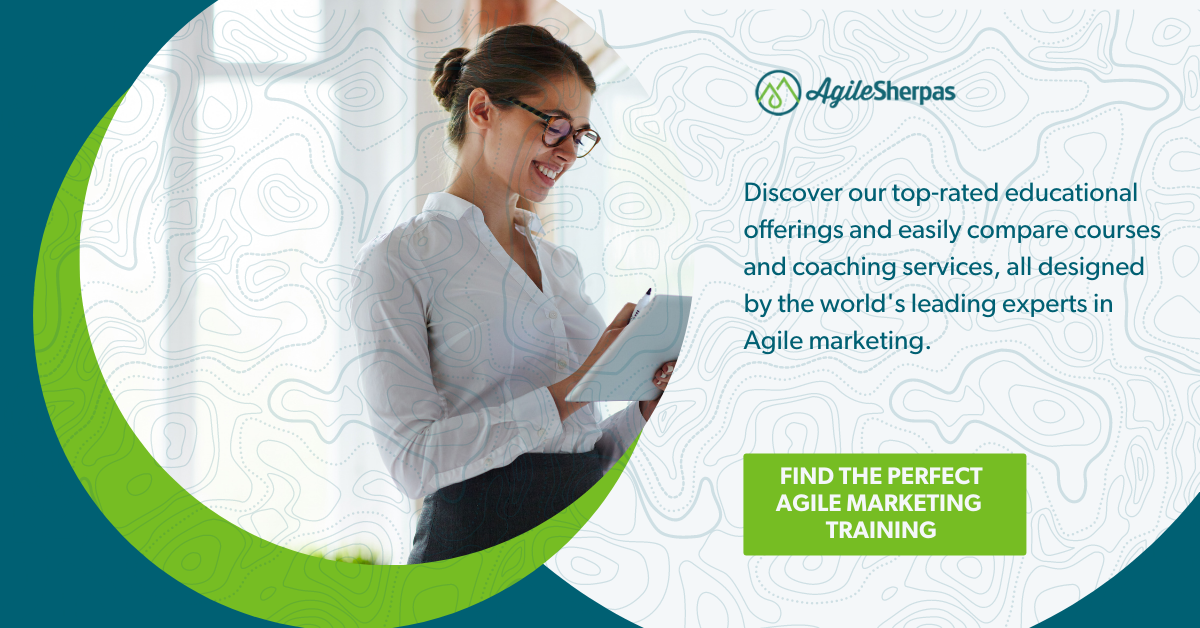 Traditional Branding: Long, Complicated, Expensive
The traditional process of creating a brand takes nine to 18 months, including two to three months of research. As part of this process, brand consultants take research insights and create a few options to share with key stakeholders.
Strategy options achieve refinement through many presentations to attain buy-in within the organization. As a result, this process can take another two to three months.
Developing the visual and verbal identity can add six or more months to the process. The last step–activating the brand within the organization–typically takes one to two months to complete.
This lengthy, cumbersome and expensive process, which could wipe out a startup or small- to mid-sized company's entire marketing budget, has been around for decades.
In other words, little has changed since the creation of branding in the 1940s and 1950s.
Until now.
A Better Way: Agile Branding
In 2003, while consulting with a client using Extreme Programming (an early Agile Development methodology) Axle Davids was inspired to apply some of the same ideas to brand development. The concept? Empower a team of key stakeholders with novel decision-making and collaborative methods and tools, allowing them to create a brand in a fraction of the traditional time – as quickly as just one day.
Some of the core precepts of Agile Branding:
A streamlined process and brand strategy sprint
A "simplest thing that works" brand strategy model
Curated teams
A one-page brand strategy document
Build-in over buy-in
Policies and tools to encourage engagement and ensure quality results
Streamlining With a Strategy Sprint
Agile Branding streamlines all aspects of the nine- to 18-month brand development process: planning, research, communication, collaboration, documentation and quality assurance.
The result is a lower cost, faster time to market, higher quality assurance, bigger and broader buy-in across the organization, and the ability to quickly adjust strategy to market dynamics through regular brand strategy retrospectives.
The "Simplest Thing That Works"


Brand Strategy Model © 2019 Distility
Proprietary brand models and related documents introduced by brand experts often impede buy-in and activation across an organization. These brand models are too complex for non-experts to easily remember. Further, they are very difficult to integrate into the daily marketing practice.
At Distility, we applied a Minimum Viable Product (MVP) approach in pursuit of a "simplest thing that works" brand strategy model.
The Distility brand strategy model is made up of:
A ranking of top benefits, with the #1 benefit being chosen to be the brand promise
The top features, with the most differentiating brand feature chosen to lead the brand position
The top reasons to believe in the brand
Brand personality traits for master brands and sub-brands
All of these data points must be attuned to the right audience, against the right competition and all true.
Curated Teams
Typical brand development exercises focus on a select group of consultants leading ideation and strategy setting. These consultants then seek to achieve broader organizational acceptance, also known as "buy-in." On the other hand, Agile Branding, like Agile Development, relies on prioritizing people and interaction.
That's why it's important to thoughtfully curate a cross-functional work product team with representatives who know the customer, competition and solution.
Participant selection occurs across the brand network – not just marketing. Most importantly, anyone who can block the effort should also be included in the strategy sprint so they can fully appreciate and greenlight the decisions being made.
Build-in Not Buy-In
The curated team meets and, in the space of a day, can evaluate previously researched ideas, explore new ones, and build the new brand strategy together.
The result: a team and brand that on Day One are confident and strong from having achieved both high brand exploration and high commitment.
Inherent in this idea of build-in over buy-in is a strong belief that company insiders know the customer, the competition, and the products and therefore are equally (or better) positioned than outside experts to decide the brand strategy.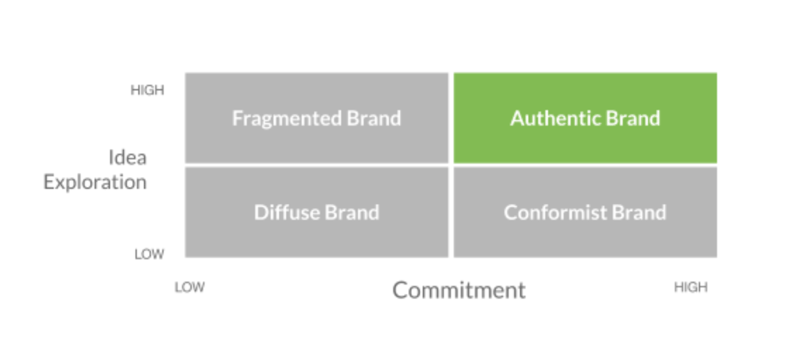 High exploration and commitment strengthen brand and team
Tools and Policies for Quality Decisions and Branding
These are just a few of the common obstacles to building a solid brand strategy. But, the right policies and tools can transform how people interact. In Distility-led projects, we developed a patented methodology to capture the collective opinion of a group, for instance. A virtual board is projected onto a wall to track progress against objectives/tasks and advance the best ideas. Instant, anonymous voting, agreed upon standards for interaction, and clear policies for quality ideas ensure the best ideas win. Moreover, these practices prevent common decision-making biases and pathologies like disengagement or groupthink.
The One-page Brand Strategy
"If it ain't on the page, It ain't on the stage."
Agile Branding fulfils this adage by replacing traditionally lengthy – often 60+ pages – brand research and strategy reports with a "simplest thing that works" single page.
This one-pager includes the brand promise, brand position, brand personality, top benefits, top features, and reasons to believe in the brand – everything a team needs to align marketing communications, sales, and employees on who you are, what you do and why it matters.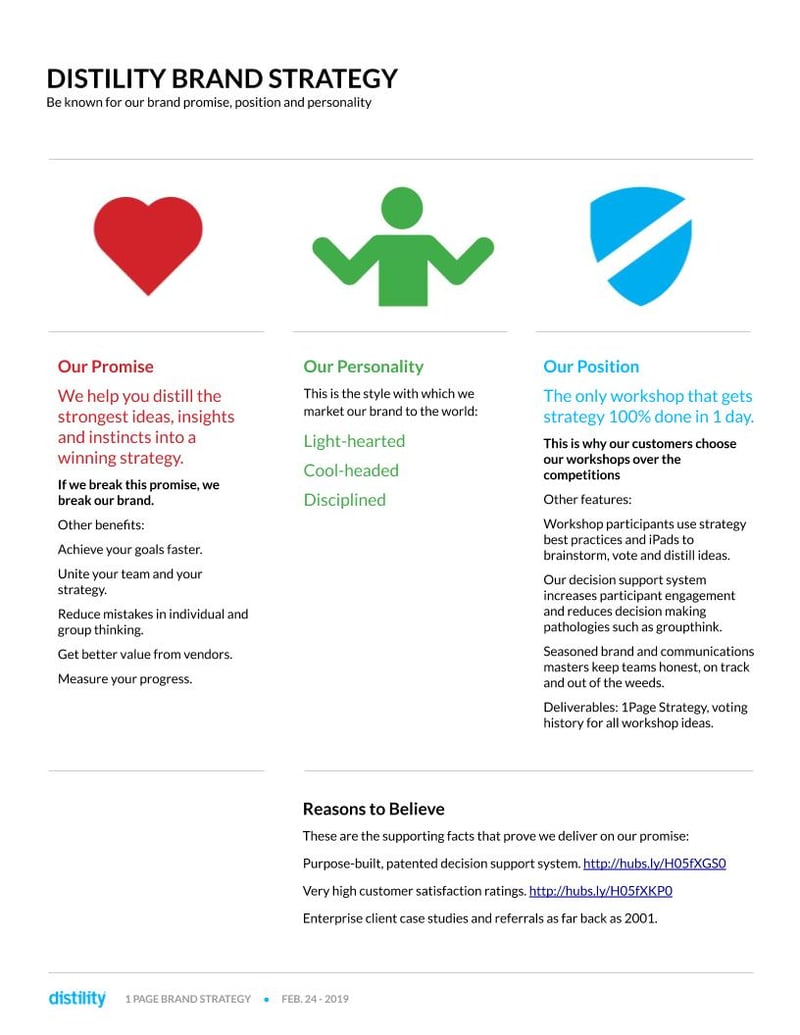 Sample Distility 1 Page Brand Strategy
Led by highly skilled facilitators with years of experience creating brands, the day concludes with one brand strategy on one page. Even more, this page is ready to use the next day.
Moving Forward With Agile Branding
Brand is a vital way to differentiate and supercharge how a company connects with its customers, prospects, partners and employees. Hence, with Agile Branding, everyone can benefit from a better way to brand. Far less costly, faster time to market, higher quality assurance, better buy-in throughout the organization, and the ability to quickly pivot to market conditions, Agile branding delivers a better brand that moves your organization forward. To learn more about Distility and Agile Branding for your organization, visit www.distility.com. Also, feel free to contact contact Axle Davids, Axle@distility.com or Maryann@distility.com.
About the Authors
Axle Davids
Axle created Distility in 2001 to make the branding process smoother and faster. For each project, Axle leads brand and business strategy development. He makes sure every client has the clarity needed to launch their brand with confidence – and with their whole team on board. Before launching his business, Axle worked as a creative director for some of Canada's pioneering digital firms, overseeing more than 150 interactive design projects for high-profile brands like Lands' End, Cosmopolitan, Disney and Apple. Whether you're a global enterprise or a fresh-faced startup, he brings your company into sharp focus.
Maryann Bell
Maryann has led the way on rebranding venerated icons like Sun Microsystems, Java, University of Phoenix, Applied Biosystems, Life Technologies, Palo Alto Networks, and Citrix. She is passionate about identifying, cultivating and amplifying the synergy between each organization's unique culture and brand that results in a huge competitive advantage. Through a combination of big-picture thinking and roll-up-your-sleeves execution, she develops employer brand strategy and activation, including employee marketing strategy and programs, aligning employer brand strategy with the company brand, and driving internal and external research.
Traditional vs. Agile Branding: Timing
TRADITIONAL APPROACH
AGILE BRANDING APPROACH
3+ Months
Engage and onboard consultants
Conduct research




3+ Months
Documentation and buy-in


3+ Months
Activation
1 Month
Commit to Agile Branding approach, complete discovery and audit of the audience, team ideas and ideas in use by competitors
In a 1day brand strategy sprint, dedicated stakeholders vote on the best ideas in real-time and commit to:

brand promise
brand position
top benefits and features
reasons to believe