A successful mountain climbing expedition requires grit, planning, and perseverance, but tools play a major role as well.
Having the right set of equipment can be the difference between passing the night in a cozy sleeping bag, or freezing your tail off exposed to the elements.
Your Agile marketing journey is no different. It demands the right mindset, effective planning, and a long-term commitment, but the right tools and equipment are key.
They may be the difference between passing a daily standup in cozy communication, or freezing in the icy glare of teammates who don't know who's doing what.
No tool by itself is going to guarantee that our team is going to succeed to the summit.
But it can help key Agile concepts come to life in our daily task management, while also ensuring those day-to-day activities connect to bigger organizational goals.
To help you find this vital piece of Agile marketing tech, we've compiled this thorough guidebook. Here you'll discover why Agile process management tools are useful to marketers on their Agile journey, things to consider before you get one for your team, key feature sets you'll need to look for, and some tools that have already gained some traction among marketers.
In case you already have that knowledge and seek a specific tool recommendation, we invite you to check out the Best Project Management Tools and the Best Project Management Software reviews by our friends at The Daily Egg.
Why Do We Need an Agile Marketing Tool?
Every management methodology has its tools, and Agile is no exception.
As you may have seen, there are lots of ways to support Agile ways of working, including old-school methods like physical whiteboards and sticky notes.
Unfortunately, analog methods can't get us automated data or the dynamic information flow that we need to collaborate effectively, especially if we aren't co-located with the rest of our team.
Digital Agile marketing tools provide us with a variety of features that make it easier to manage our process from anywhere with internet access.
Thanks to features like workflow visualization, time tracking, limiting work in progress, reporting, and more, they help us gain better work visibility and foster team collaboration. Even better, the right tools help us build on the Agile marketing mindset, embody Agile principles daily, and continuously improve our process.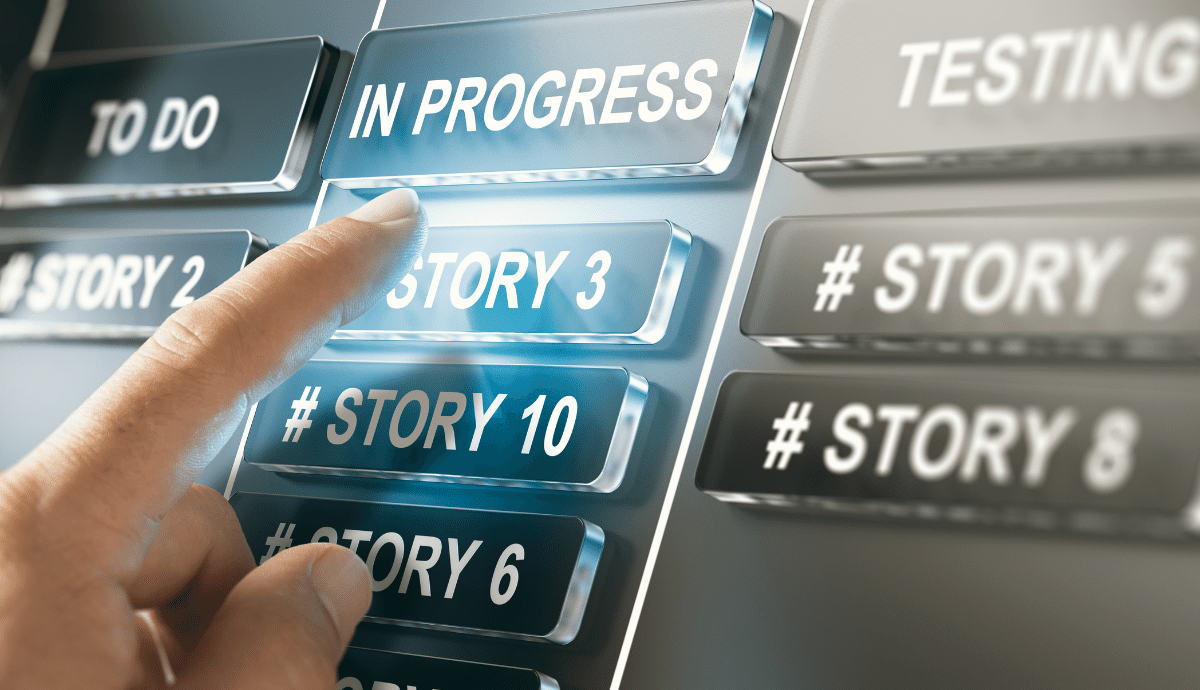 And last, but definitely not least in the data-driven world of modern marketing, good tools prevent us from having to gather data about our process manually, so we can focus on doing awesome work instead.
These are all benefits for the core team itself, but digital Agile tools are also valuable for collaborating with stakeholders and adjacent teams. By keeping everything in one place, core and extended team members alike know where to look at any time and can stay on top of their commitments to the project.
Before You Start Shopping
Agile tools have been around for over two decades, which means the market is full of solutions to choose from.
That's great if you're looking for choices, but it can also create a sense of overwhelm.
There are free tools all the way up to expensive premium platforms. There are universal tools with well-rounded feature sets for applying any Agile approach, as well as some that specialize in enabling one specific framework (e.g. Kanban, or Scrum).
And this is just the tip of the iceberg.
To save time and make your choice easier, initiate the search for an Agile marketing tool by carefully considering your needs as a team. It's best to share the evaluation responsibilities with the people who are going to be using the tool extensively and get their input.
First have an honest conversation about the purpose of implementing an Agile tool, and define a list of criteria for evaluating potential solutions. Consider the Agile framework you'll be using as you compare your options in the market.
If you're just getting started and haven't chosen a framework, favor the more flexible options that won't lock you into anything.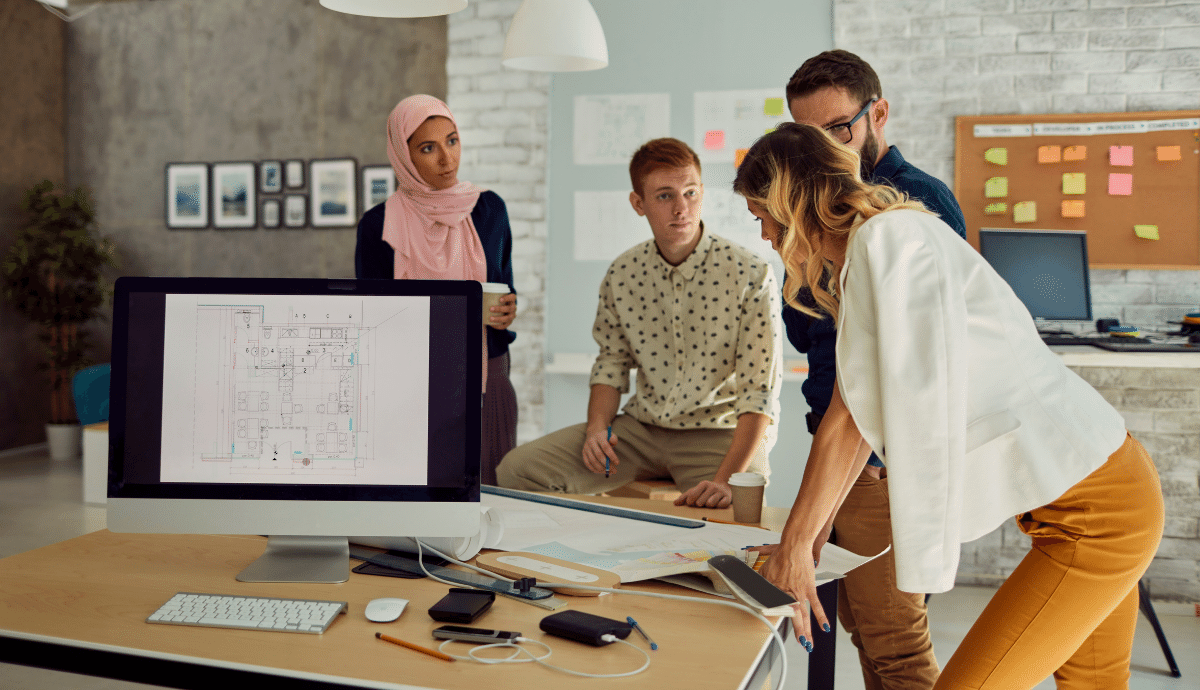 For example, if you're a practicing Kanban team, look for a tool that allows you to limit work in progress, visualize process policies explicitly, and build advanced Kanban board layouts with multiple swimlanes.
Like with any other purchase, budget plays a major role in any team's search for an Agile marketing tool, but don't let that limit you. Based on your Agile maturity, you may or may not need a premium solution at first.
Evaluate the simpler alternatives with a freemium version first to get a sense of what your team needs, and look for a clear upgrade path that you can follow as you add more teams and additional complexity.
General Features to Look For
Armed with a clear purpose and an understanding of which features match to the Agile practices you're looking to apply, you can start your hunt for an Agile marketing tool in earnest.
Although feature requirements vary from team to team, there are several important categories to look for:
Comprehensive Visual Management
Visualization plays a major role in Agile ways of working of all kinds. Practically all approaches rely on a visual workflow to create transparency and facilitate better collaboration. Your Agile tool must allow you to easily visualize all work and its status in the process.
Pay special attention to how individual work items (these might be called cards or tickets in certain tools) behave, as these will be the major workhorses of your Agile teams.
The ability to add important details such as deadlines, subtasks, priority indicators, and dependencies on other people makes it easier to manage the projects we visualize. You'll likely also want the ability to attach documents and/or link to your document management system of choice so you can direct people to the work being created.
Rule of thumb: the more information we can include in each ticket, the less chance of confusion and missing an important piece of data about it.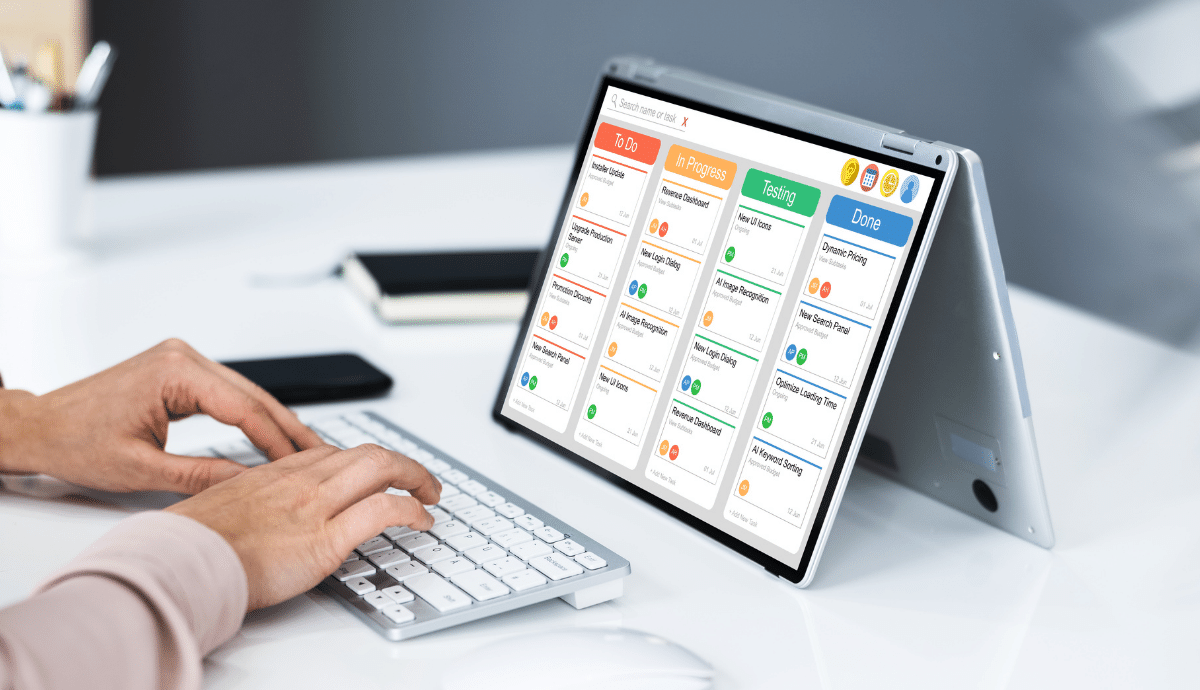 For better communication inside tickets, make sure the tool lets you leave notes and tag users. This streamlines collaboration and often slashes the number of back and forth emails that teams need to stay up to date on other people's work.
Time Stamps and History
Most marketing workflows are fast-paced and dynamic. Marketers get requests from lots of different stakeholders, and they need to rapidly to process items from their backlog.
Since the Agile marketing tool will be at the center of all of this, it's imperative that the tool of our choice tracks the history of work-related activities. We need to know when our work enters different stages of the process, and who's accountable for it at each stage.
It should enable us to look at the history of each work item and "connect the dots" between conversation, action, and deliverable. With this functionality in hand, we can achieve a better understanding of our workflow and how much time we invest in processing each work item.
For instance, if our work items move through the scoping, creation, reviewing, and editing phases in a matter of days, but then get stuck at the publication stage for weeks, we know we have a bottleneck. Our Agile marketing tool should make it easy for us to make a data-driven case around where work is getting stuck, for how long, and the overall impact that's having on the team's ability to deliver valuable work.
This also makes it easier to discover the root causes of any problems that slow down our process and create inefficiencies.
Analytics and Measurement
Data is a marketer's best friend. For an Agile marketing team, process data is invaluable for achieving continuous improvement and maintaining optimal process agility.
Choosing a tool equipped with Agile analytics that are ready to go out of the box can benefit new or mature Agile teams alike. Information about metrics such as cycle time, throughput, velocity, etc., is invaluable for understanding how efficient our process is.
In addition, it helps us understand how much work we can really handle within a specific period of time. This data point alone can transform the process of planning, allow the teams to commit to realistic workloads. We reduce the chance of disappointing our stakeholders with late delivery, and we cut down on overwork and burnout within the team, all thanks to a feature set.
Integrations
While the Agile marketing tool will quickly become the center of your team's universe, it's not the only star in the galaxy. Other tools will continue to be necessary to get work done, and the better those can integrate with your Agile tool the better.
For the best results, map out your current workflow(s) and pinpoint existing handoff areas. In other words, where will this tool need to talk to other tools?
Once you know that, bring your specific questions to your shortlisted vendors to make sure your Agile tool of choice will play nicely with the rest of your martech stack.
5 Agile Process Management Tools Marketers Use
Through the years, we've had the opportunity to test a large number of Agile tools and see them in action with our clients. While we can't in good conscience point to one tool that's the holy grail for any and all Agile marketing teams, we can tell you there's a tool out there for everyone.
Below we've collected a few of the most popular process management tools that Agile marketers around us are using. We'll let you know why we like them, and share some watch-outs to keep in mind before you bring them into your process based on issues we've seen our clients have.
Jira
Jira was originally designed as a bug and issue tracker for software developers. Today, it's evolved into a powerful work management tool for all kinds of use cases, including Agile marketing. When configured correctly, Jira supports Scrum, Kanban, and hybrid models. Keep in mind that Jira comes in lots of shapes and sizes; marketers will likely want to hone in on the new Jira Work Management, which has been updated to cater to business teams rather than software developers.
Why we like this tool: Unlike some other tools on the list, Jira is a distinctly Agile tool. They've been part of (and in many ways, leading) the Agile conversation since the publication of the Agile manifesto. Since then, they've built up partnerships that have helped create a vast ecosystem of integrations and complementary tools. With multiple options for analytics, plugins, and visualization, Jira is probably one of the most robust tools on the market. Jira may also be an easy sell to your IT team if your developers are already using it.
Watch-outs: Don't copy your developers' Jira boards and hope for the best. Take the time to configure your marketing version so it mirrors your unique way of working. Jira has lots of features that were built for software development teams, but may just create clutter for marketers. Whether you leverage internal expertise or budget for external help, plan to get assistance with your initial set up to get the most out of Jira.
Trello
Now brought to you by Atlassian, the same folks that make Jira, Trello is a straightforward visualization tool that organizes projects into boards. Its cards are a lot like digital sticky notes (but with way more space), which makes it easy to tell what's being worked on at a glance. It's one of the easiest tools to use, and a preferred choice for teams just getting started with Agile.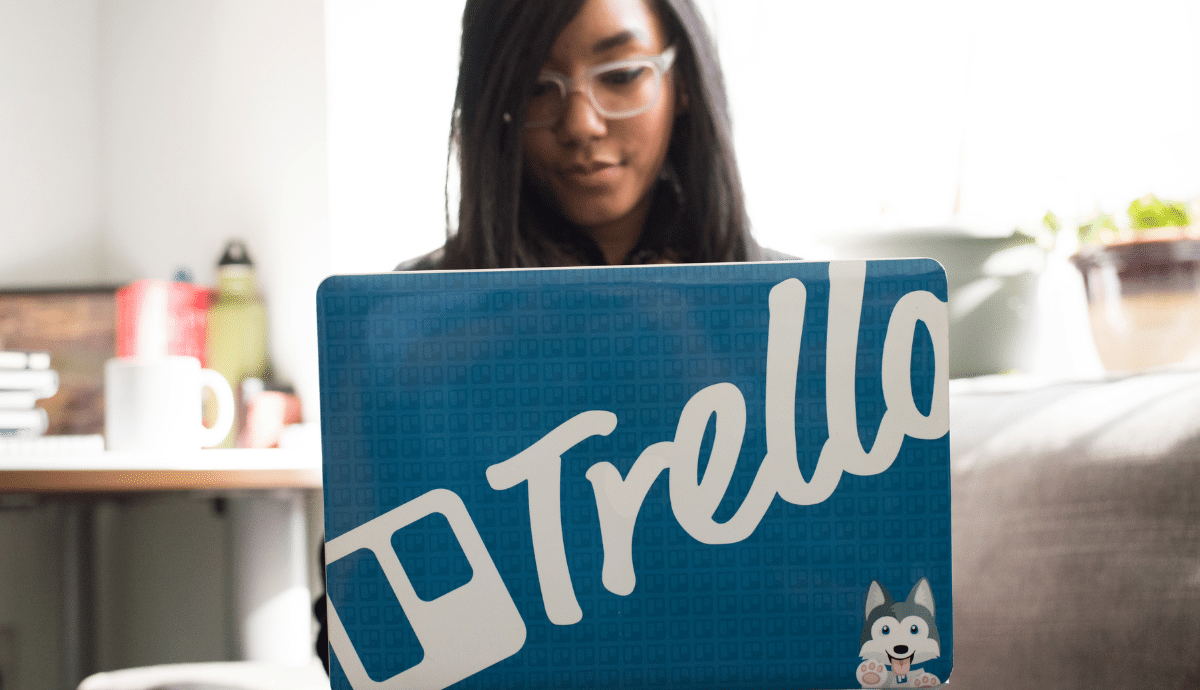 Why we like this tool: Trello is an excellent starting point for any Agile team. In most cases, it's everyone's first Kanban board! It's easy to set up, easy to share with the appropriate team members, and there's practically no learning curve to getting started. You can put together your first Kanban board in Trello in just a few minutes (though, to be fair, building your first comprehensive backlog within it will take longer). Trello cards are also very robust, allowing you to insert checklists, due dates, attachments, and much more.
Watch-outs: Trello's ease of use can lead to excessive board creation; it's tempting to create a new board for just about everything, but then nobody knows where to find anything. Likewise its flexibility can mean that every team does something different, creating challenges for standardizing or reporting at scale. Make sure you have sufficient parameters in place to guide board setup.
Some sophisticated process nerds may also outgrow Trello. There are lots of power-ups available for you to ramp up your use of the platform, but you'd need a lot of them to get something as robust as the feature sets of some of the others tools on our list. Trello is a great start, but watch for signs that you're outgrowing it.
Monday.com
Formerly DaPulse, Monday.com is a work management software company with an HQ in Israel. They pride themselves in providing teams in all sorts of different functional areas with the tools they need to easily build, run, and scale their dream workflows on one platform. The platform has strong visual management functionalities, allowing you to see projects in various formats like Kanban boards, tables, timelines, and more. Oh, and you can create a llama farm to bring some fun motivation to your teams during a sprint: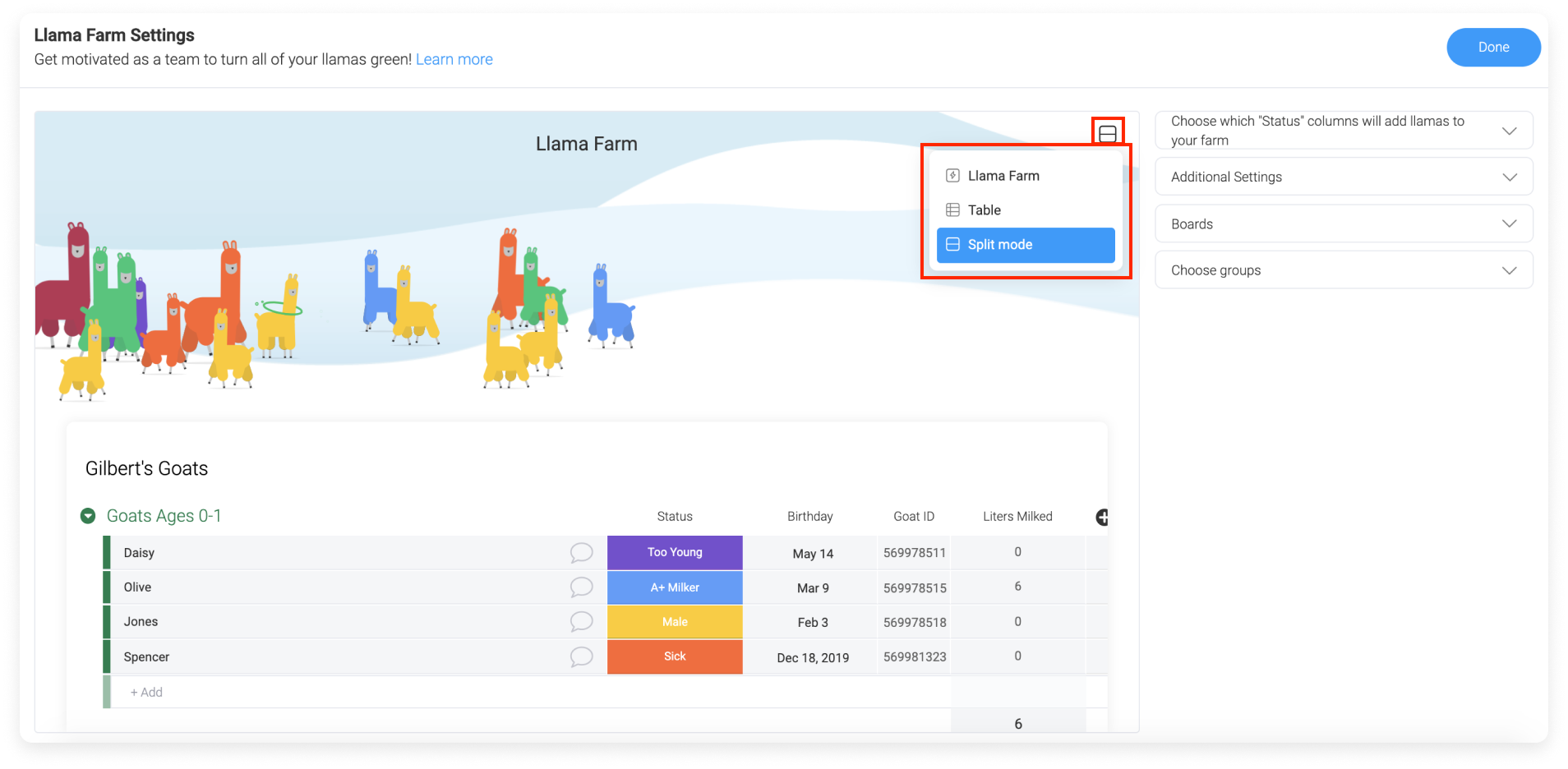 Why we like this tool: Monday can scale up or down pretty easily, meaning it works well for one team or dozens (as long as you link boards together the right way). For those marketers who sit on multiple teams (not great but we know it happens), you can create a dashboard that aggregates their work from different boards to make sure they aren't overloaded. As with Trello, diverse functionality can be a benefit or a shortcoming here, depending on how much guidance you provide for new users.
Watch-outs: This is not an out of the box Agile tool, meaning you'll need to enable certain feature sets to implement Agile practices. For example, all projects start out in more list-style view; you need to add a Kanban view to create a blended backlog. Setting up workflow stages, i.e. column headers, can be tricky, and it's clear the Kanban view isn't the default because you can't see all of the detail in a work item in that view. Overall the interface is pleasing and the functionality robust. You'll just need to do a little extra legwork to get it fully Agile.
Asana
Asana is a tool designed to help a wide range of companies achieve their organizational needs. It's among the more advanced solutions available, with wide selection of features designed specifically to help marketers. Asana is suitable for teams of any size, and it lets you analyze your progress and address issues all in one place. Used well, this tool can help eliminate the need for constant meetings, email updates, and memos.
Why we like this tool: One word: design. Asana earns top points for an incredibly user-friendly interface, which makes it easy to add boards, cards, users, and more. It also has many integration partners, making automation in the platform easy and flexible. Asana can be a "best of all worlds" options, bringing together the ease of use you'll find in Trello with functionality similar to Jira.
Watch-outs: Like Monday.com, Asana isn't Agile out of the box. It's got a more traditional project management core, and you'll need to jump through some initial hoops to get it running in a true Agile fashion. While Asana does support Gantt charts and Kanban boards, the bulk of its functionality is embedded in the list/table view. That can make it difficult to get a bird's eye view of the health of the process, especially if you're running lots of teams with multiple dependencies.
Workfront
Workfront is an Agile tool designed with remote teams in mind. It facilitates real-time collaboration and project automation. Workfront connects strategy to delivery, integrating people and data across the enterprise, and manages work from start to finish for the delivery of measurable outcomes, all in one collaborative platform.
Why we like this tool: Workfront is a popular choice among enterprise organizations applying Agile marketing across their entire marketing department. It offers some great workflow automation options, and surfaces process-related data nicely, particularly if you're running work through multiple teams and boards. Workfront was recently acquired by Adobe, and we can't wait to see where this tool goes in the future.
Watch-outs: This tool isn't ideal out of the box for every team or scenario. Like Jira, you're going to need to budget some additional time and resources to get it set up the right way. Many organizations have a Workfront administrator or work with someone from the Workfront team in their early days of use. While it's not going to be up and running in five minutes like Trello, it can be a powerful ally in an enterprise Agile marketing transformation.
If you're shopping for an Agile process management tool, feel free to reach out for a recommendation. We're not directly affiliated with any of the vendors mentioned above, but we've used them all as part of our client work and will be happy to make a connection (or share a promo code if we have one!).