Succeeding with marketing agility is a lot like succeeding with financial investments. The right moves made early can quickly compound, leading to huge gains down the road.
However, with both agility and investing, there are no guarantees.
Poor choices can lead to wasted resources and losing more than we get in return.
Of course, there's no shortage of information out there to help both marketers and beginning investors make the right investments. The difficult part is processing it all without the benefit of experience.
I can't claim to offer you any advice that will set you up for retirement, but I can point you to three key agility investments worth making for mastering Agile marketing. Agile tools, tailored Agile training, and rockstar Agile hires are all smart choices.
You can pick just one, but remember that diversifying your resources into each of them is a good way of ensuring that you'll get a positive return.
Agility Investment #1: Agile Tools
The first step toward true agility is getting to know the Agile Marketing Manifesto and adopting the values and principles laid out within it.
With the mindset in place, we can move to choosing an appropriate method for applying it. Most marketing teams start with either Scrum, Kanban, or a hybrid approach (sometimes referred to as Scrumban) that combines practices from both.
While these are all valid frameworks, don't let your final choice be dictated by a method's popularity. Instead, look inward with your team and organization as a whole and carefully consider which is the best fit.
Once your framework choice is made, it's time to select a tool to support its role on your Agile journey.
Visual Management and Marketing Agility
This is your first key agility investment, and it can make or break all the rest.
Agile relies heavily on visual management, so we have to invest some of your resources (both time and money) into finding the best tool for making work visible.
Your tool will need to support all the Agile ceremonies from your chosen framework. It also needs to support four fundamental aspects of Agile work: planning, processing, analyzing performance, and identifying room for improvement.
In the early days of Agile, teams relied on physical Kanban boards placed in central places around the office. All of their work, both future and current, was visualized on sticky notes that were placed on the board according to their state (planned, in progress, done, etc.).
Many marketing teams begin this way, and even these simple visualizations can be revolutionary in boosting marketing agility.
In the new world of hybrid working arrangements, however, sticky notes on a wall are far less likely to help the team as a whole.
Now Agile marketers need a contemporary solution that allows us to collaborate effectively from a distance with our team and stakeholders. As a bonus, digital tools also let us easily gather performance data from the process.
The good news is that we've got plenty of tool choices available.
To create the necessary conditions for achieving true marketing agility, you'll want to invest in two types of digital Agile tools: a digital Kanban board solution and a retrospective tool
Digital Kanban Boards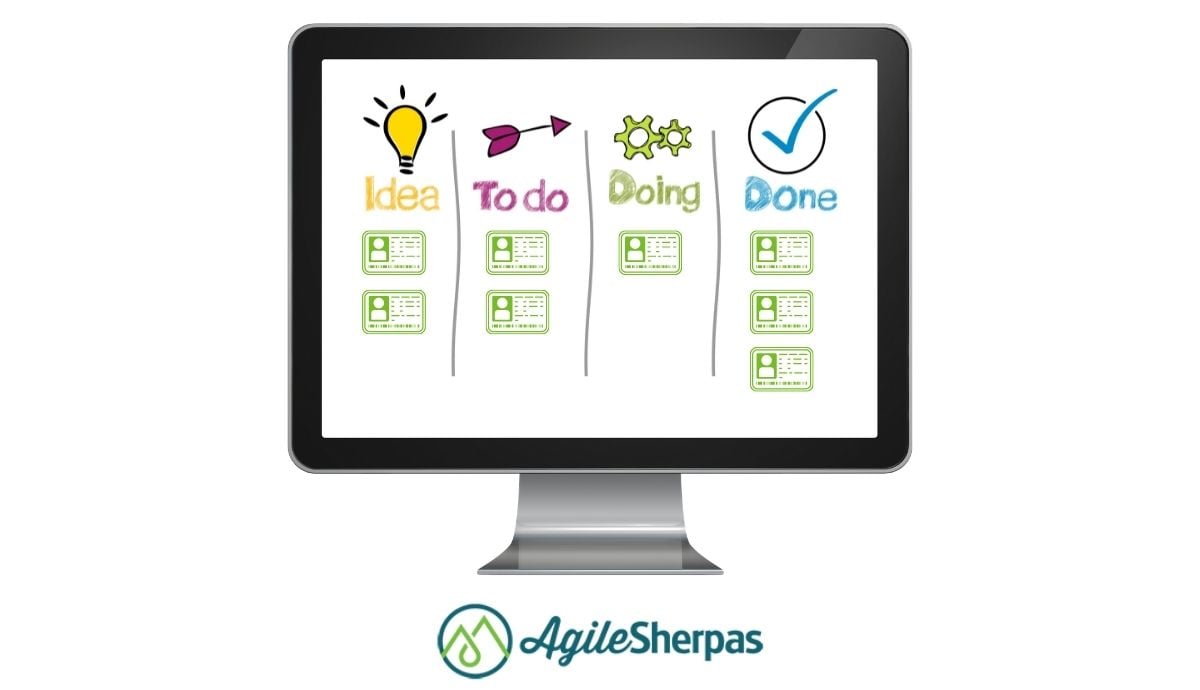 Digital Kanban boards have proven to be the favorite tool of modern marketers on the path to marketing agility. According to the 4th Annual State of Agile Marketing Report, 44% of marketers use digital Kanban boards on a daily basis.
There's a good reason for this preference.
Most of the available solutions cover both planning and processing of work. They enable marketers to create and maintain a structured backlog of work items with very little effort, and then track their efforts while they tackle that long list of work items.
In addition, digital Kanban boards allow us to break down our process into value-adding steps, and to visualize all our work items in a way that's accessible from any point in the world.
The tickets or cards we use in digital tools are far more advanced than sticky notes. They give us the opportunity to include all sorts of relevant information, which means we can process the task faster with better quality and fewer meetings.
For example, in a digital tool we can add checklists of all subtasks that make up each assignment, add priority indicators, track time, and so much more.
Physical boards can sometimes approximate these features, but they'll never give us the sophistication of a digital board.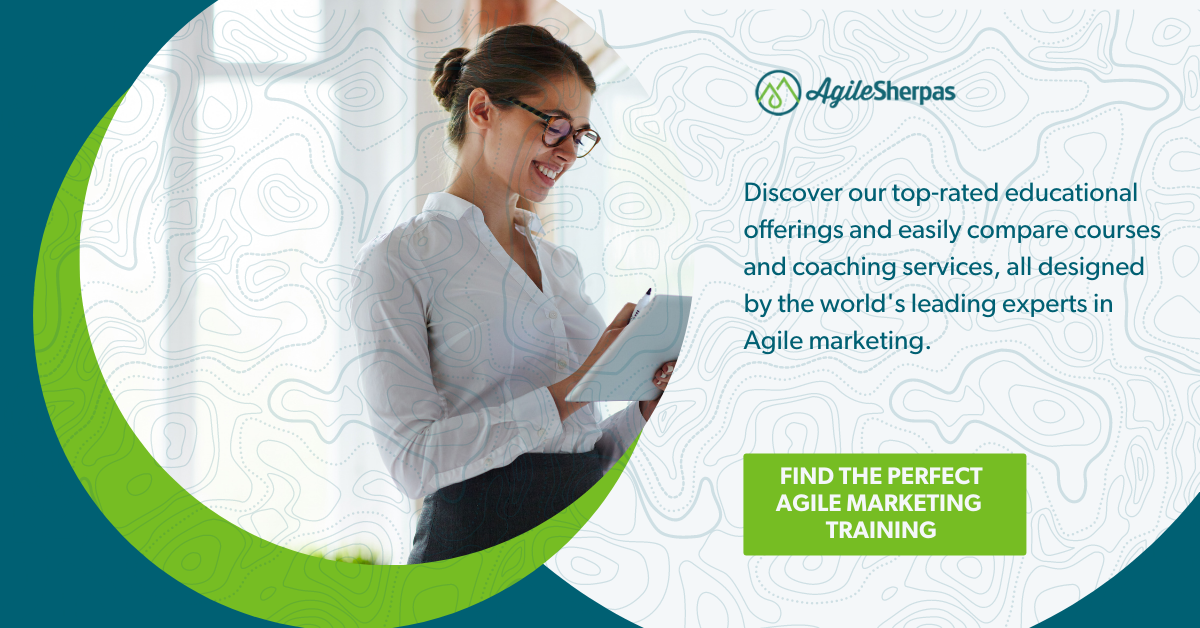 Retrospective Tool
When investing in tools for facilitating marketing agility, a retrospective (retro) tool is an agility investment with great ROI.
These tools are fantastic for organizing and running structured retrospective meetings, which are crucial for analyzing our performance and finding room for improvement.
Given the fact that 41% of all Agile marketers host retros, an online tool for facilitating them is well worth the investment. Like a digital Kanban board, online retro tools enable us to hold engaging meetings even from a distance.
The word "engaging" is key here.
Over time, retros can become boring and mundane, which significantly reduces their effectiveness.
Online retro tools come with a variety of templates for different meeting formats. This variety helps teams analyze our work from different angles and keep the team engaged, even over dozens of retrospective meetings.
Agility Investment #2: Agile Training
Choosing a starting point based on values and principles and securing a proper tool stack is a great way to begin the journey toward agility investments.
Tools alone, however, won't deliver real, lasting agility.
To boost our chances of success, we should be ready to make a second important agility investment, this time in education.
Agile education for our teams can come in many forms: workshops, coaching, training, books, webinars, etc. We've learned, both through our direct experience with marketers and through our annual research, that live training sessions with a real Agile marketing expert are the best agility investments in this category.
Some question the value of this investment when markets are already so busy and the internet is bursting with free content.
But the fact is, the information unearthed by a Google search is fragmented and, in most cases, generalized to appeal to a wider audience. As a result, it can be difficult to tailor to our unique organizational context and goals.
Introducing any organizational change, including adopting Agile, makes us more prone to internal resistance from the team. This resistance will just compound if there's a lack of understanding of the value of the shift to marketing agility.
Agile training can be a game-changer in this regard, because it helps us minimize false starts, embeds values and practices more widely, and reduces the temptation to revert back to our old ways of working when things get tough.
When choosing the format of our training, you'll need to be brutally honest with yourself.
Do you have internal resources with Agile backgrounds and experience?
How open are your marketers to change?
Have we been exposed to Agile before, maybe through other parts of the organization?
How much support do we have from leadership?
Answering these questions will give you a good understanding of your situation, and reduce the difficulty of choosing the right training for boosting your marketing agility.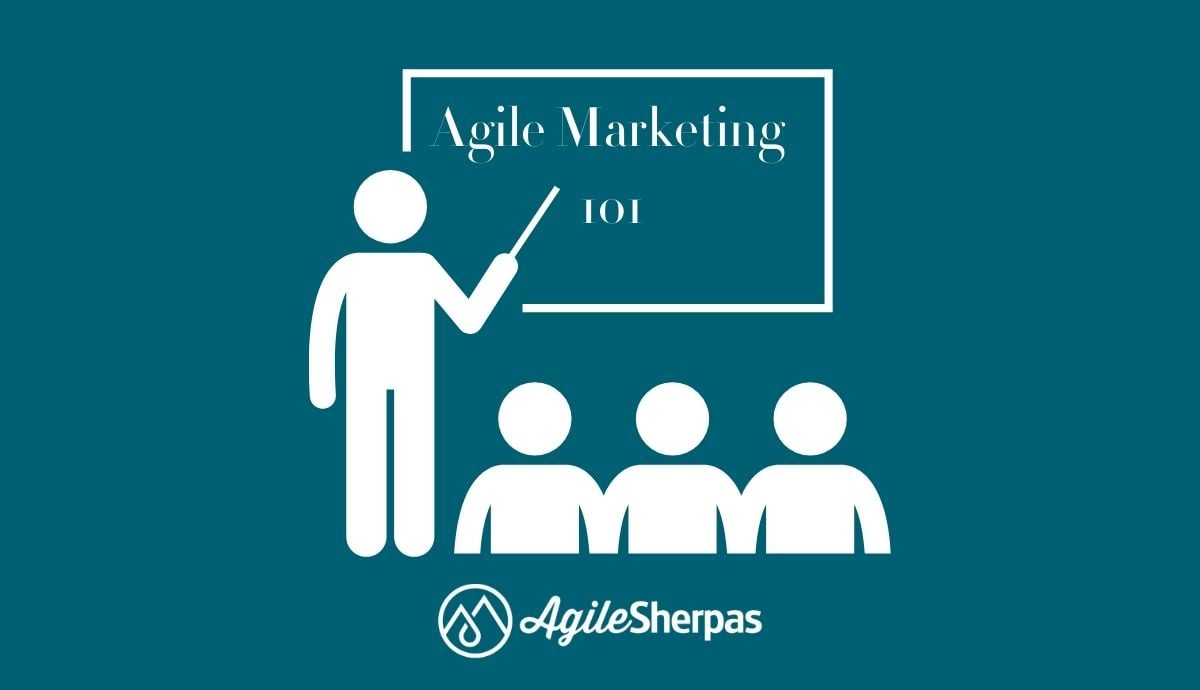 After some introspection, you can decide to start by educating the leadership group with training dedicated specifically to the needs of marketing executives, or choose to start at the team level by sending them to a workshop covering the fundamentals of Agile marketing.
If you feel that these kinds of workshops aren't enough (and they rarely are, as the 70-20-10 learning model tells us), we can easily turn to flexible coaching that invites trained educators into our teams to facilitate team ceremonies and oversee our transition into Agile ways of working.
This kind of support will ensure that you're sufficiently supported by experienced agilists as you transform into Agile professionals.
Agility Investment #3: Hiring the Right People
By making the first couple of agility investments on this list, you should feel pretty confident that you're on the right track toward marketing agility. However, the journey is long and the path can be slippery.
To achieve agility and maintain it over a long period of time, we need to be able to rely heavily on the people in our team and their qualities.
Reliable and capable team members in an Agile context will also be those who are adaptable and open to change.
If we're lucky, all our current colleagues will share the right mindset and desire for improvement that allow Agile to flourish.
However, when we're given the latitude and budget to fill gaps in our team, hiring the right additions can dramatically accelerate our Agile transformation.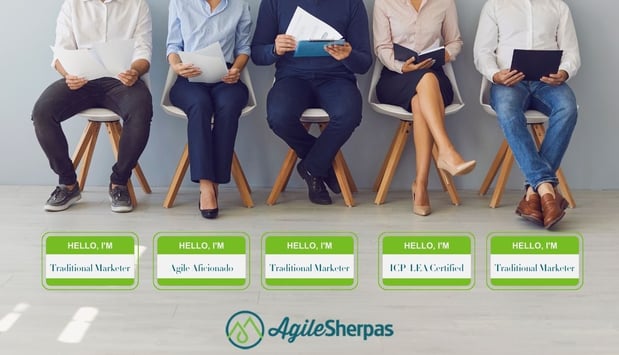 I can't stress enough the importance of hiring the right people once you're on the path toward marketing agility. The right person can reignite the team's passion, and even grow their ability to execute work independently.
On the other hand, hiring a marketer with an unbreakable attachment to traditional marketing processes is very likely to make the journey to agility much more difficult.
The good news is that Agile's popularity in marketing has reached an all-time high in 2021.
As a result, finding new employees with Agile experience and mindset is a very realistic goal. To attract the interest of such people, you can tailor job ads and interview processes to reflect your organizational commitment to agility.
Including role requirements related to Agile is a good idea, and discussing Agile processes when interviewing a candidate will help differentiate between those who'll fit your new Agile dynamic and those who might struggle adapting to it.
When investing in leadership hires, we advise seeking people with Agile certifications to ensure that they've passed formal training and will continue leading the organization in an Agile way.
Ready to Earn Some Agile Dividends?
Marketing agility is a complex investment, and it may feel overwhelming in its early stages. However, the dividends we can expect in the long run make it well worth the effort it takes to get there. Agile marketers enjoy:
Enhanced ability to manage changing priorities
A boost in team productivity
Accelerated delivery of marketing programs, campaigns, and tactics
Increased quality of deliverables
Improvement in alignment with business goals
Like any new investor, to build a sustainable portfolio of Agile teams inside our organization, we need to channel our resources into building out several key assets along the way.
Our first step is ensuring that our teams are equipped with the right tools for achieving and sustaining marketing agility. Find tools that let you build digital Kanban boards run engaging retrospective meetings. Combining these capabilities lets you cover all aspects of Agile process management, including planning, processing, and analyzing performance.
With the right tools in place, you're in a better position to focus on boosting the collective knowledge of your teams. Building shared understanding about what Agile is and isn't inside our organization through workshops, certification training, and coaching will give teams the support they need to build an optimized Agile process.
Finally, to ensure that Agile will continue to reap dividends in the long run, invest in the right people by placing emphasis on marketing agility as a requirement for our open positions.
With all these agility investments in place, your path to marketing agility will feel far more predictable than the stock market.