Call it a hack, tip, secret sauce, or trick, during an Agile marketing transformation everyone is looking for easiest path forward. Leaders and team members alike want to reap maximum benefits in the shortest amount of time, and they hope there's a simple way to get there.
As Agile coaches, Sherpas often join organizations that are changing the way they work, and they tend to arrive right at the moment when everyone asks, "What's the secret here?"
Unfortunately, all Agile coaches would likely agree that there's no Rosetta stone that unlocks agility for an entire organization of diverse departments and contributors. However, there are some key ingredients that often get overlooked in favor of other flashier yet less critical components.
To help you tell the difference between snake oil and best practice, we asked our Sherpas about their take on the "secret" (or "secrets") of marketing agility. We received a treasure trove of tricks, so you can take your pick.
Nurture the Agile Mindset
Several of our most tenured Agile coaches aligned around the role of the Agile mindset in making marketing agility a success. Their position is that the Agile mindset is one of the most underrated, but critical, "secrets" to making agility work at all levels.
According to Elizabeth Venter, a Sherpa based in South Africa, nurturing an Agile mindset within our teams is crucial to achieving marketing agility across the organization.
Approaching our work with the Agile values and principles in mind allows teams to "experiment, test, learn, respond based on data and always keep the customer at the center of everything."
In Europe the lookout on the role of mindset is similar.
Monica Georgieff, a Sherpa working from Sofia, Bulgaria considers the Agile mindset and consistency in embodying it as the two key ingredients for true marketing agility to flourish.
"If your team or department truly subscribes to the Agile values and principles and applies them to all elements of their operations, there's no better way to ensure that they reap the benefits of Agile ways of working," she says.
The AgileSherpas partnership team concurs, represented by Colorado-based Raviv Turner. Raviv considers the relationship of Agile mindset vs. tools as a similar debate to the one of mind over body.
In the case of Agile transformation, our Agile mindset, the company culture and human interactions represent the mind, which is of critical importance, and, in many ways, creates opportunities for the body. On the Agile journey, the tools and processes are the body.
In short, start with the mind to enable the body.
Agile Teams Focused Around the Customer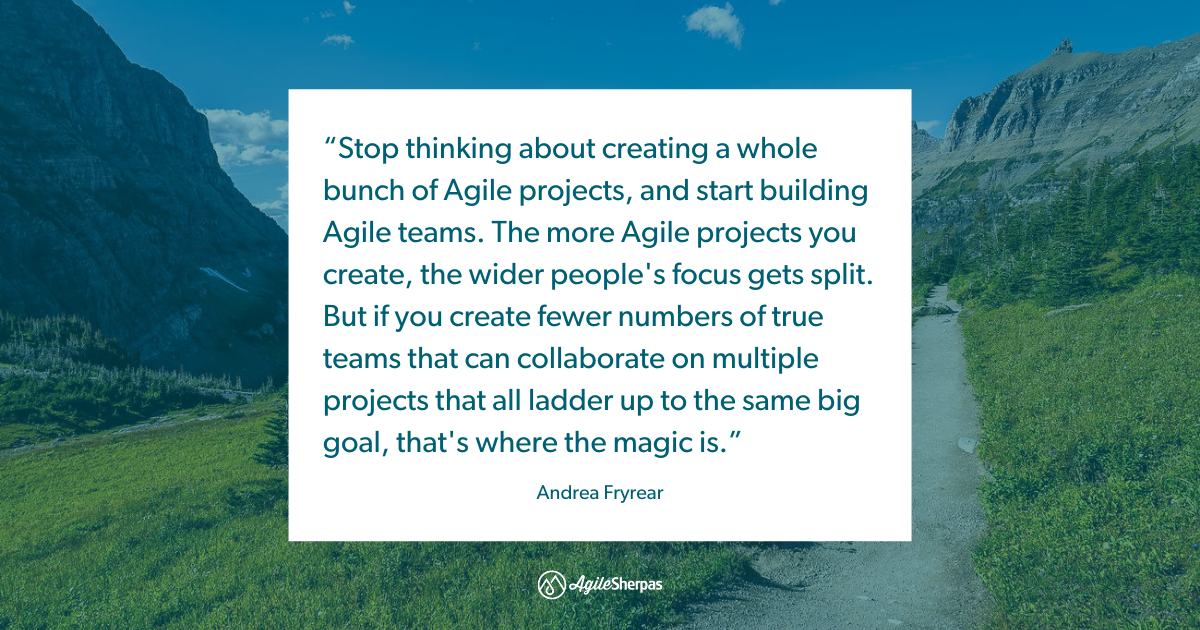 AgileSherpas President and Co-founder, Andrea Fryrear, has been part of the conversation surrounding Agile marketing since it first began. In that time, she has worked with hundreds of teams, helping them move closer to their goal of full-fledged marketing agility.
In many cases, this has meant a restructuring of their team set up to create a stronger focus on the customer and enable a cross-functional, collaborative environment.
"Stop thinking about creating a whole bunch of Agile projects, and start building Agile teams. The more Agile projects you create, the wider people's focus gets split. But if you create fewer numbers of true teams that can collaborate on multiple projects that all ladder up to the same big goal, that's where the magic is," she advises.
Focusing team structures around clear KPIs and goals is great for productivity, because it allows teams to make better progress on all of the projects they have in flight. And, as a bonus, it's also good for morale. The right team structure can, "reduce burnout within all your teams and keep your great people around longer," Andrea has noticed.
On the West Coast, Lisa Rocchetti, a Sherpa in Los Angeles, has spotted a similar trend among her teams. The secret to marketing agility is "re-organizing teams into outcome-aligned, cross-functional pods," Lisa believes.
Forcing Agile ways of working into traditional teams that were set up for silos just isn't the way to go if you want to experience the benefits that come with Agile ways of working, like communication, collaboration, and alignment.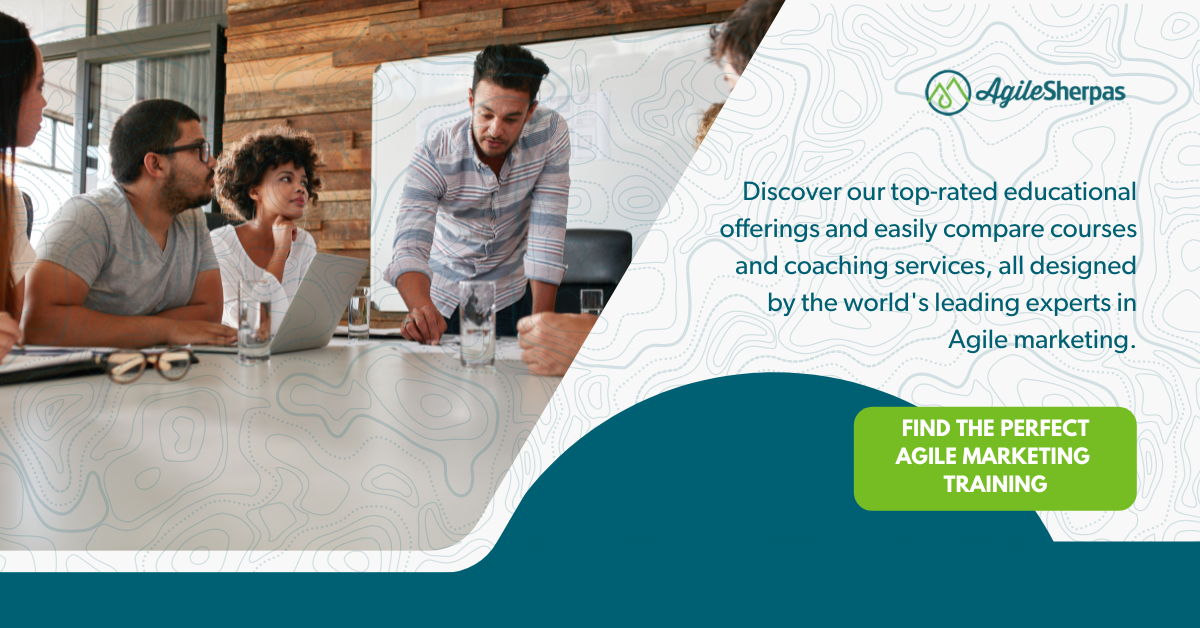 Make Your Mantra GEFN (Good Enough For Now)
In traditional organizations, polished campaigns are the only acceptable form of shippable deliverables.
With this approach, whether a campaign will truly achieve an impact proportionate to the time we spent polishing its presentation becomes dubious. And what about internal deliverables? Like a presentation to a VP, so they can approve a concept?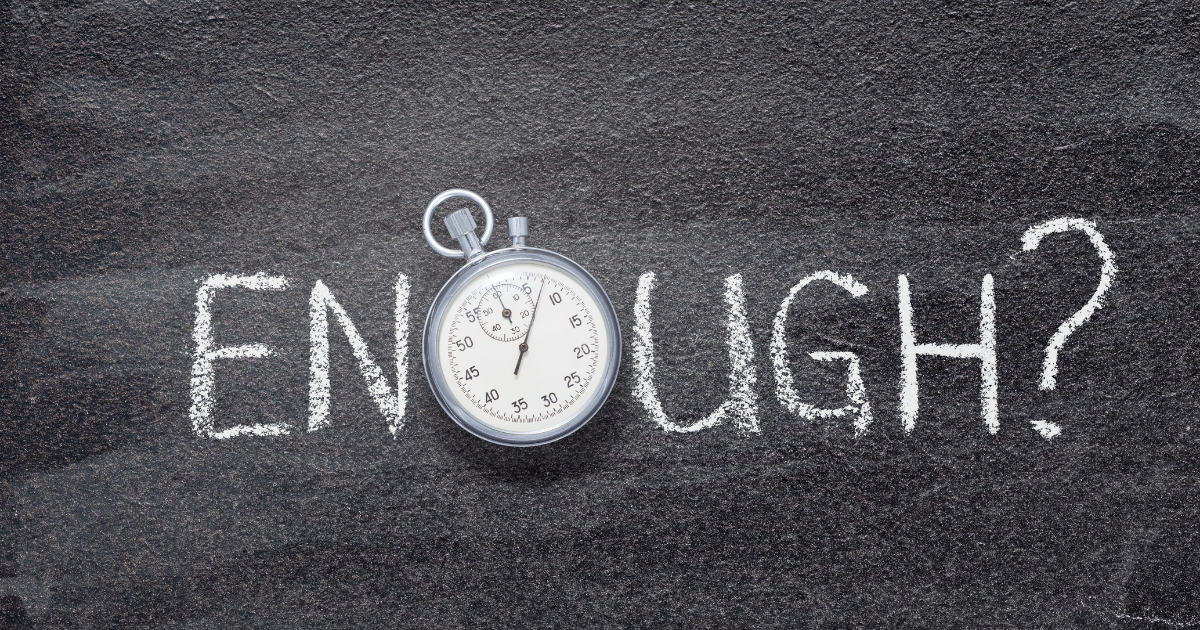 Sherpas "across the pond," like Pam Ashby, based out of Kent, United Kingdom has noticed another element that just doesn't get enough airtime, despite being a vital contributor to team success in the long-term. "Doing 'just enough' to get the value that's needed right now," is one of the secrets of marketing agility and prioritization that fuels it, according to Pam's experience.
Focusing on creating value instead of generating "perfect," polished deliverables is the secret sauce that helps Agile teams work smarter, not harder.
Keep An Open Mind
The Agile mindset, based on the values and principles described in the Agile manifesto, is not the only type of mindset that helps Agile teams succeed.
Keeping an open mind and exploring unfamiliar possibilities, more broadly, makes the difference between organizations that make marketing agility a reality and those that don't, despite their efforts.
AgileSherpas' Head of Training & Delivery, Ross Libby works from the Twin Cities in Minnesota and is a firm believer in what he calls, "the possibility mindset," which team members must adopt to transform the way they work.
In Kansas, Amanda Hembree, one of the North American Sherpas, agrees. To be able to transform the way you're working, you have to put yourself in situations in which you "ask questions, understand the purpose, understand your role, without assuming that someone else will make the change for you," says Amanda.
In some ways, what both Ross and Amanda are describing is the ability to capitalize on the unknown and leverage it without being afraid.
Colleen Dunn Hartoonian, an experienced Sherpa from Nashville, Tennessee describes it as, "being comfortable with being uncomfortable."
"It's ok to not have the answer right away. In fact, you shouldn't have it right away. Great marketing agility takes time, practice, and some trial and error," Colleen goes on to say.
Your Eureka Moment Is Around the Corner
No doubt, the road to true marketing agility can be a bumpy one. While there are many organizations on the path to success with marketing agility, the path looks different for each one.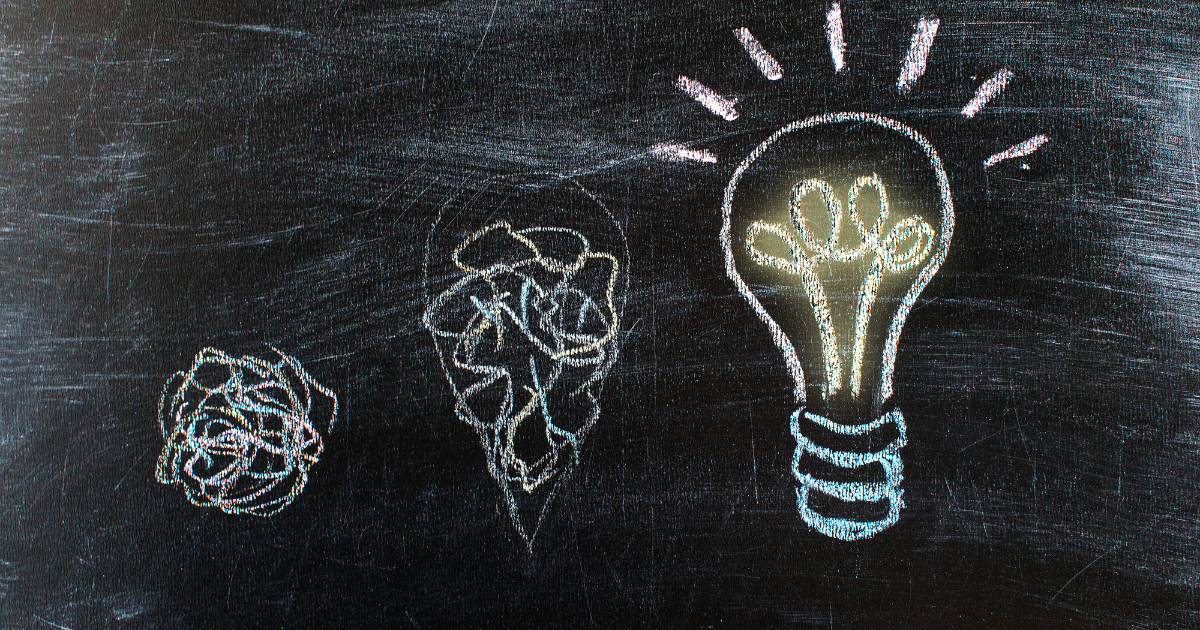 During Agile transformations, organizations are encouraged to build their own roadmap based on their structure, industry, experience and culture.
The secrets described in this article can be guiding signposts on the journey, around which to weave your unique organizational path towards marketing agility.
Focusing on value, being open-minded to new opportunities and restructuring your teams to facilitate greater alignment and collaboration will support your journey by making sure all contributors are moving in the right direction over its course.
Likely, there are other "secrets" to marketing agility that you have yet to uncover within your teams, so keep an eye out for your special secret sauce!