As Agile ways of working become more widespread, newly-minted Agile marketers are quick to notice the quantitative benefits. We often hear Agile praised because of time saved, amount of work completed, and wasted budget recovered.
"It's faster!"
"We get more done!"
"We're saving money!"
The faster pace, clearer priorities, and higher levels of productivity are always the first benefits of Agile that teams notice. But they're definitely not the only benefits. Now that more Agile marketing newbies are maturing into pros and gaining more experience with Agile practices, the qualitative long-term benefits of the methodology are also coming to light.
As producing high quality work consistently, maintaining alignment on business objectives, and improvements in team morale are among the most impactful qualitative benefits of Agile that marketing departments observe. In this year's State of Agile Marketing Report, 31% of the marketers surveyed indicated that increasing employee satisfaction, in particular, was making its way ever-higher up their list of priorities.
Given, among other things, rising costs of employee turnover, this number isn't surprising. Compared with 2019, it's an 8% jump. Coupled with the realization that agility has significant influence over whether our employees are happy at work or not, this makes for one compelling series of stats. In this article, we dig deeper into Agile marketing practices that improve employee satisfaction and foster higher levels of morale among marketers.
Data on Agility and Employee Happiness
The far-reaching implications of agility as a way of improving team morale and employee satisfaction became the focus of deeper analysis in the State of Agile Marketing Report for 2020. In this year's report, 40% of the marketers queried observed improvements in team morale as a result of adopting agility. In comparison to findings from 2018 and 2019, this represents a 7% increase.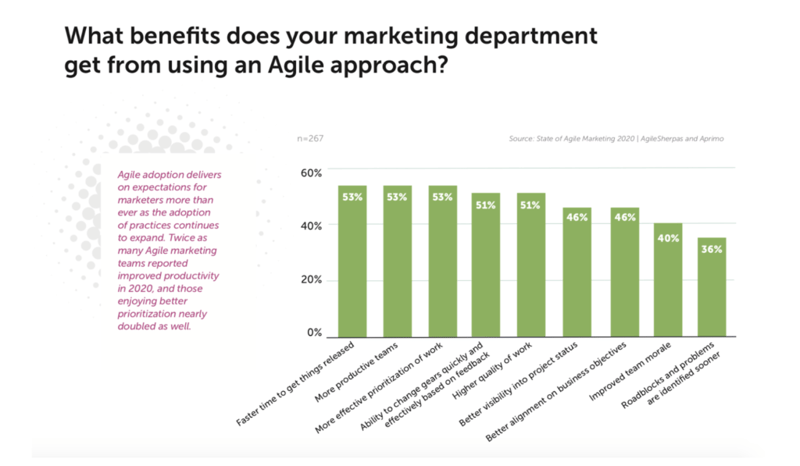 So, is Agile actually making employees ...happier? The link between happy employees, an increasingly vital goal for our marketing departments, and the implementation of the Agile mindset and practices manifests in a number of ways.
Shared, transparent workflows
One of the most popular practices in an Agile team's arsenal is workflow visualization -- and for good reason. For departments grappling with silos and hierarchy, the visual workflow becomes the vehicle for focused collaboration.
Every Agile team likely tracks their project tasks on a physical or digital process board to which everyone on the team has access. When maintained on a day-to-day basis, this valuable practice translates into:
Increased clarity regarding task progress and project status
Shared understanding about the team's established processes
Clarity regarding ownership of tasks
A simple way to spot impediments before they become big issues
A vehicle for trust and accountability within the group
Creating transparency around the team process using this format is a very powerful tool for the team. Seeing the bigger picture empowers the members to hold each other to account. It also makes it easier for them to eventually become self-managing.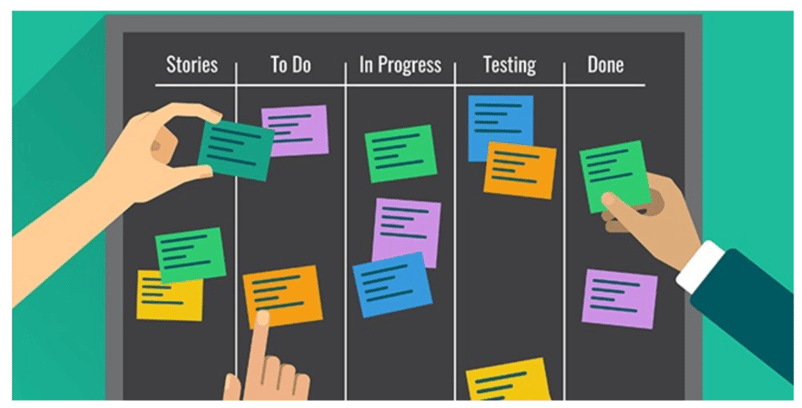 Instead of wasting energy navigating around firewalls and collecting endless requirements, teams with a visual workflow in place have access to the same detailed information. Beyond that, they trust each other to keep it up-to-date.
Openness for input and feedback loops
At the heart of a truly Agile process is the technique of using feedback loops to measure, track and improve parts of the way we work together. Like the concept of continuous improvement, feedback loops give a lot of agency to the individual contributors in the group, as well as power to the team at large.
Giving input on a regular basis results in employees feeling that their opinions are being valued. On the other hand, analyzing input from other sources and using it to make decisions results in a sense of influence over the team's next steps.
In fact, contributors in an Agile team are encouraged to create built-in feedback loops on several levels. First, among the members in their teams. Second, with stakeholders in other areas of the organizational hierarchy. But also, directly with their customers. For example, in the Scrum framework, there are specific practices and meetings that take place on a regular basis within the team. They ensure that there are feedback loops built in on several different process levels, consistently.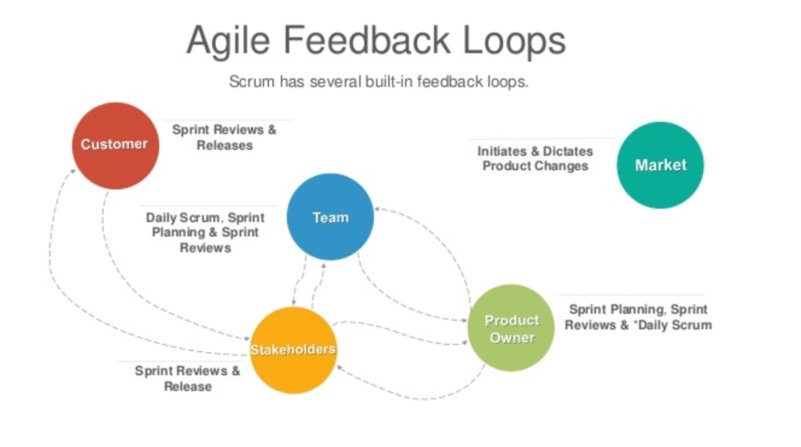 This wider breadth of knowledge and deliberate analysis enhance employees' engagement with the work they're doing. Learnings from feedback loops also encourage them to make more informed conclusions about how to do it better.
Freedom to experiment
The original Agile manifesto emphasizes the principle of "building projects around motivated individuals," not around established norms. In a creative profession, such as marketing, having permission to take an experimental approach to projects allows individuals and groups to really put their best foot forward.
Working off of antiquated assumptions about the customer, what works, and what doesn't is a sure way to lose money. It's also a very demotivating reality for employees to face on a daily basis. In an Agile world, approaching large initiatives with an open mind requires individuals to work together in order to experiment, gather learnings, and make decisions about how to iterate on their original ideas.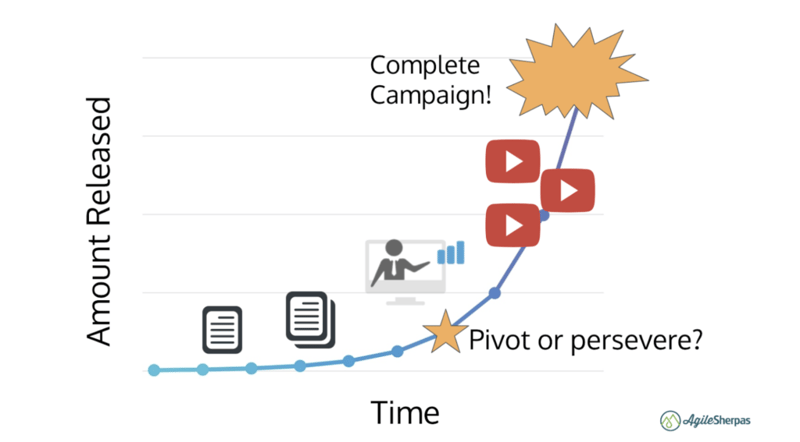 Not only is this approach low-risk from the perspective of cost, it also creates a "safe-to-fail" environment. In this type of environment, teams are encouraged to look at the best approach to achieve business outcomes, instead of just going with the status quo.
Employee satisfaction guaranteed.
Mantra of continuous improvement
It doesn't matter whether you're applying the Scrum or Kanban frameworks in your Agile implementation. The concept of continuous improvement should be entrenched in your team's approach to executing on projects. More than just a particular way of working, this idea of kaizen refers to both personal and team improvements in efficiency and quality on an ongoing basis. This philosophy is at the core of all the values and principles that govern the structure of Agile frameworks.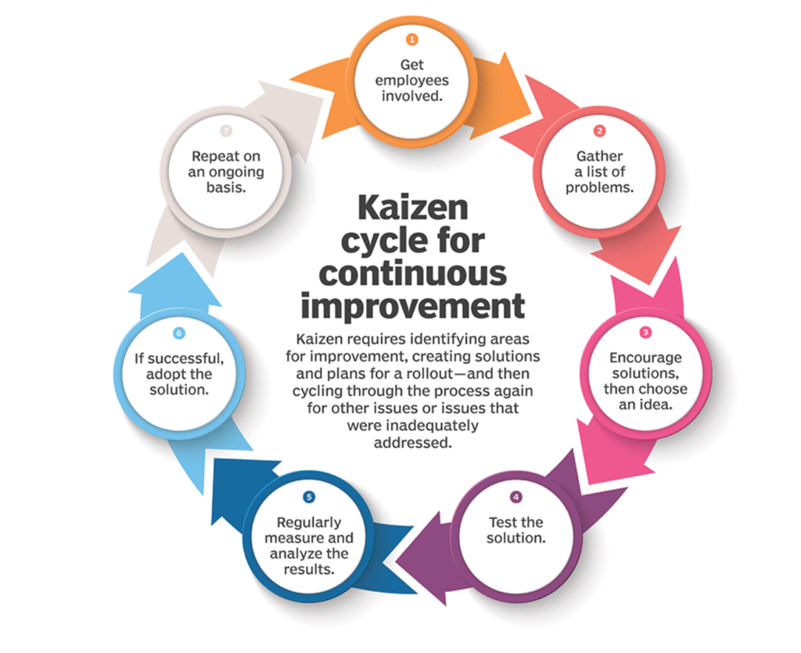 The belief in kaizen aims to eliminate the fear of changing or doing things differently. In fact, the word literally means "good change" in Japanese. Kaizen also drives individuals to place emphasis on not just "getting the job done," but also getting it done better next time. It's a forward-looking, proactive philosophy. If embraced wholeheartedly by a practicing Agile team, it can translate into higher morale among its members in the long-term.
Odds in favor of agility
According to this year's State of Agile Marketing Report, 74% of respondents on Agile teams described themselves as satisfied with the way their marketing department currently manages its work. The statistics for ad hoc and traditional teams were nowhere near as positive. More specifically, dissatisfaction was twice as common among marketers on ad hoc teams than those on Agile teams.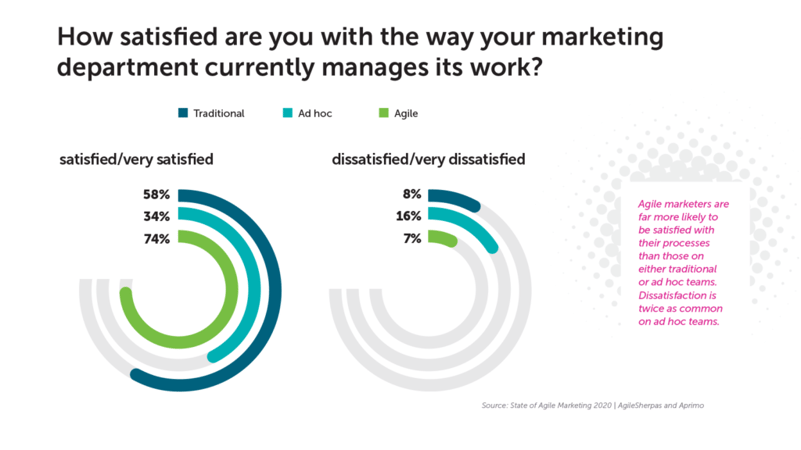 Which begs the question -- why aren't all marketers on an Agile team with high morale yet? By the end of the year, a good chunk of them just might be. Our data shows that 43% of non-Agile marketers plan to implement Agile marketing practices in their departments within the year. Sounds like it's going to be a phenomenal year for Agile in marketing! How will you use the Agile mindset and practices to create a working environment where satisfaction and high morale flourish?