Tenzin Alexander is the Senior Vice President and Marketing Operations Director at Huntington National Bank, an AgileSherpas customer. She was named one of the American Banker's Most Powerful Women in Banking Next in 2020 and one of the Top 15 Women in Banking by the Next 2020 list.
On a recent episode of the Marketing Agility Podcast – about the growing field of Agile marketing – Tenzin joined hosts Frank Days and Melissa Reeve from Agile Marketing Alliance to share her experience championing Agile across the marketing department at her organization.
Tenzin and her marketing operations team are structuring processes, managing the rollout of new tools, and liaising with legal and compliance partners in order to support the success of the entire marketing department at Huntington Bank.
One of their key initiatives for 2022-23 is introducing Agile ways of working across the department in a methodical and iterative way. In getting to the halfway point of an Agile transformation for a department of 100+ marketers, Tenzin and her team have accumulated learnings along the way that she shared during the recent podcast.
Seeing & Experiencing Agile Helps
With over 20 years of tenure at Huntington, Tenzin was inspired to try Agile in the marketing function based on her experience of the methodology within other parts of the organization as early as 2012. As with many companies, Agile at Huntington Bank started in the IT world.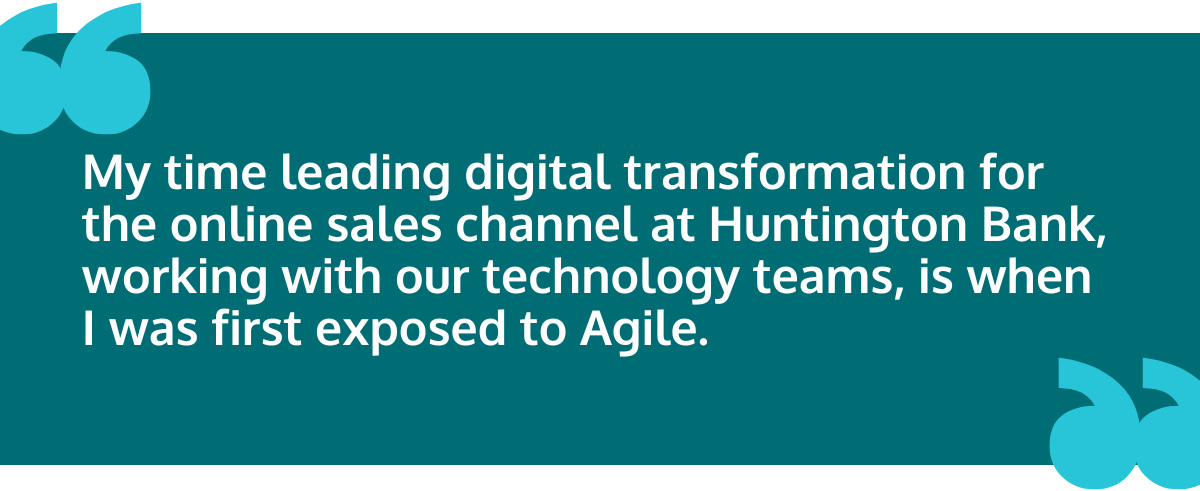 At the time, Tenzin's goal was to grow online sales for Huntington, while collaborating with a team of product owners as well as a dedicated development group that were entirely organized as cross-functional Agile teams.
As part of this experience, Tenzin had a chance to set priorities, track success metrics, and introduce new modes of measurement, as well as foster alignment with the Agile teams on the work and value-based delivery.
The marketing operations leader is bringing this experience of leveraging the Agile way of work in her digital banking team in 2012 to her implementation of Agile on the marketing side. As a part of this process, she encourages teams to deploy a much more integrated process across business and IT. Ultimately, this results in improving the work speed, team dynamics, and the end product for the customer.


That is when Tenzin started reading more about Agile marketing formally, along with how other companies have found success in implementing the Agile way of working.
Connect Speed and Value
Her observations regarding agility as part of the digital team resulted in the conclusion that, while the Agile process of releasing features in iterative chunks resulted in faster releases, there was still a strong need to connect that speedy value delivery to outcomes for the business.


This data-driven approach she and her team were applying was visible to the rest of the organization. The frequent feedback loops were causing ripple effects across the rest of the business, which introduced the promise of agility across teams and departments. As a result, the notion of Agile ways of working began to percolate across the company…
Partner with Your Agile Center of Excellence
As noted, one of the key learnings Tenzin shares is related to Agile's roots inside the Huntington Bank IT department. As Agile began to spread to other departments, the importance of ensuring that both groups were using the same language regarding agility and that they developed a shared understanding of the terms associated with the methodology became clear.
In this regard, what has made a difference at Huntington is the partnership between marketing (who were recently taking their first steps with Agile) and the Value Management Office (VMO) within the IT organization (that were the resident gurus on the subject internally).
Despite the fact that the Agile CoE currently sits outside of the marketing department, there is still much that can be gained by coordinating cross-company Agile initiatives with them.
Nobody Puts Baby in an Agile Framework
Across Huntington at large, there is a preference for Scrum over Kanban as an Agile framework for implementation. However, there are also groups that are processing more unplanned work and therefore operate using the Kanban method.
Especially in the marketing function, Tenzin refers to many teams that are taking advantage of Scrum and Kanban practices.
According to Tenzin, having the ability to choose which Agile framework for implementation you use in your team is an advantage, not a hindrance. While it may seem that mandating a specific framework would do much in the way of consistency, as long as the Agile mindset is at the heart of all work processes, whether you're using Scrum or Kanban to process daily tasks should be up to the team.
Agile Won't Solve THE Problem
When embarking on an Agile transformation, many organizations have the tendency to identify a specific problem, such as time to market or ability to respond to change and decide that Agile will be its solution. According to Tenzin, she has observed a wide variety of benefits across the teams she is supporting through Agile transformation. In her own words: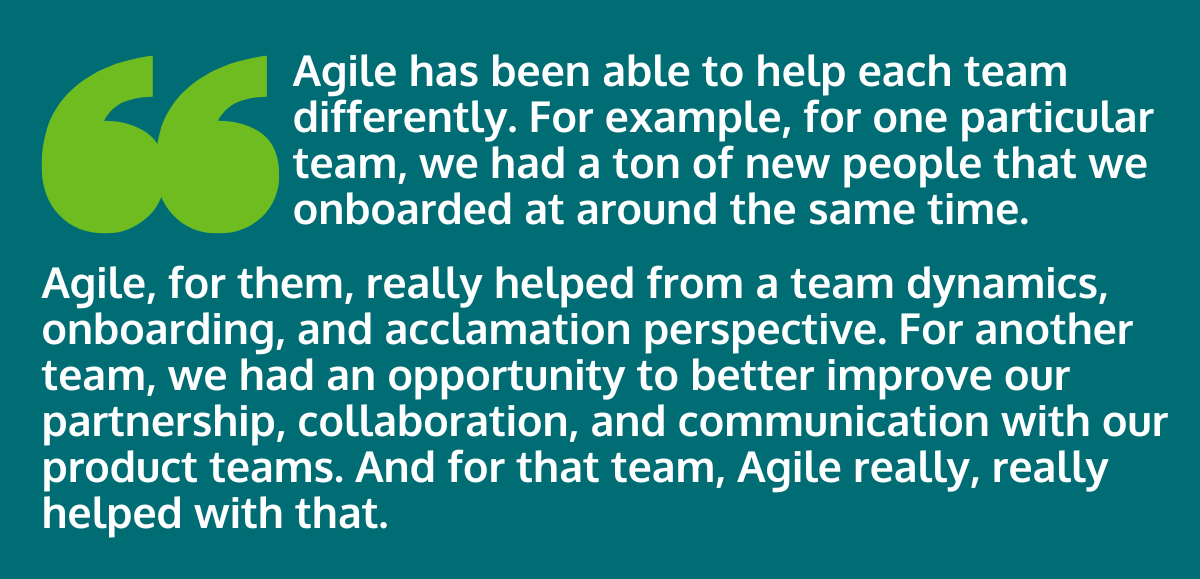 In her teams' experiences, Agile doesn't necessarily solve a single problem. Instead, Agile helps organizations identify known and unknown pain points, bottlenecks, and opportunities so that they can be raised to the appropriate levels of leadership where they can be addressed, mitigated, or accepted.
User Stories Help Marketers Put (and Keep) the Customer at the Center
For a marketing department that has such a fanatic focus on the end user, even across internal processes, Agile has helped keep the lens of the customer experience from the ideation stages all the way to regulatory adherence.
Tenzin specifically calls out the Agile practice of writing user stories as one that was new to the marketing teams at Huntington but became a tool that resonates strongly with all of the teams who began using it.
Apart from the planning process, user stories have helped Huntington teams keep the customer at the center of the entire execution process.
No Agile Without Risk and Compliance
As a banking institution, Huntington has to navigate a highly complex regulatory environment while also running safe-to-fail experiments to validate their internal assumptions as part of their Agile approach.
Tenzin calls out marketing's vital relationships with Huntington Bank's risk, legal, and compliance partners as an important factor in striking a balance between tests and regulations.
According to her, without them on board, the marketing teams practicing Agile would not have had a chance to reap the benefits of agility in the way that they have.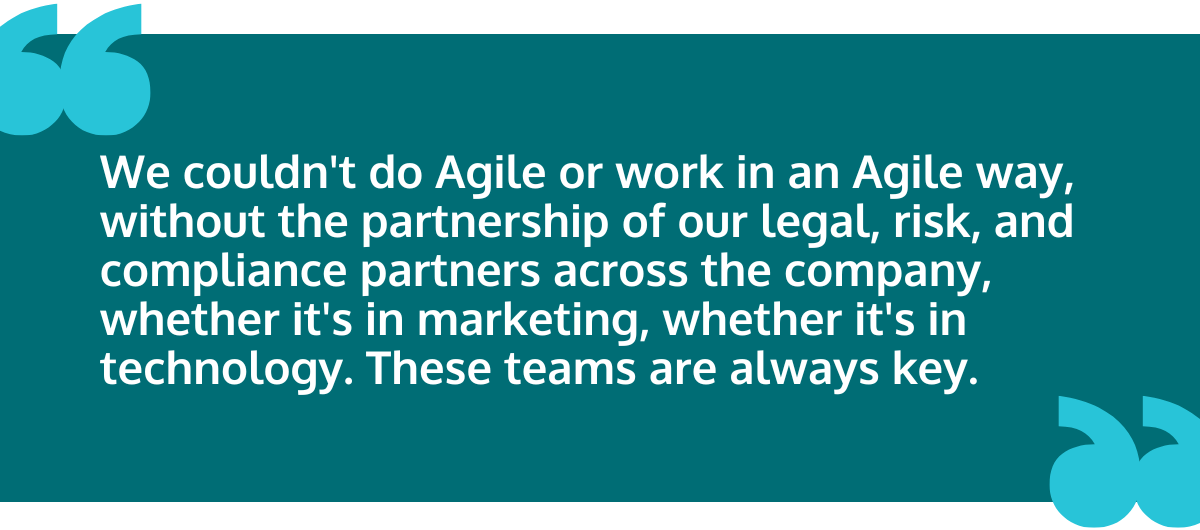 Huntington Bank advises that any organization in a regulated space include these teams in any Agile onboarding, training, and roll-out plans for new processes because they are such a key piece in the delivery process.
Further, including risk, legal, and compliance partners in key quarterly planning sessions, such as Big Room Planning, helps the teams doing the work become aware of any key requirements that they may have to meet as they develop campaigns and communications.
When risk, legal, and compliance partners have a chance to weigh in early in the planning process, teams end up with fewer reviews and edits to push through during the creation.
Prioritization = Sustainability FTW
Like any organization in a competitive space, Huntington understands that they need to deliver innovation in a timely way in order to stay on top of their business goals. That is why, operationally, they are being very deliberate about where they spend their marketing resources. Instead of trying to do everything all at once, they are focusing on scalability, automation, sustainability, and reducing waste in their existing processes.
In support of these goals, Agile has helped them ruthlessly prioritize to identify the most important work.


For those that often wonder how to untangle the complicated web of Agile marketing transformation in a highly regulated space, learn about the crux of the matter directly from a tenured marketing operations leader driving the adoption of new processes, practices, and tools and her partners in transformation.
According to Tenzin, "support from the team at AgileSherpas has made the experience of Agile transformation across Huntington National Bank's marketing department enjoyable, achievable and so valuable. From transformation strategy to training to coaching, we've benefited so much from the expertise provided by AgileSherpas. Everyone I've worked with from their side is equally amazing!"
While others may often reference increased speed and cost reduction as benefits of Agile ways of working, Tenzin Alexander's key learnings highlight customer centricity at the outset – as well as throughout – the execution process, value delivery, not just speedy delivery, and the relationships worth prioritizing on the path to marketing agility to provide a much more nuanced approach to Agile transformation in a regulated environment.
Are you currently on the same path to the Agile summit?