Even in the most sensationalist business media, no one has ever dared to say Agile took the world by storm.
Even as an exaggeration, it simply wouldn't have been accurate.
The increasing popularity of Agile ways of working has been multiple decades in the making. It has also taken a lot of deliberate, calculated effort from many individuals and teams inside IT and beyond to reach the pinnacle of Agile adoption, where more teams use Agile than Waterfall processes, inside software development.
But, Agile is on the rise.
Since 2005, the number of teams that are reaping the benefits of this methodology has grown exponentially. The recent global pandemic has only accelerated this significant shift in process norms.
Outside of IT, marketing is leading the Agile charge. Marketing was the first department among the business units to experiment with Agile ways of working and adapt it to their context in order to overcome their own process challenges.
As the most Agile-savvy non-technical group within the organization, marketing now has a unique role to play as its colleagues in Sales, HR, Procurement, Legal and other adjacent departments start to get curious about adopting agility.
Luckily, marketing is also in the perfect position to conduct Agile values and principles as well as support Agile practices inside the rest of the business. Not just for the sake of its internal partners, but also for its own benefit.
There are several factors that make marketing a promising gateway for agility to become the best-in-class way of working in functions like HR, Procurement, Sales, Legal and other business units in need of better, more efficient, processes.
Position in the Organization
Marketing departments sit smack in the middle of nearly all organizations large and small. Their position in the org chart means that marketers communicate and collaborate with many parts of the business to achieve strategic goals as well as accomplish daily tasks.
This circumstance has been the function's greatest challenge and its greatest opportunity. Being at the core of our organizations means we are dealing with process challenges that require us to be mindful about how we structure our workflows, such as:
A high variety of work item types
Requests from many different stakeholders
Interruptions, distractions and getting pulled in many different directions
Having to manage high workloads and high levels of complexity
However, being at the center of the action also helps us by providing the necessary influence to drive change and innovation among the rest of the business units.

Being at the core of our organizations also means that marketers:
Have an opportunity to align efforts
Act as the bridge between different functional areas
Have influence over the initiatives of adjacent departments
Have a holistic view over business goals and objectives
Marketing's unique role in championing agility is not only related to where in the organization it is positioned, but also the type of work it executes while occupying it.
The First Digital Profession Outside of Product
Outside of product development, most parts of the business are still acclimatizing to impending digitization. Over the course of the last decade, HR, Sales and Procurement software tools became abundant, job candidates started to get screened automatically, purchase orders became system-generated, and Sales began to analyze tone of voice to report on sentiment analysis. Digital has certainly arrived inside these functions in the tools they use, but not in the same way as it has inside marketing.
Marketing shifted its focus to digital deliverables, not just tools, a long time ago and quickly. There was a time that our departments literally depended on whether we could onboard marketers fast enough to start leveraging the digital channels that were attracting huge audiences as if overnight.
In order to stay competitive, leverage digital marketing channels, and stay as autonomous as possible to move quickly, marketers merged to look more like software developers in the work they do and the tools they use to do it. They are the first truly digital profession outside of product development.
Chances are the rest of the business units will also move gradually further and further into the digital realm to keep up with changing circumstances and when they do, marketing will serve as an example of a digital profession the challenges that come with this new type of work by using Agile.
Stewards of Customer Data
Inside customer-centric organizations, data about the customer is precious.
Due to the high speed of campaign delivery and the mechanisms for measurement that marketing makes use of, marketers tend to be the most informed about what customers need, why they need it and what it means for the business.
Unlike marketing, other functions like HR and Procurement are more inwardly focused, optimizing processes within the enterprise, not necessarily delivering value outside it. In many ways, for HR and Procurement, the business itself is the customer. This makes these functions, by default, one step removed from the revenue-generating customers outside of the organization.
Sales might seem customer-centric because they are in constant contact with potential customers, but much of the time they are actually in touch with primed leads or existing customers looking to upsell. In addition, Sales often deal in relationships, not numbers, which means, apart from dollars, they are measuring largely qualitative data throughout the sales cycle.
Much of the metrics about what customers want and need is harvested and kept inside the marketing department. Other business units rely on this information to make decisions about deliverables, processes and goals.
With this historical data for reference and the mechanisms for measuring future customer data in its arsenal, the marketing department is well-placed to connect implementing Agile processes internally with a wide array of customer success metrics.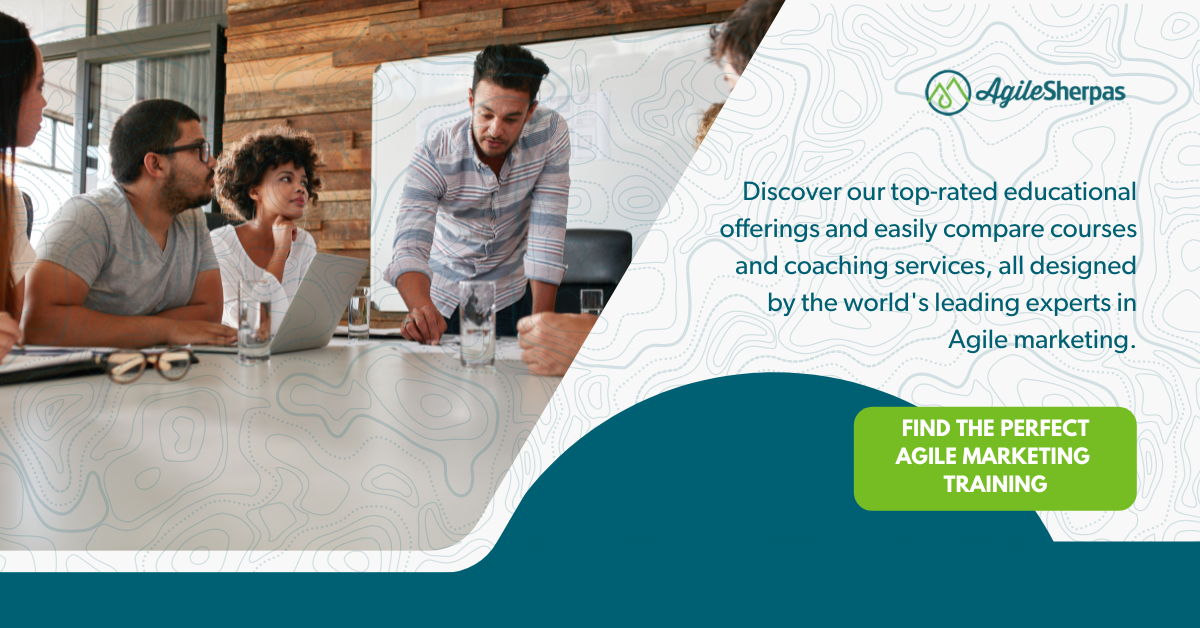 Proven Case Studies
Leave it to marketing to spread the word.
By providing an example of Agile ways of working operating successfully outside of IT and documenting it in multimedia, marketers are a very vocal example of Agile working well in non-technical groups.
Unlike their original counterparts in software development, marketers are well-equipped with the skills to generate insights and share them with the world.
Agile marketing case studies inside various industries have the potential to serve as blueprints for teams who are looking for tips and tricks about their own Agile journeys in the context of a non-technical team.
Marketers don't just invest in championing Agile ways of working to wax poetic. They have an ulterior motive with the potential to benefit everyone in the business.
A Lot to Gain from Internal Agile Partnerships
Now that 51% of marketers are using some combination of Agile practices, many are beginning to wonder -- how do I bring my internal partners into this new way of work so we can collaborate more effectively?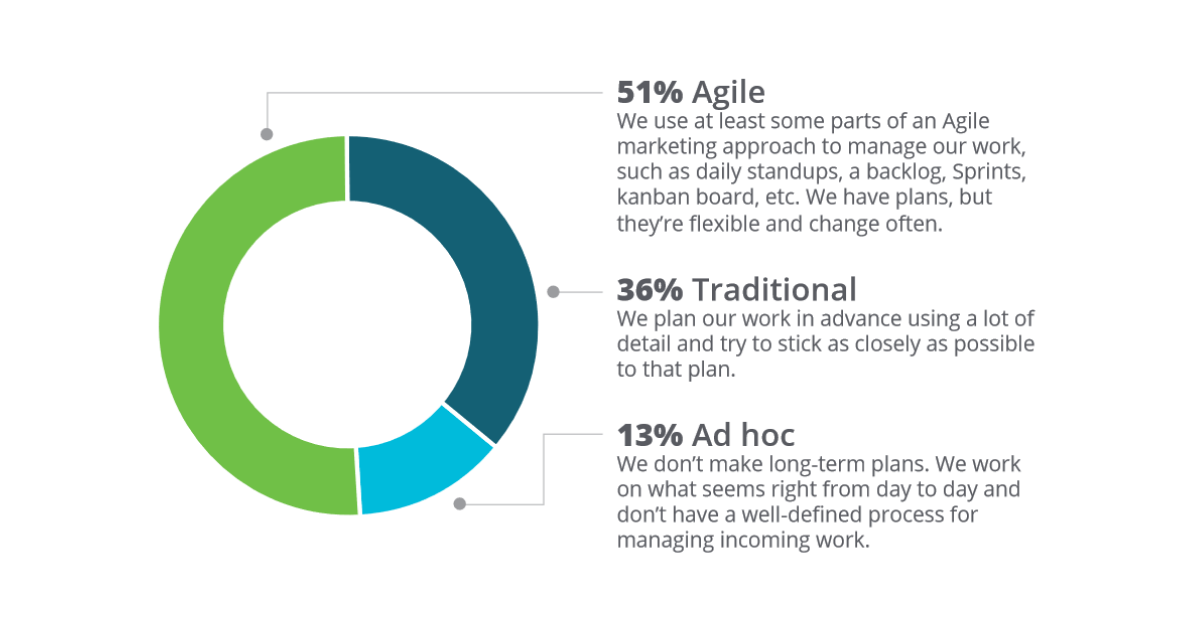 Marketing is one of the functions with the most and the widest variety of dependencies across the board. Marketing campaigns depend on legal, compliance and procurement, partner with sales and product, and receive requests from almost all areas of the organization.
If everyone adhered to one streamlined process, consider the pace and efficiency with which the business as a whole would operate?
Right now, that is definitely not the reality most marketers are dealing with.
As Agile ways of working become more entrenched in marketers' DNA, the desire to loop typically non-Agile groups like Sales and Legal into Agile ways of working has become stronger than ever.
Marketers have a lot to gain from other business units around them going Agile.
With Agile in their toolkit, Sales teams can collaborate more effectively with their marketing partners during the project planning stages. Similarly, with an Agile process for reviewing campaign content, Legal and Compliance teams can avoid stalling out marketing delivery.
Marketing Is The Key to an Agile Organization
If an organization is a village, then marketing is its piazza. At the heart of the organization, the marketing department is in an opportune position to influence the rest of its collaborators.
Its access to data from the target audience and engagement metrics also elevate marketing beyond an internal influencer to one of the departments with a direct connection to the end customer. Marketers can easily make the link between internal Agile process and customer success.
Now that marketing's transformation to digital deliverables has exposed it to Agile ways of working as a method to solve its process challenges, marketing has a chance to use its status inside the organization and its unique skills to promote itself as a case study for Agile ways of working in a non-technical environment.
Spreading the word of Agile across the enterprise comes naturally to marketers, especially if it's a methodology that's win-win for everyone. Marketers have discovered that while their own department reap the benefits of working in Agile, they can only unlock further optimization if they bring their internal partners along for the ride.
All these reasons and more make Agile marketing departments the perfect key to making this methodology a reality across the entire organization.