"Anyone who stops learning is old, whether at twenty or eighty. Anyone who keeps learning stays young. The greatest thing in life is to keep your mind young." - Henry Ford
Even if staying young isn't your primary concern, as a marketing professional, learning new skills is the only certain way of building a long, lasting career. Our line of work is among the most innovative and fast-changing occupations out there.
As a result, the only way to stay relevant as an individual, and to support your team's success, is to continuously improve your skillset.
Fortunately for us, we live in a time when infinite knowledge is just a few clicks away. But, with all the available content out there, the hard part is separating the good information from the not-so-good.
To help you satisfy your need for learning, we compiled a list of 10 premium marketing certification courses that will take your skills in content, social media, paid advertising, analytics, process, and more to a higher level.
Content Marketing University by CMI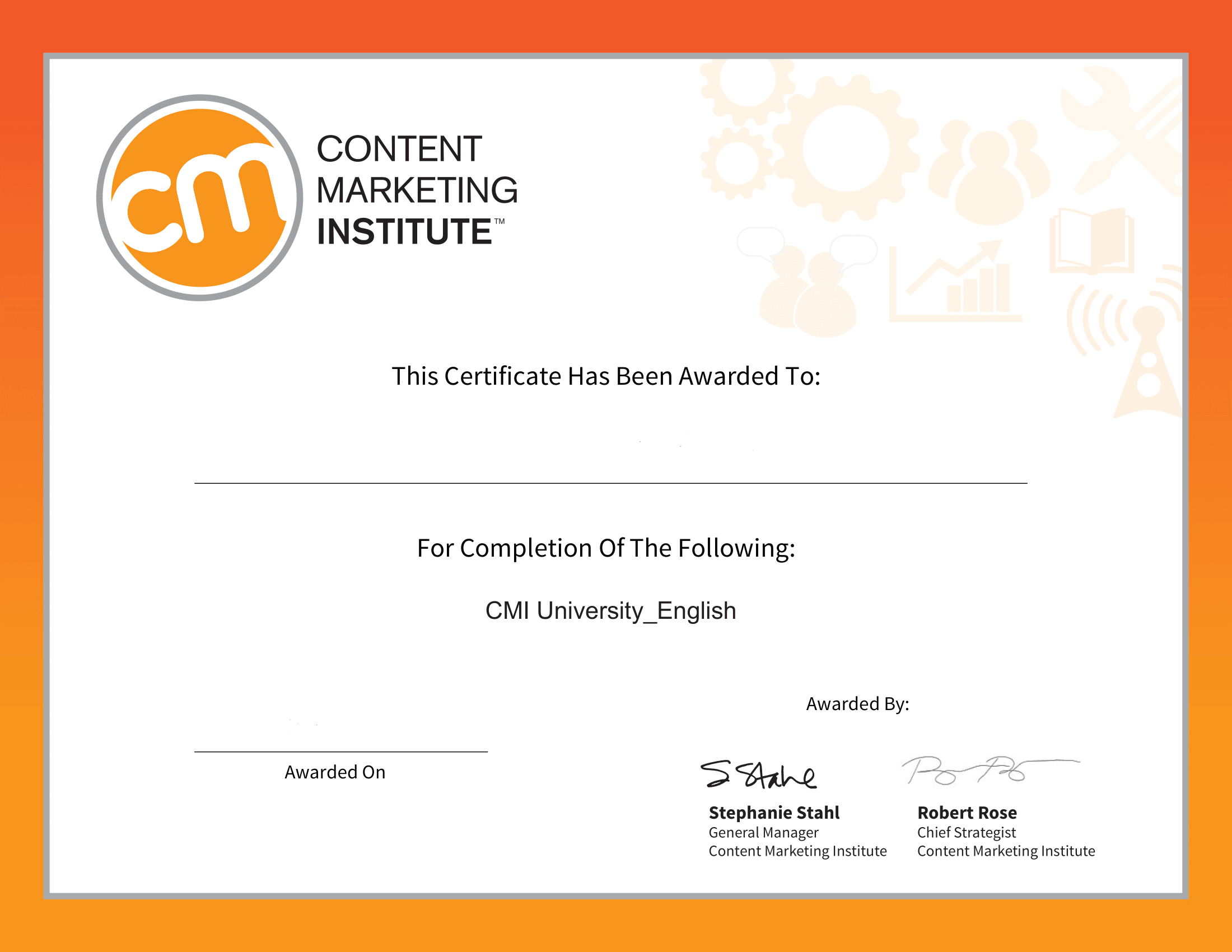 Content is king! This Bill Gates quote from the beginning of the century has turned into a bit of a cliche, but it still rings true after all these years. Therefore, it's no surprise that the first marketing certification on our list is related to content marketing.
Most modern marketers are somehow involved in content creation. As a result, we produce more content than ever before.
The problem is that with all these daily information blasts, customers are getting increasingly resistant to marketing messages. This makes it necessary to look for ways to become more skilled in content marketing and produce engaging content that converts users.
Content Marketing University is an online certification program by the Content Marketing Institute. It provides marketers with the opportunity to learn and practice everything necessary to do content marketing at the level of a world-class professional.
This marketing certification course consists of 6 core modules and 38 optional ones covering everything from building a business case for content marketing to maximizing content marketing execution via performance metrics. This makes the course easy to tailor to your specific context.
The great thing about it is that once you enroll, you've got up to 12 months to complete the curriculum, which makes it perfect for busy marketers who need flexibility.
10x Emails and Six Figure Emails by Copy Hackers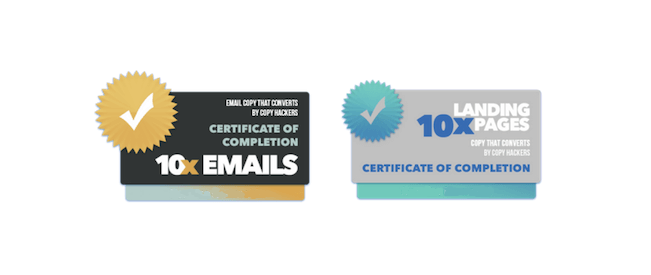 There are so many ways you can use email marketing, from connecting to different levels of your customer acquisition funnel, to keeping current customers engaged, to reactivating former ones.
Most companies understand the power of email, but the number of organizations doing world-class email marketing campaigns is surprisingly small. Getting email right allows you to shine by converting a larger portion of your audience into active subscribers.
No matter what industry you're in, having a certificate guaranteeing that you've mastered email marketing will definitely help you advance in your career.
10x Emails is a renowned online marketing certification program by Copy Hackers that will give your email marketing skills a major boost. It consists of four modules that will teach you how to craft highly-converting email campaigns that are both fun and to-the-point.
Created by some of the best copywriting experts in the world, this marketing certification covers everything from planning email campaigns to optimizing their performance at the end. In addition, you'll receive several growth hacks from experts who've generated millions in revenue by applying them.
Speaking of revenue, the 10x Emails certification program comes in a bundle with "Six Figure Emails." It builds on your skills further and teaches you how to craft even more persuasive email content that converts.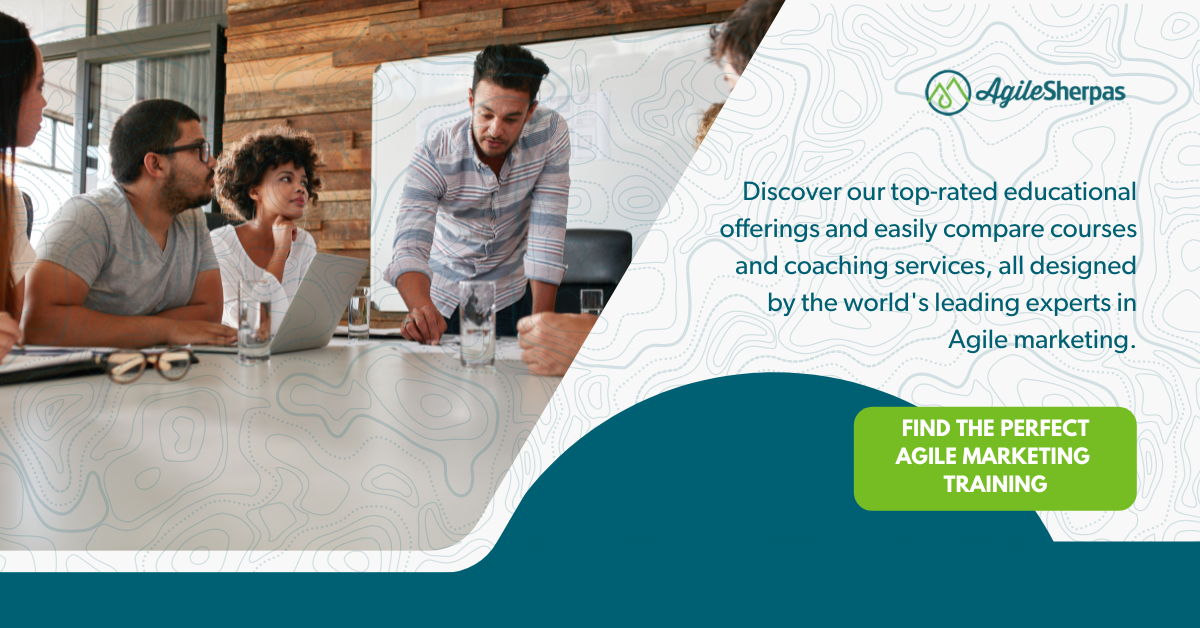 Marketing Analytics by BerkeleyX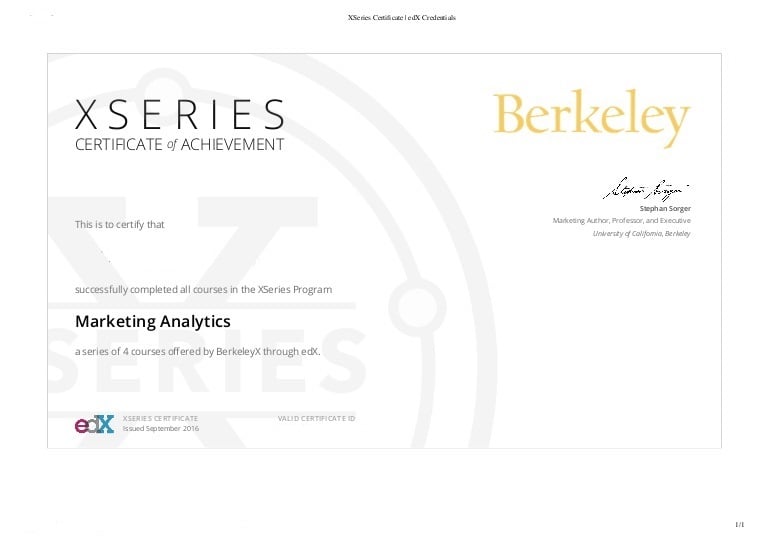 The beauty of marketing is that it combines creativity and abstract thinking with hard data. If there's an imbalance between these aspects, your marketing won't ever live up to its full potential.
With the mass digitalization of marketing and greater diversification of channels, relying on hard data to make marketing decisions will greatly improve your chances of getting a positive ROI from your efforts.
The MicroMasters Program in Marketing Analytics by BerkeleyX can help you improve your understanding of marketing data and how you can make the best use of it to make decisions. This marketing certification program consists of four courses covering:
Marketing measurement strategy
Price and promotion analytics
Competitive analysis and market segmentation
Products, distribution, and sales analytics
Each of them lasts four weeks, but they're all self-paced, so you can fit them in even the busiest of schedules. After successfully completing all courses, you'll receive a certificate guaranteeing your proficiency in marketing analytics and setting you up for success in the long-run.
Agile Marketing Fundamentals by AgileSherpas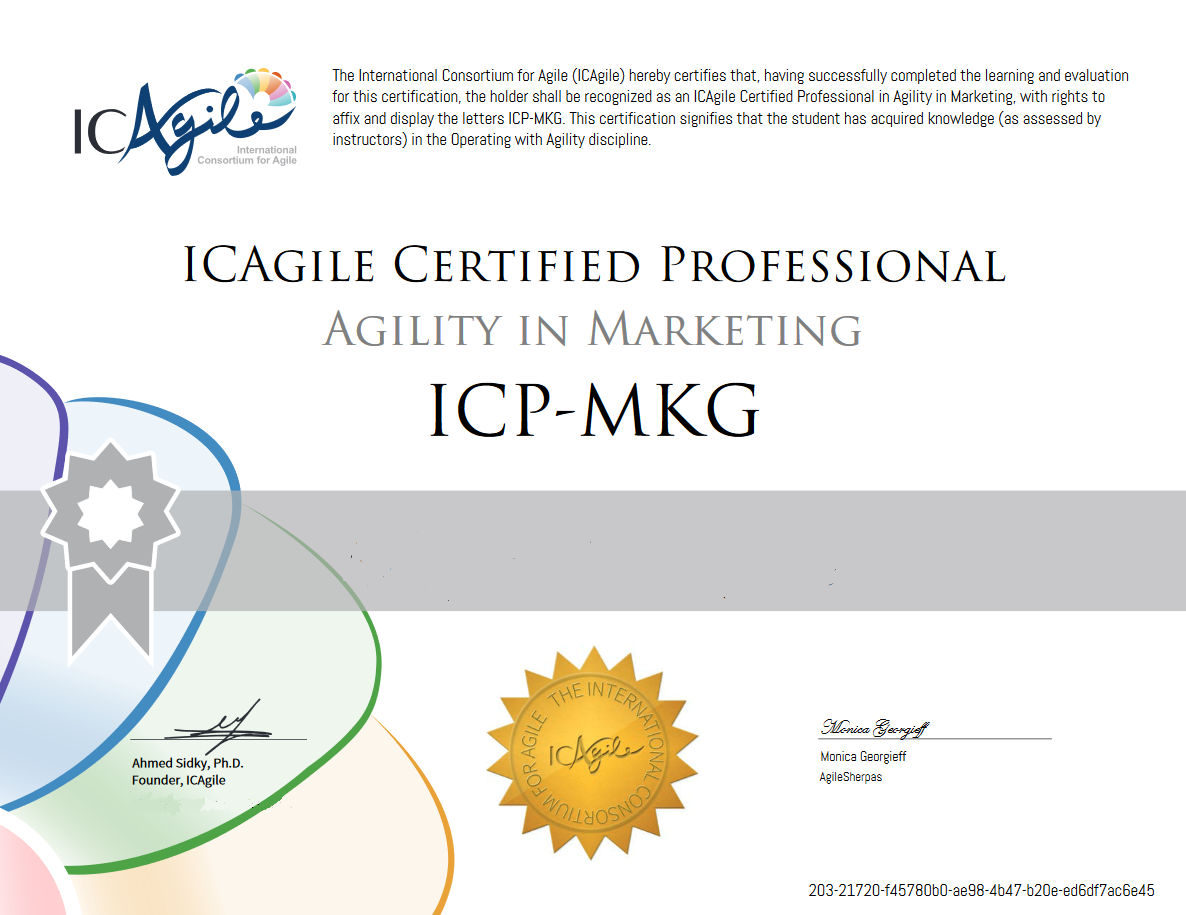 Another aspect of marketing that is constantly evolving is the way we run our campaigns. All these previous certification activities will work even harder if we can create better processes to get them done.
Realizing that the cumbersome Waterfall process from the past is no longer viable to keep businesses competitive, the number of marketing organizations going Agile has been growing consistently in the past decade.
According to the 3rd Annual State of Agile Marketing report, in 2020, 42% of all marketing teams are already making use of some array of Agile practices. This makes it necessary for marketers to adapt their traditional ways of working in order to better participate in the Agile transformations of their marketing departments.
As more and more departments move to Agile ways of working, having a certification in Agile will definitely help you advance your career and make an impression. If you're new to Agile, start with a course in Agile marketing fundamentals to set a strong base for yourself going forward.
The AgileSherpas certification program in Agile Marketing Fundamentals is a top-rated, interactive workshop designed to prepare marketers for practicing agility -- from the Agile manifesto to daily practices. Because the eight, 90-minute classes are led by a live instructor and run on a weekly basis to accommodate a busy work week schedule.
During the course, you'll learn the foundations of the Agile methodology and get hands-on experience practicing some of the most popular Agile frameworks, like Scrum and Kanban. The certification course covers everything from the values and principles of Agile all the way to practical ways to making marketing agility a reality with your teams.
Social ROI and Value Analysis by Hootsuite Academy
Social media changed the marketing landscape forever. In less than two decades it became a major channel for reaching potential customers and communicating with current ones. Treasured by many and underestimated by some, it's a channel that shouldn't be neglected by any modern marketing professional.
The better understanding you have of how to handle social media as a marketing tool, the greater the benefits you can expect. The tricky thing about social media marketing is that it requires a lot of consistent, deliberate effort, and the ROI on the invested resources often seems questionable to company leaders.
To prove the worth of social media marketing and boost your chances of major success with this channel, consider taking a certification course on the subject.
Social ROI and Value Analysis by Hootsuite Academy is a marketing certification program by one of the leading social media management platforms on the market. It's specifically designed to help marketers make a case for social media marketing and give them all the necessary tools to measure campaigns on social platforms.
The program consists of 4 mandatory and 3 optional lessons. Lesson topics range from connecting social strategy with social ROI to proving the value of social media, understanding the return on investment of paid social advertising, and more.
With this certificate on your resume, you'll be able to confidently invest your efforts on social media marketing and thrive in your career.
Facebook Certified Digital Marketing Associate by Facebook Blueprint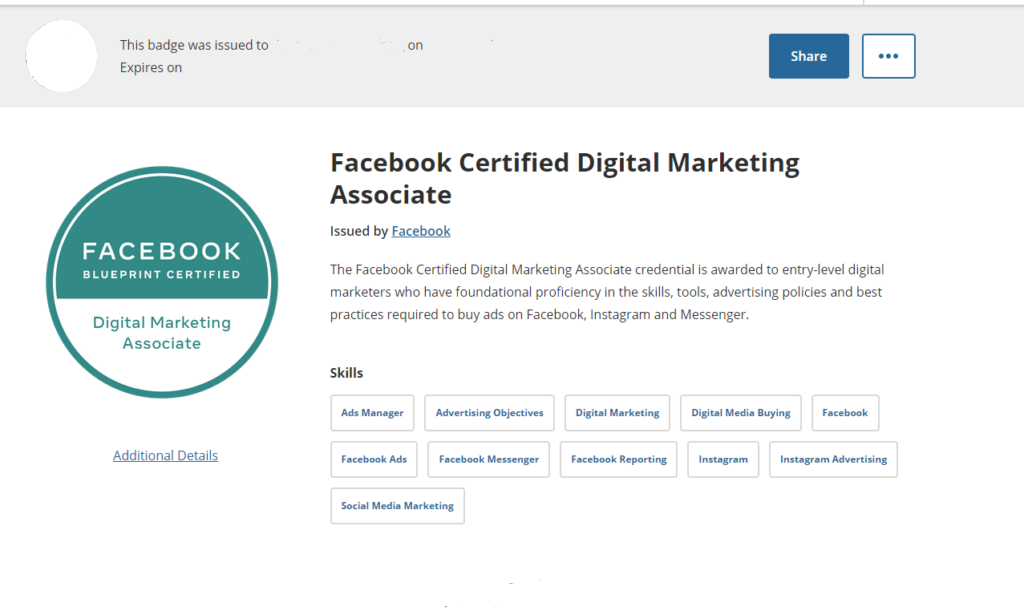 Continuing the topic of social media marketing certifications, we can't avoid giving attention to the biggest social media platform on the planet right now: Facebook. According to Statista, in Q2 of 2020, Facebook had over 2.7 billion monthly active users worldwide. How many of these members are our potential customers? It's worth finding out.
Even if your primary target audience isn't particularly social media savvy, there's a high chance that they're active on Facebook anyway. Therefore, honing your platform-related skills would be beneficial for your team.
What better place to learn about Facebook than Facebook itself? The platform has its own marketing academy called Blueprint that will help you become a master Facebook marketeer.
Completing all of the marketing certification courses they offer will turn you into a bonafide Facebook pro, but if you have to choose one course for now, we recommend the Facebook Certified Digital Marketing Associate course.
It consists of 27 comprehensive lessons that will prepare you for the certification exam at the end. Lesson topics cover a wide range of areas such as:
How to create a company page to grow your business
How to use Facebook tools to communicate with your target audience
How to advertise on Facebook
The course is perfect for marketers with little to no social media marketing experience and is a good way to develop yourself further as a t-shaped professional (even if social media is not your primary discipline).
Digital Marketing Certification by the American Marketing Association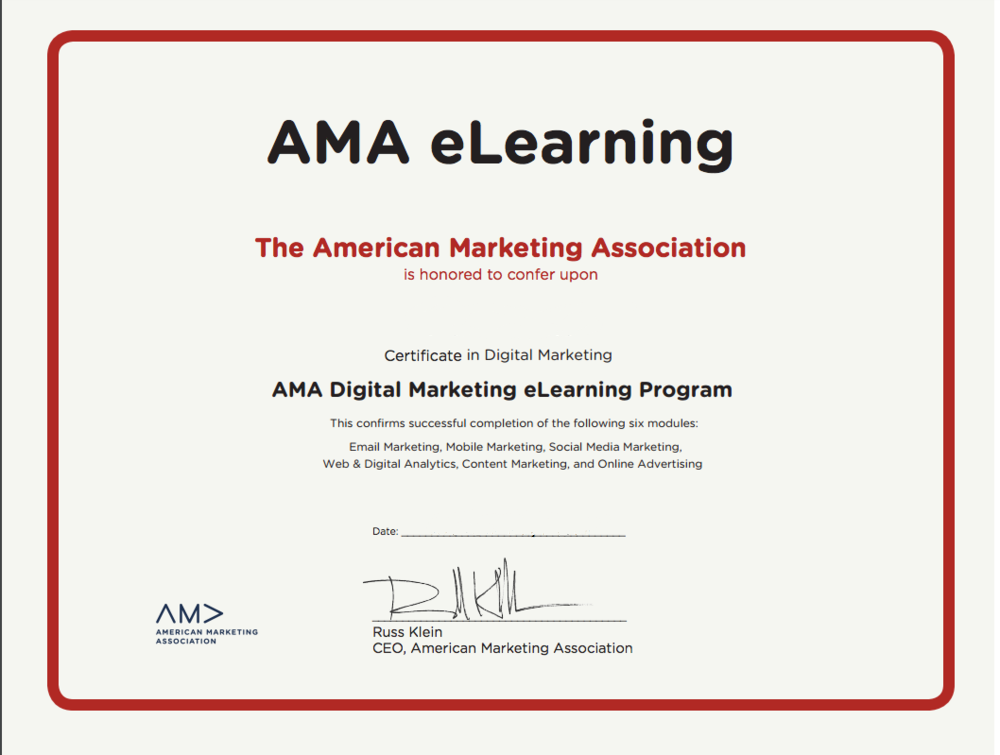 We've already laid out several fantastic, highly specific marketing certifications related to digital marketing. However, digital marketing is more than social media, content marketing, and email marketing. Learning how to juggle all these channels in a marketing mix, as well as being able to strategize around how they work together, is key for any multi-disciplined digital marketer.
If you want to learn how to effectively build synergy between many and varied digital marketing channels, consider becoming an accredited digital marketing professional.
An additional certificate from an established institution like the American Marketing Association will not only upgrade your skills, but will send a clear message to all of your potential employers or clients that you are a true and dedicated digital marketer.
The association's digital marketing certification program will help you understand all the elements of digital marketing. It consists of 10 self-paced modules. In addition to content marketing, social media marketing, and email marketing, the course covers search engine optimization, all forms of digital advertising, website optimization, and more.
Google Analytics Certification by Google Analytics Academy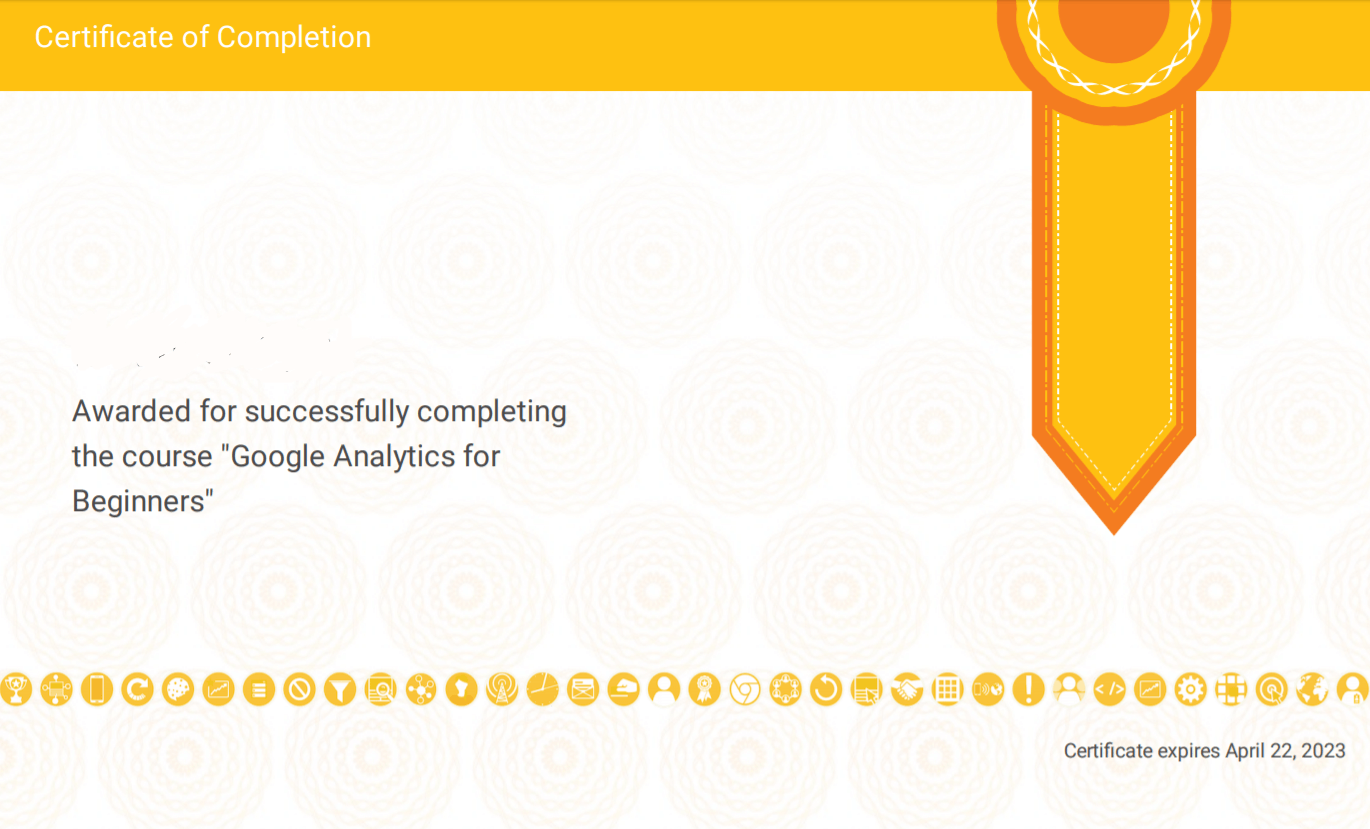 No matter how much we talk about it, we really can't overstate the importance of data for a marketing professional. This is especially true when talking about your company website. No matter what marketing channels you're using, chances are that all of your target audience's paths lead to your website.
Consequently, your website performance is a primary KPI for your entire marketing effort. Analyzing behaviors on your website can show you which channels work best for you, and where you have room to improve.
Google Analytics is by far the most popular (and free!) website analysis tool, and millions of marketers use it every day to evaluate the results of their efforts. It's a fantastic platform that provides easy and reliable access to everything related to your website traffic.
The platform's power and diversity of features means that mastering Google Analytics on your own may take years of experience. You can accelerate this process tremendously by completing the marketing certifications in Google Analytics Academy.
On your resume, a marketing certification issued by Google sends the message that you are versed in their suite of products and understand the value of an analytical approach, more generally.
The Google Analytics Certification program consists of seven courses that cover measuring success with Google Analytics. Each course curates between 4 and 7 modules followed by a certification exam. Whether you are a beginner, or a seasoned user, you will undoubtedly learn something new about the platform from the program content.
Google Ads Certification by Google Skillshop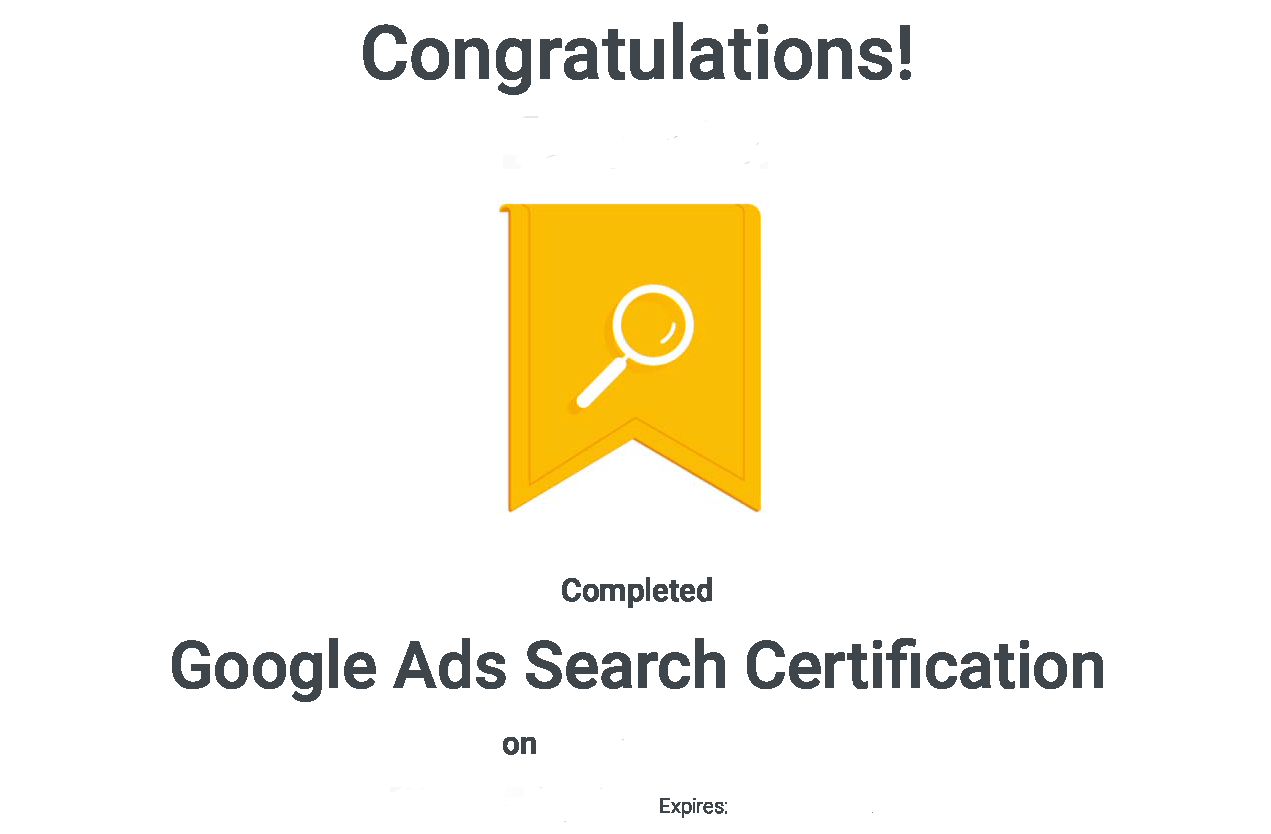 Expanding on the topic of Google marketing tool mastery means also learning how to leverage Google's advertising features. Even if advertising isn't among the current responsibilities in your function, with the growing adoption of cross-functional team structures, at some point, you may find yourself in a position where you have to run campaigns using Google Ads.
Google Ads (formerly Adwords) is the go-to platform for digital advertising and an easy way to showcase your products or services in front of your target audience using their preferred search engine. There are so many avenues through which you can use Google Ads to reach your target customers. For example, by serving ads up based on keyword searches, remarketing to visitors on your website, plugging images of your product on Google's affiliate websites, and more...
However, advertising is an extremely easy way to also throw money out the window if you're not careful or lack the necessary skills to run effective campaigns. Completing a marketing certification program beforehand can protect you from this possibility.
Thankfully, Google Skillshop provides courses for every type of digital advertising format including:
Search ads
Display ads
Video ads
Shopping ads
App ads
In addition, there's a marketing certification dedicated entirely to ads measurement, which will help you make better decisions relying on the right data points.
All courses are self-paced. To earn your certificate, you will have to complete an exam at the end of each course.
Inbound Marketing by HubSpot Academy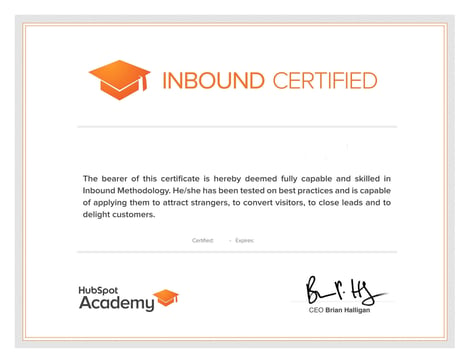 The concept of "inbound marketing" itself was born in 2005 and defined by HubSpot's own co-founder and CEO Brian Halligan. It started to gain traction around 2012 and, at the moment, the approach is among the most popular ways of attracting customers for B2B and B2C companies alike.
Inbound marketing is a treasured skill by marketing leaders of all kinds, and having a certificate showcasing your expertise in it is a good way to advance your career and bring value to your company. There's no better place to develop it than HubSpot Academy -- literally, the source of inbound marketing.
The Inbound Marketing certification program by HubSpot Academy consists of 6 interactive modules that provide the necessary foundation to run a successful inbound business, from marketing to sales to services.
During the course, you'll learn everything from the fundamentals of inbound marketing to developing the buyer's journey for your business. The program is led by seasoned professionals from the HubSpot team.
Like others in our list, this marketing certification is self-paced with no time limit, so you won't have to worry about meeting rigid deadlines to get certified. After completing the curriculum, you'll have to pass an exam to earn your certificate.
We've heard it said that one of the most valuable things a marketer could be these days is "t-shaped," meaning that they have in-depth knowledge about one area of marketing, but also a wider understanding of other disciplines within the same function.
This helps us be the Agile team players that our complex, rapidly-changing environments demand.
Putting our best foot forward and becoming versed in a wider variety of marketing channels, then applying these new skills within our teams is the best way to ensure long-term success of our marketing departments. By continuously improving your skills and expertise, you can set yourself on a path to career success, but also increase your contribution to your team and organization exponentially. Win-win!