What jump started CA's Agile marketing transformation, plus pivotal moment #1.
This post originally appeared on the CA Highlights blog in December 2017. It has been republished with the permission of its author.
In my recent blog, Our journey to Agile marketing, I referred to three pivotal moments that convinced me to keep moving forward. Here, I'd like to focus on the first defining moment, emerging from our acquisition of Rally Software.
Prior to the acquisition, I had dabbled in agile, mostly because the BU (business unit) I was part of was totally Agile-focused.
I had taken a Leading SAFe (Scaled Agile Framework) course and was a certified "agilist." I had started applying a few agile principles to one marketing department, but I knew we were just toying with it.
Catalyzed by Acquisition
Looking back, I realize the acquisition of Rally Software in 2015 was a key inflection point. Pre-acquisition, Rally marketing had been using Agile for about two quarters. The ~20 marketers were mostly co-located in Boulder, CO.
When we acquired Rally, I was local and was one of the executives involved in the integration process. I often worked out of the Rally office and became increasingly exposed to the Rally culture.
I noticed the marketing team seemed very engaged and happy but was that just the Boulder culture? Was it something in the Colorado air? I watched.
Throughout the integration we leveraged many Agile principles and had Agile coaches facilitating joint meetings. I attended RallyON!, Rally's user conference, and interacted with the Agile community.
Even the coach of my daughter's soccer team was an Agile coach. I couldn't escape it. I saw Agile running well within Rally marketing and wondered if this was a truly better way to work — and if it could be applied at CA's scale and complexity.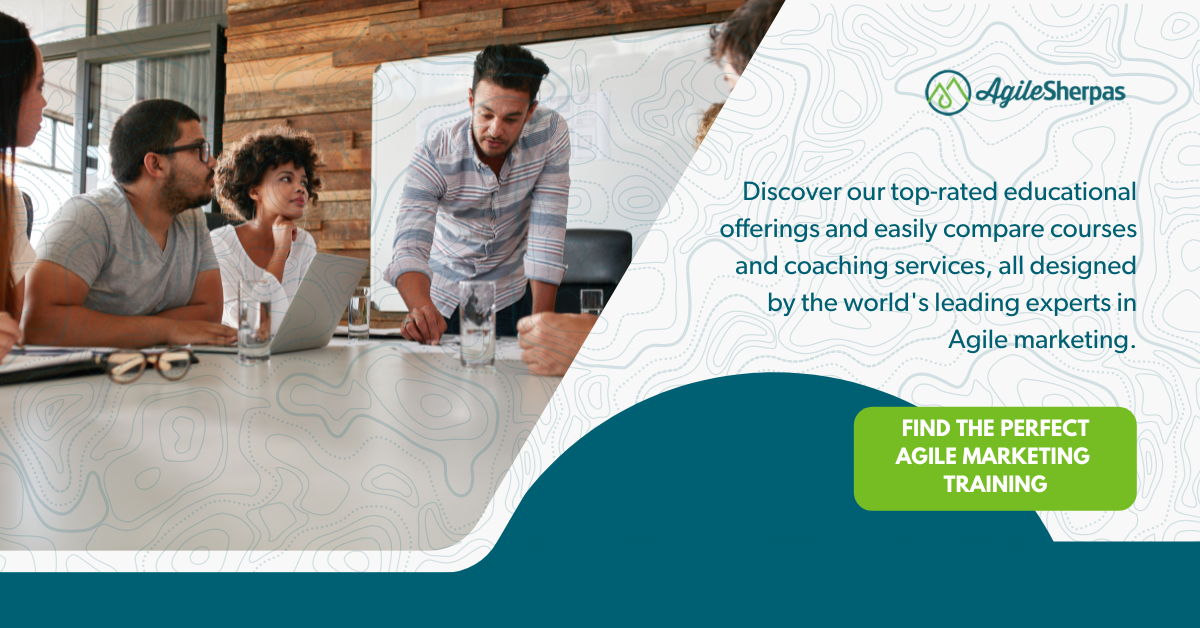 The First Agile Marketing Experiment
Post-acquisition I was very ready to scale our adoption of Agile in marketing.
What started as a mostly co-located, 20-person marketing team for the Rally product line (CA Agile Central) was expanded to the Agile Management BU. The Agile Management BU included our Project & Portfolio Management and IT Service Management products and marketing teams.
We created a Delivery Group of about 35 marketers, merging legacy CA marketers with no Agile experience right in with the legacy Rally marketers who had been practicing agile for a few quarters.
We mixed the teams intentionally.
While not large, our experiment tested a range of team and product variables typically encountered in a larger marketing organization:
Co-located teams --> widely distributed teams
Agile experienced marketers --> agile neophytes
SaaS --> On-Prem products
And a portfolio of products covering the full life cycle: concept – emerging – rapid growth – moderate growth – mature.
Measuring Agile Marketing Success
The experiment started out pretty well.
The teams survived working in a more distributed environment and Agile marketing was showing it could scale to a larger number and different types of products.
But was it a success?
We needed some concrete metrics and we needed to measure two different aspects: the satisfaction, engagement and productivity of the teams and the impact of Agile marketing on the business.
We needed evidence of both before declaring the experiment a success and to further scale Agile adoption.
The first measurement was easy for us. Every year CA conducts an employee opinion survey and we used this survey to determine how the teams felt about the shift to Agile marketing.
Satisfaction and engagement from the legacy CA marketers, those new to Agile, had significantly increased compared to the prior year and were above the overall CA average. Specifically:
"Engagement" for that group was up 6 points from the year before and was 6 points above CA overall.
Being "Proud to work for CA" was up 11 points and was 7 points above CA overall.
Being willing to "Recommend CA as a great place to work" was up 31 points and was 15 points above CA overall.
Feeling "appropriately involved in decisions affecting their work" was up 11 points and was 14 points above CA overall.
Feeling "valued as an employee" was up 20 points and was 20 points above CA overall.
This was not surprising since it was apparent from watching them that Agile marketing had been a positive shift for those participating.
The opinion survey was useful but it didn't answer the second question: was Agile marketing good for the business?
This led us to pivotal moment #2. Stay tuned.
Questions on pivotal moment #1? Contact me on Twitter @CWvanOrman.