Whether you're interested in trying to implement Agile in your organization or have been working on an Agile team for years, you've probably wondered whether a certification might help advance your career.
But in an increasingly certification-obsessed environment, it's difficult to really determine what certification is actually worth your time and money. Fortunately, with interest in Agile business practices growing markedly since the Covid-19 pandemic, obtaining Agile training is becoming a more and more effective way to progress in your field.
With project management being one of the more versatile Agile applications, it's no surprise that area has already attracted a wide array of certification options. So, let's dive into understanding the value of an Agile project management certification and whether it's right for you.
Agile Certifications and Where Project Management Fits in
Before we discuss the certification options, it's important to understand the broader space, including the differences between Scrum, project management, etc.
To begin, you have traditional project management certifications from places like the Project Management Institute. These are useful but a bit old-fashioned compared to the trendier Agile-connected certifications available.
Then you have Scrum Master certificates, which only cover the specific Scrum framework. As a result, these certifications are only really useful where Scrum is used (which is largely in IT). So if you work in a different field, Scrum may not be right for you. Finally, you have Agile Practitioner certifications. These are useful insights into how Agile works on the ground but tend to neglect teaching how to really be strategic with Agile, something that a good Agile PM should be able to do.
Ultimately, between your own experience and what you can gain from a certification, you want a balance between tactical and strategic applications of Agile ways of working. You also want to cover a wide spectrum of Agile frameworks in the process. So bear this in mind as we delve into the various certification options out there.
The Pros and Cons of Agile Project Management Certification
Certifications are usually a major investment in both time and money, so you want to be sure they're worthwhile.
One question to ask yourself is why you want certification. Is it more to improve your skills or look great on a resume? Keep in mind that in most hiring situations, certifications are looked at as at least a nice bonus if not an absolute requirement. Some more technical positions will require certifications, but in a field like project management, that kind of a requirement is unlikely.
In other words, start by understanding your industry or even the specific companies you work for or would like to.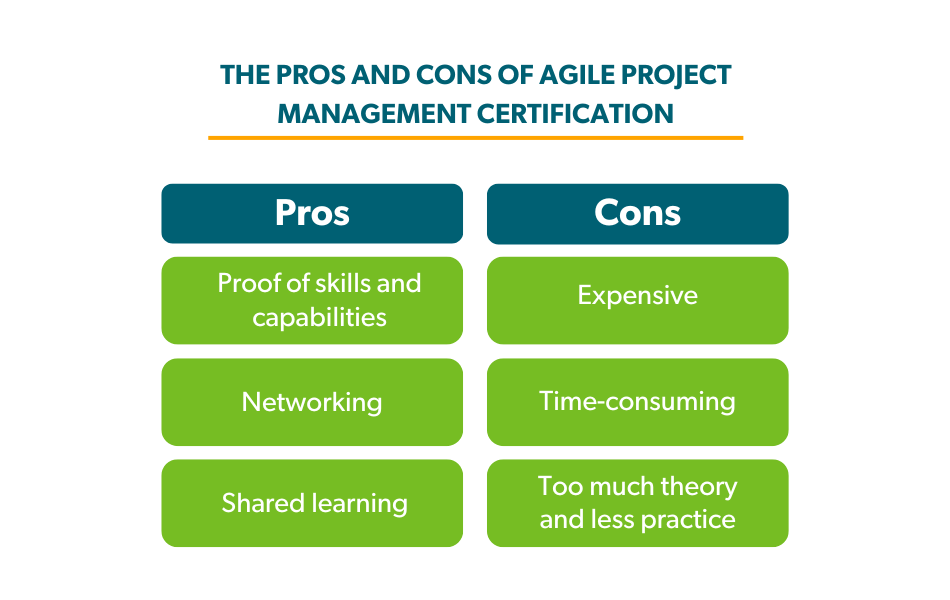 Pros
Certifications are a tremendously efficient communication tool. Just a few words or letters on a resume can instantly tell an employer all about your skills and capabilities. It can also communicate that you're serious about learning and advancing your career.
For classes that are live (whether online or in person), there's also the potential for valuable networking and connection-building. These relationships can help you continue to ask questions, learn from the experiences of others, and generally hone your Agile project management abilities into the future.
Cons
As mentioned above, certifications tend to be quite expensive and time-consuming. So the costs of getting the wrong one, or investing in one in an environment where it's not valued, can be a costly mistake.
There's also a risk of choosing a certification that doesn't sufficiently emphasize the importance of translating Agile theory into Agile practice. The reality is that Agile practitioners have to be adaptable, always considering how to adjust Agile to needs on the ground. A certification overly focused on theory may create headaches if you only know how to apply it under ideal conditions.
What Kind of Agile PM Certifications Are Available?
This question is more difficult to answer than you may think, as you have options designed for all kinds of experience levels. So let's break them down to understand what might work for your needs and whether your best option is a certification at all.

For Project Managers With Little to No Agile Experience
Leaving off the category of people lacking both Agile and project management experience (if that's you, you'll probably want to begin with experience or a certification in one or the other before diving into Agile project management), we'll begin with project managers interested in Agile.
The first thing to consider here is whether you want to jump right into a certification or begin by further educating yourself on Agile by engaging with non-certifiable, bite-sized content on the topic. Fortunately, there are many intro to Agile courses you can choose from. It's best to take your time and begin with a course like this as Agile isn't just a PM tactic but a much larger way of thinking about work and its organization.
That said, if you'd like to jump straight into a proper certification, the best option is probably the Disciplined Agile® Scrum Master (DASM) Certification from the Project Management Institute (PMI). It may not earn you a specific "project management" certification but PMI is the most respected institution in the PM world and this course offers a thorough introduction to Agile principles.
For Agile Marketers Interested in Leading Projects
If you've got experience in Agile marketing specifically and would like to put yourself in a position to lead marketing projects, you may want to begin with the Agile Marketing Leadership Certification.
This 8-week instructor-led course is designed specifically for experienced Agile marketing practitioners to transform that experience into the foundations for a career as an Agile leader. This can then be combined with one of the more tailored Agile Project Management certifications on this list.
The combination of on-the-ground Agile experience with quality Agile leadership training supplemented by a project management certification should form an impressive foundation for an Agile marketing career.
Experienced Agile Team Members Interested in Project Management and Leadership
On the other hand, if you've already got a foundation in Agile and want to transition from a team member to a PM, the AgilePM Foundation certification. This course will take your existing Agile experience and show you how to apply it to Agile project management. It also focuses on adaptation, one of the key elements to successfully applying Agile as a PM.
Fortunately, it's also one of the more affordable certifications on this list, so although it requires a fair amount of prior knowledge and experience, at least it won't break the bank.
Existing Agile Project Managers Interested in a Certification
If you're already an Agile PM and simply want to further develop your skills and enhance your career, the Certified Agile Project Manager (IAPM) is the ideal option. To be more specific, the course is designed for PMs with a basic level of Agile understanding.
For example, if you've applied Agile to project management before but had some difficulties and would like to better understand how to improve, this is a good choice. Alternatively, if your organization is in the middle of an Agile transformation and you are struggling to adapt, this also may work well.
Other Options
If you're working in a Scrum environment, then you may want to consider Scrum-specific certifications designed for product owners. For example, the Scrum Alliance has a Product Owner Certification designed for PMs and team members alike. So this is a very flexible course for people coming from various backgrounds and works well as an intro to managing in Scrum.
How do I Choose the Right Agile Project Management Certification?
Ultimately, it comes down to considering which category mentioned above you fall into as well as whether your company or industry will value it sufficiently. Bear in mind that you may want to simply ask your managers or leadership about their thoughts to help determine whether any of these options will truly benefit your specific circumstances.
Also, don't be afraid to reach out to any of the organizations offering these certifications. While they may obviously have some bias, they should be able to help guide you toward the right choice for your situation. Lastly, be sure to check out reviews on sites like Glassdoor to get input from people who've actually gone through the courses you're considering.
Ensuring You Have the Right Foundation
The final thing to mention here are the benefits of being able to see a specific project you may be managing in a larger business Agility context. To get that context, consider trying our self-paced Introduction to Business Agility course. It's an easy way to understand the big picture of how Agility affects how businesses function as a whole so you can be a more effective PM within that context.