In a world that is volatile, uncertain, complex, and ambiguous, organizations should always be aiming to optimize their operational performance. Otherwise, they risk falling behind and get taken over by their competitors.
Organizations must be able to act rapidly and effectively in the face of any new opportunities or crises in order to succeed in a dynamic business environment.
We know that business operations don't always work like a well-oiled machine, but there are methods we can use, both tactical and strategic, to get them to a point at which they are maximizing their impact.
Business agility is the name of the game for organizations that are looking for ways to boost their organizational performance and unlock operational efficiencies. This approach offers proven tactical and strategic solutions to common operational challenges.
What Is Operational Agility?
Operational agility means having the capability to adapt operations, technology, and processes to the business turbulence brought on by fluctuations in market, competitors, and customer demands.
Business resilience, the holy grail of the business world, requires operational agility.
Businesses that operate in a flexible, nimble manner are able to show resilience by changing to adapt to current circumstances and continue running efficiently while providing value to the business and its customers.
Why Being Agile Matters
You can't possibly predict what will happen in the future, but you can prepare for it by adopting an Agile mindset and letting that show in the decisions you make on an operational level. Agility has such a strong impact because your operational performance depends on the processes that govern your execution on a daily basis.
If you have a poorly designed process, you can't expect optimal performance.
However, one Agile function isn't enough to achieve organizational success. With that being said, the benefits of Agile compound when it expands beyond a single team to an entire organization.
Imagine the value you can provide to stakeholders and customers if functions like finance, sales, procurement, human resources, etc. were Agile as well.
In fact, the 5th State of Agile Marketing Report shows that 74% of the respondents answered that it would be easier to work with other departments if they followed the Agile methodology as well.
Therefore, to reap the full benefits of Agile, you need to move from an Agile function to an entire Agile organization.
For example, if your organization is completely Agile, an increase or drop in demand can be more easily handled without disrupting operations.
The safest way to thrive in the modern age is to embrace full-fledged business agility. It starts by understanding an organization's operating strategy and recognizing opportunities to generate value.
5 Pillars of High Operational Performance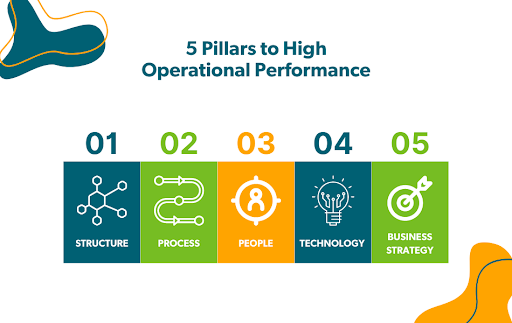 Structure
Traditional organizations are often divided into isolated silos which act as hidden barriers that prevent you from achieving high operational performance. Silos have a detrimental influence on employee engagement, innovation, teamwork, and the quality of the work produced.
Organizational silos were originally designed to keep departments focused on their own work and rely on managers for facilitating collaboration with other departments. However, this approach is no longer effective because it hinders the efficiency of inter-team collaboration.
Decisions are made more quickly in organizations that use an Agile operating model than in traditional organizations slowed down by bureaucracy and silos.
An organization needs to adopt a decentralized structure if it aims to be efficient. In other words, to prepare for business agility that supercharges your operational performance, you must create a flexible structure of empowered teams. They're self-sufficient and have the power, knowledge, accountability, and expertise to carry out their own processes and decisions on behalf of the organization.
Agile emphasizes cross-functional teams with full accountability to deliver value. In fact, this is one of the main reasons for spurring Agile adoption in business functions such as sales, finance, human resources, procurement, etc.
Giving power and responsibility to the people who are closest to the work is the main principle of decentralized decision-making, as they are more in touch with the actual work process and have access to relevant information.
Creating an interconnected system of small cross-functional teams with empowered members is what can transform an organizational structure. They have access to knowledge, resources, and processes to create value that will make stakeholders happy and operations run smoothly.
Process
To achieve business agility and operational alignment, you must transform your workplace culture and get rid of processes that make flexibility difficult, such as working in silos, using outdated tools, having manual procedures that can be automated, etc. On the other hand, you must establish an environment that enables your business to adapt to the world's accelerating rates of change.
The goal is to identify crucial, value-adding activities and eliminate redundant non-value adding activities.
Closely linked to structure, the big challenge in creating effective processes means removing silos where departments have limited knowledge of what other units are working towards. Team members should be enabled to execute well together across departments, otherwise you introduce immense inefficiencies in processes across the board.
A business can start an Agile transformation by evaluating their operational processes and determining where there's room for improvement.
People
The talent an organization attracts and retains is a reflection of how it operates. While creating a strong, healthy work atmosphere is tough, when done well, it has an outsized impact.
Businesses achieve high operational performance by encouraging people to take ownership and responsibility. You can create a cohesive community through strong leadership incentives and a process that everyone respects and is committed to improving.
A team that shares a common vision, mission, and objectives is essential. A company's success is, in large part, determined by the individual mentality and the corporate culture.
That's why, if teams are given clear autonomy and responsibility, they will be more engaged and produce excellent outcomes. After all, high-performing talent is attracted to high-trust environments, which also help people reach their greatest potential.
These principles of business agility offer a way to transform the way people work and contribute to your organization. As a result, working with quality talent will ensure that the product/service development process and the final deliverable itself fulfills client and stakeholder demands.
Technology
Technology plays a big role in reaching ultimate business agility because it acts as an enabler. Your business methods and processes will change as a result of technology, becoming quicker, more convenient, and effective.
Digital transformation has benefited organizations in achieving flexibility and ongoing improvement. Businesses can use the data and tech available to incorporate Agile principles and values by automating processes and using digital project management tools to create consistent workflows. This can lead to exponential growth in their operational performance.
Operations work best when paired with technology. To stay competitive with market trends, organizations should invest in technology and innovation. That's why, it's important to leverage the digital revolution to foster implicity, flexibility, and speed to adapt to changes.
Digitalization frees up more time and reduces unnecessary chores. By automating repetitive processes, businesses can make time and room for innovations.
Business Strategy
Leadership support is necessary for increased operational performance. Data from the 5th State of Agile Marketing Report shows that, especially among business units, management or senior support is one of the critical make-or-break aspects for agility transformations. In fact, this was highlighted as a barrier to adoption by 13% of marketers that took part in the research this year.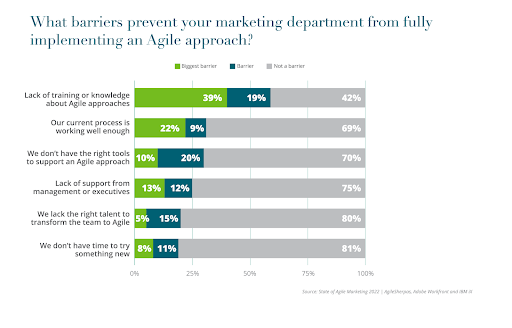 When it comes to strategy, the leadership team has the important responsibility of ensuring that every member of the organization has a common goal, vision, and purpose.
Senior management is involved in this aspect of business agility, and they're expected to routinely convene and develop an effective strategy within the specifics of the current environment. In Agile organizations, this occurs more often (quarterly) rather than infrequently (annually).
Your strategic management objectives must be restructured to be in line with your budget, objectives, and values. The goal of the strategic management process should be to maintain high standards of quality while keeping expenses low. Moreover, senior management has to ensure that the company operates to its fullest potential and continues to grow.
However, making decisions is not the end point of creating a strategy. All functions involved must firmly embrace the new course because they understand why it is being undertaken. Establishing a strict and continuing strategic management procedure that can address unresolved issues and, at the same time, react to fundamental environmental changes is necessary for reaching full-fledged business agility.
Business Agility for Supercharged Operational Performance
The only way to handle the expanding complexity of the business world and innovate at the pace of customer expectations is through business agility. It leads to numerous benefits that positively impact the operational performance within your organization, such as: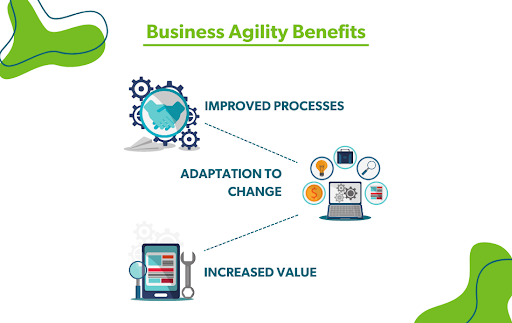 Improved Processes
Agile processes provide a solid foundation upon which organizational agility is constructed, enabling any necessary adjustments to be made without jeopardizing operational stability or coherence.
To scale the Agile transformation into business units famous for their conventional and rigid procedures, you need to revisit and improve your current processes over time.
When business agility is prioritized, it paves the way for organizational agility to grow.
Adaptation to Change
One of the greatest benefits of Agile is the way it empowers businesses to continuously evolve to maintain a competitive advantage.
Agile organizations are adaptable to change, they can serve both internal and external customers fast and continually look for ways to streamline operations.
A set of Agile principles and values are used throughout the entire process when an Agile organization implements an internal change or improvement. Planning in short timeframes, breaking down big projects, and frequent iteration make change less disruptive than changes made on the fly. As a result, everyone involved is aware of the purpose and process.
Increased Value
Agile businesses have the flexibility to quickly adapt to changing circumstances and client demands. This enables them to reduce process waste, continually enhance their processes, and ultimately provide better value to their clients.
Operational Performance From the Future
A truly Agile organization is one that can coordinate diverse operations toward a single goal and enable efficient execution processes. Business agility is a critical step on the way to achieving this.
Incorporating other business departments such as sales, procurement, finance, and human resources, can have even broader impacts on the entire organization and potentially increase the long-term benefit of applying Agile.
Regardless of where you currently stand in an organizational chart, business agility is the way of the future for all operational models.
There are various ways you might begin your path to agility. Starting the process with a pilot Agile team is a great approach to get going.
You'll be prepared for the inevitable Agile transformation of your role if you take the time to learn what Agile actually means and, even better, start incorporating it into your own work routine.