Marketers are rarely recognized as people who can be drivers of a business. Most of the time, marketing is seen as a kind of additional service that exists to support sales. As a result, marketers get piled on and treated as if what they do is purely tactical and not strategic.
Sadly, this leads to a loss of morale for many marketers struggling to bring results. It's possible for marketers to even lose faith that things can get better.
They can be so busy that having time to have strategic discussions becomes deprioritized. It's the "onto the next thing" operating philosophy of churning out outputs rather than outcomes. While it keeps the marketing machine moving, it's ultimately detrimental to marketing's role as a strategic driver of the business and to the marketer's enjoyment of their work. In particular, silos tend to isolate roles that marketers need and make their jobs harder.
Fortunately, Agile marketing can bring hope back to marketers. With the transparency the methodology brings, specialists can break down silos, be more effective, and once again remember why they fell in love with the field in the first place.
A Call for Action
As an Agile coach and trainer with over 20 years of experience, I've gathered many valuable insights about Agile marketing. I've coached brands in various industries such as automotive, healthcare, retail, manufacturing, professional services, and agriculture.
However, throughout my entire career, I've seen marketers fighting for a seat at the table, trying to ensure stakeholders understand the contribution and value they provide to the organization.
At least once, every marketer has been in a position where they know how vital the work they do is, yet they remain completely underestimated. It's discouraging and even harmful to the entire organization as marketers feel like they aren't playing a valuable role.
That's why in today's article, I share my input on how you can restart your mindset, tune it to Agile, and enjoy your role as a marketer again.
Agile Brings Strategic Alignment
The Agile marketing approach has a clean line of sight from the businesses' high-level strategy to marketing objectives, campaigns, and tasks. That top to bottom direct line brings strategic alignment because we're able to see the whole picture of how the business moves and evolves.
For example, I once came into a role at a major US healthcare company to help with an internal function called integrated marketing. In this type of team, you're the liaison between marketing and a service line (orthopedics, cancer, pediatrics, etc.)
Those service line leaders are accountable for delivering patient volumes and experiences while the marketing team executes promotions. As a result, everyone was pulled in lots of directions - dealing with marketers, fighting for budget, etc. and this made this group very reactionary.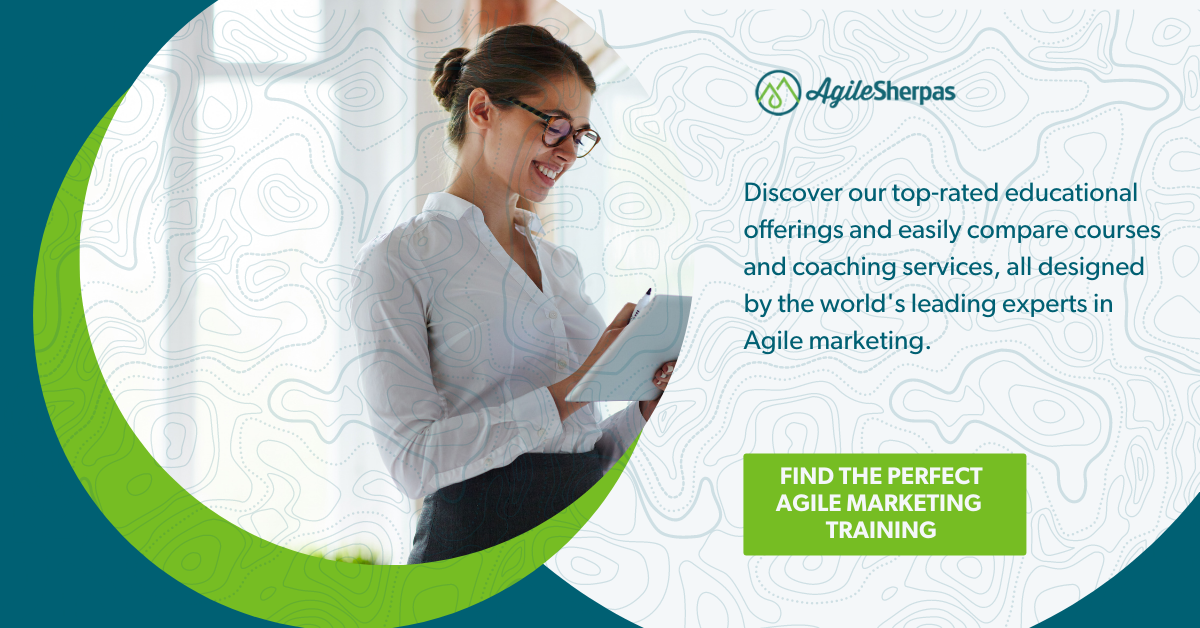 They had a plan with some strategy and objectives but nothing else was aligned with it. As a result, the team was permanently stuck in reaction and survival mode.
I was brought in to fix these problems. To do that, I used Scrum not only to align the work they were doing to the business and marketing objectives, but also to change how they worked with the service lines, opening up transparency and visibility.
People weren't necessarily hiding, but that transparency wasn't a part of their culture. This made a huge difference in satisfaction and internal reputation. On the ground, it meant that the marketers had a refreshed outlook that made their work enjoyable again.
Now, with marketing teams seeing how their actions contribute to the end goals, they derive purpose from their work and have a stronger strategic leg to stand on, and as a result, everyone feels better at work.
The Agile Mindset Breaks Silos
One of the biggest frustration points for marketing teams is when the organization operates in silos. In siloed companies, marketing tends to be seen as a downstream function and marketers are not brought into the higher level strategic planning discussions where they can represent the voice of the customer and add real value.
People get split based on their skills, responsibility, and roles. In a sense, everyone is operating in a bubble that limits them from opportunities to collaborate and create more innovative solutions.
Departments lose track of the bigger picture objectives when silos are created. They're unable to focus on organizational goals. Therefore, potential opportunities for better value and high-quality products are lost.
As a result of organizational silos, vital skills, information, and resources can't be utilized and used for the company's benefit because the communication and collaboration between departments are missing.
I think Agile marketing management is about overcoming silos. You don't want people just sitting there saying "I'll do this one thing and when I finish and then I'll wait for the next one to come," or "that's X department's job, not mine." Instead, they should be able to see their pipeline of work along with its priority so each person is more autonomous. When marketers can work alongside sales, finance, or other professionals to achieve broader goals, marketing becomes more effective.
Unfortunately, corporate cultures aren't particularly friendly to this so you see a lot of overengineering, people trying to protect themselves, being unwilling to experiment, and change how they do things.
Instead of having multiple departments struggling to fulfill their own objectives, by implementing an Agile marketing approach and breaking down silos your organization will be able to work as a cohesive entity.
As organizations look to generate more value and innovate at a higher speed, they need to be mindful and break silos when they spot them. For example, Agile teams are more flexible and have competitive advantage even in uncertain times. In fact, according to the 5th State of Agile Marketing Report, 61% of Agile marketers are confident that their department can take advantage of emerging opportunities.
Moreover, Agile is a mindset - if you don't have the mindset, values, and principles at the forefront there's no framework that can help you. So the key to a successful Agile implementation is like-minded people and a like-minded leader.
Putting Theory Into Practice
When a group goes from being trained in Agile marketing management principles to actually putting them into practice, you see an exciting connecting of dots.
People have learned about frameworks, tools, concepts, etc. The excitement is palpable when you see in action how they work on building their backlog, planning their work, having standups, and the gears start to go. In other words, Agile reminds marketers why they chose this field in the first place.
You can achieve team-wide efficiency with private training for your team so you can get shared experience and mutual understanding of the what, why, and how of Agile marketing.
As a result of a successful Agile marketing approach implementation, people are given permission to experiment, learn, and not be afraid of failure. They're given the freedom to focus, prioritize, and get off the hamster wheel of stagnation. And fall in love with marketing again.
And marketing is great again.